Old St. Paul's Church
Introduction
St. Paul's Parish, established in 1692, is the oldest in Baltimore. Since the 1730 survey of Baltimore, this property has hosted multiple church buildings while retaining the same ownership over the centuries. It is the only property to have done so in the city. Architect Richard Upjohn designed the current church building, which dates to 1856. The basilica-style church resembles early Christian basilicas in Italy.
Images
Old St. Paul's (source: http://www.hmdb.org/Marker.asp?Marker=92305)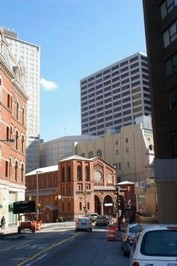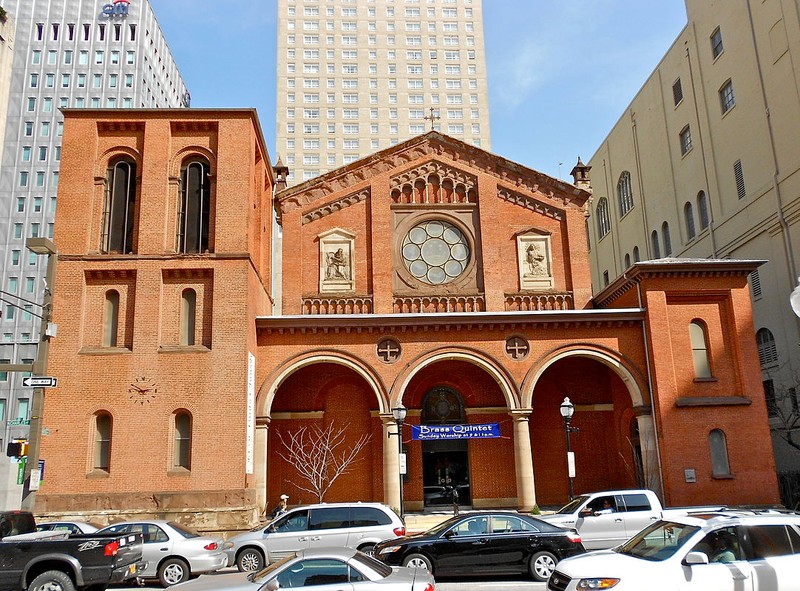 Old St. Paul's historical marker (source: http://www.hmdb.org/Marker.asp?Marker=92305)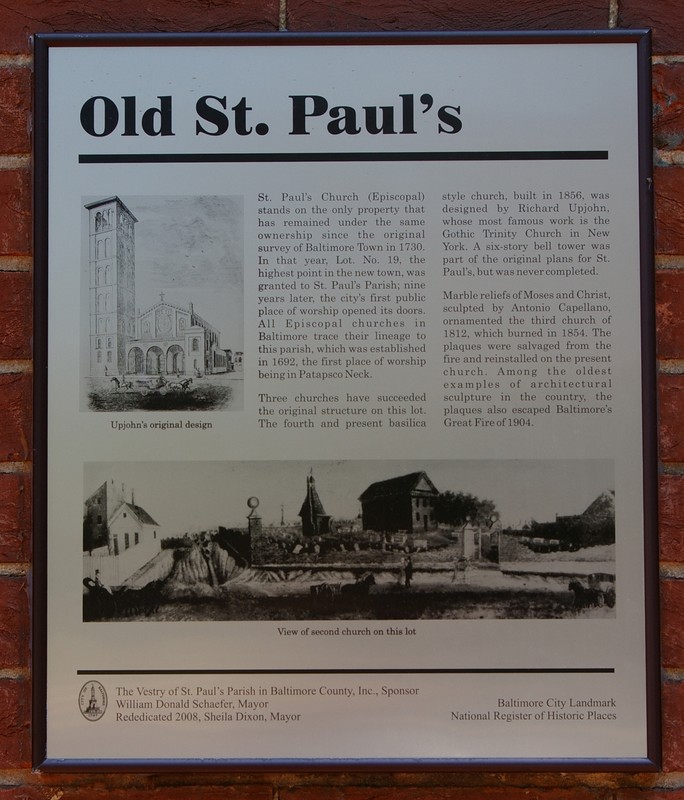 Backstory and Context
St. Paul's Parish was established at Patapsco Neck but moved to Baltimore Town in 1731. The first church on this property was built in the 1730s, replaced in 1817 by a second church designed by Robert Cary Long. Although this church burned down in 1854, the exterior walls survived, along with several decorative pieces: the bishop's chair, the baptismal font, and two stone friezes, carved by Antonio Capellano, which you can see on the church exterior above the three-arched portico. One panel depicts Moses holding the Ten Commandments, while the other depicts Christ.

From 1854-56, Richard Upjohn designed a new church using the old foundation and brick walls. This church still stands today. Upjohn is most famous as an architect of Gothic Revival churches (such as Trinity Church in New York City), and Gothic style was growing more popular in Baltimore at the time. Old St. Pauls, however, does not look even remotely Gothic. Rather, Updike seems to have based St. Paul's on early Christian basilicas such as San Paolo fuori la mura (St. Paul's Outside the Walls), built in Italy in 384. Architectural historian Laurie Ossman has pointed out the striking parallels between St. Paul's in Baltimore and San Paolo in Rome. First, both churches have burned down and been rebuilt--San Paolo caught fire in 1823 and required extensive reconstruction. Second, San Paolo is one of the oldest surviving (if heavily restored) Christian basilicas, while St. Paul's is the oldest parish in Baltimore. Finally, San Paolo is the oldest basilica dedicated to St. Paul, upon whose burial site it stands. The two churches thus share a namesake. Upjohn is known to have traveled in Italy and was likely familiar with San Paolo.

Inside Old St. Paul's, visitors can see the altar window, designed by Maitland Armstrong and installed in 1902. Underneath this window is a stone screen (reredos) with peacocks symbolizing the Resurrection. The church also contains several windows designed by Tiffany Studios, portraying figures such as St. Anne, St. Augustine, and St. Luke.


Sources
Hayward, Mary Ellen, and Frank R. Shivers Jr., eds. The Architecture of Baltimore: An Illustrated History. Baltimore, MD: Johns Hopkins University Press, 2004. p. 140-141.

National Register of Historic Places Inventory--Nomination Form: St. Paul's Protestant Episcopal Church. U.S. Dept. of the Interior, National Park Service. July 11, 1972. Available here: https://mht.maryland.gov/secure/medusa/PDF/NR_PDFs/NR-143.pdf.

Ossman, Laurie. "Built to Last: Old St. Paul's Episcopal Church." Historic American Buildings Survey. National Park Service, U.S. Dept. of the Interior. May 2002. Available here: https://www.nps.gov/hdp/exhibits/baltimore/B2L10.pdf.

Zanow, Lois, and Sally Johnston. Monuments to Heaven: Baltimore's Historic Houses of Worship. Bloomington, IN: AuthorHouse, 2011. p. 33-35.

Additional Information