Old Main, Pennsylvania State University
Introduction
One of the first buildings constructed at Pennsylvania State University, Old Main is a symbol of the college and its change over time. Once used to hold classes, the building is now used entirely for administration. The first building at this location was known as the "Main Building," while the second and current is known as Old Main. Today, visitors can take tours during business hours and see the building's famous land-grant frescoes and learn about the history of the building and the campus.
Images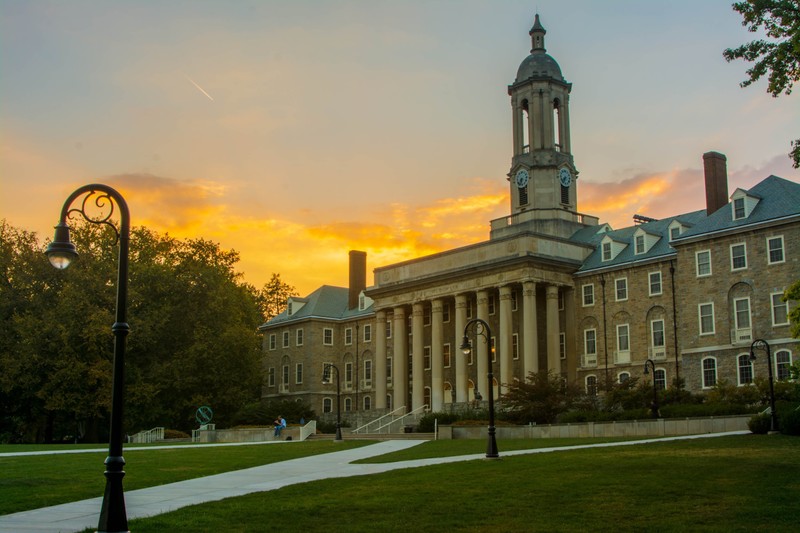 Main Building, the building before Old Main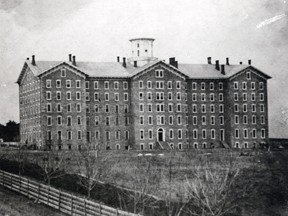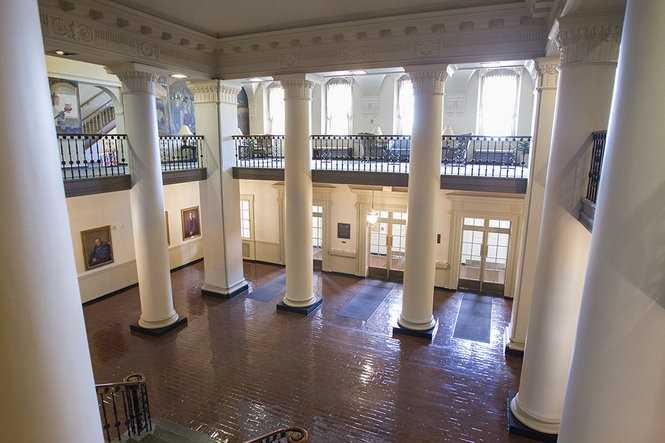 Pennsylvania State, along with Michigan State, became the first land grant colleges in the U.S. when the Morrill Act was passed. Government gave land to the schools to continue to improve agricultural education. This stamp represents the centennial.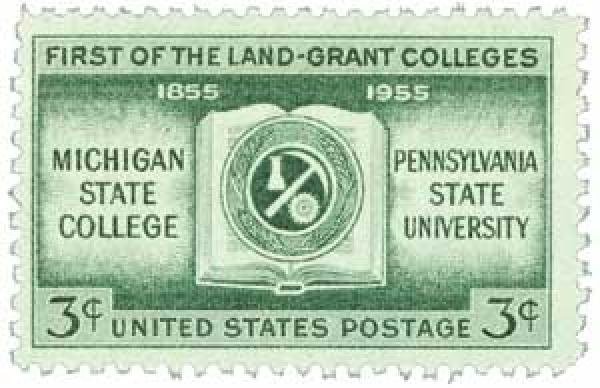 Backstory and Context
In 1855, Penn State hired Hugh McAllister to design a building to include space for residence housing, classrooms, a library, office space, and a chapel. Construction started, but due to a lack of money, construction had to stop. Students moved into the unfinished building, which was called Main Building, even though the west side of the building wasn't finished yet. In the 1860s, construction started again and the building was finally completely open. A fire started in part of the building, so the university hired J. Robert Cole to remodel it. Eventually, over the years, the building started falling apart and they decided to tear it down and create a new building.
In 1930, an architect named Charles Z. Klauder remodeled the new building they now call Old Main. They kept some of the original stone and the bell they used in the first building. This new building had a rehearsal room for theatre students, a student lounge, a sandwich shop, a ticket booth, and the famous frescoes made by Henry Varnum Poor. Many students used the lawn in front of Old Main too for things like Frisbee games and for protesting war and racial issues. Students still enjoy the building and lawn today.
Today, the building is only used for administrative offices. The president of the university has his office in Old Main now. When students look at Old Main, they don't see just a building housing administrative offices, they see long processes of restoration and a symbol of the university. The building reminds them of Penn State traditions and its history. "It symbolizes the roots, legacy, hard work, and undying pride of the institution."
Sources
Old Main: The beginnings of Penn State. Penn State News. August 05, 2010. Accessed July 20, 2017. http://news.psu.edu/story/165788/2010/08/05/old-main-beginnings-penn-state.

Penn State's Historic Old Main. Penn State University website. Accessed July 20, 2017. http://www.psu.edu/ur/about/oldmainhistory.html.


Additional Information