Agate Fossil Beds National Monument
Introduction
The Agate Fossil Beds are a pair of two mountainous structures in the Northern Great Plains that are now home to a visitors center operated by the National Park Service. The Agate Fossil beds contain fossils that date back to the Miocene Era, roughly twenty million years ago. Among the animals that once roamed the area were the Dinohyus, a giant pig-like animal, a Menoceras a short rhinoceros.
Images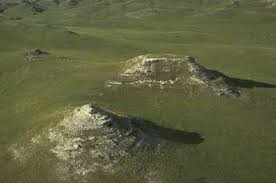 Backstory and Context
Cattle driver and rancher James Cook publicized the existence of the site and worked with scholars of this era such as professor O.C. Marsh a dry paleontologist. He also met and befriended the Native American leader Red Cloud. Although known to area Native people, Cook appears to be the first settler of European descent to discover the Agate Fossils which occurred while riding with his sweetheart. Cook bought the property and renamed the area Agate Springs Ranch. The couple married and had two sons, Harold and John Cook.
Harold Cook took an interest in paleontology and attended several universities around the United States. In 1892 Harold helped Erwin H. Barbour investigate a large part of the Agate Beds and he hoped to become a paleontologist. However, Harold decided to help operate the family ranch but later served as a member of the Nebraska State Park Board.
In the 1990s the National Park Service constructed a visitor center to help interpret and share the natural and human history of this national monument. The center contains hundreds of Native American artifacts, some of which were acquired from the Cook family who acquired them from family friend Red Cloud. The visitor center has a variety of exhibits and a visual timeline with artifacts that help the public to understand the history and significance of the Agate Fossil Beds.
Sources
http://www.nps.gov/agfo/planyourvisit/index.htm
Additional Information