Edison and Ford Winter Estates
Introduction
The Edison and Ford Winter Estates are two historic adjoining homes that, along with a botanical gardens and other buildings, constitute one museum that celebrate the lives of inventor Thomas Edison and automobile manufacturer Henry Ford. The homes are listed separately on the National Register of Historic Places. The site features twenty botanical gardens, the Edison and Ford Museum, and seven other historic buildings. One of these is the Edison Research Laboratory where Edison tested thousands of tree samples to try to find a good source of rubber (he thought the country was too dependent on foreign sources of rubber during WWI; he did eventually finally discover a suitable rubber plant). The museum features several of Edison's inventions and other artifacts including a Model T car that Ford gave to Edison as a present. The gardens feature 1700 plants and one of the largest banyan trees in the country.
Images
Thomas Edison first visited Fort Myers in 1885 started to build his estate the next year.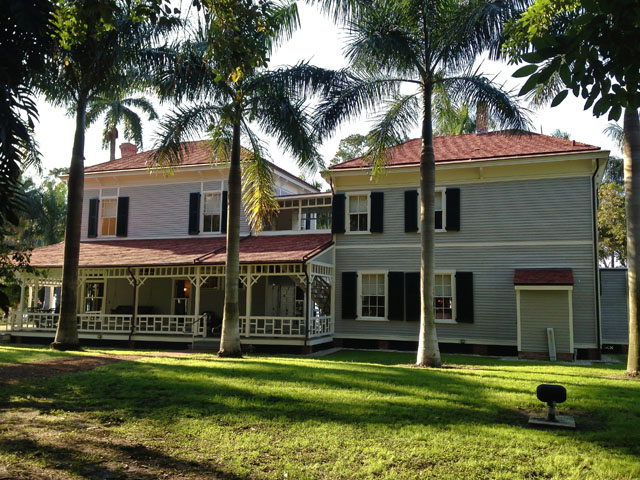 Henry Ford bought the house next to Edison's in 1916 and called the property "The Mangoes." He owned it until 1931.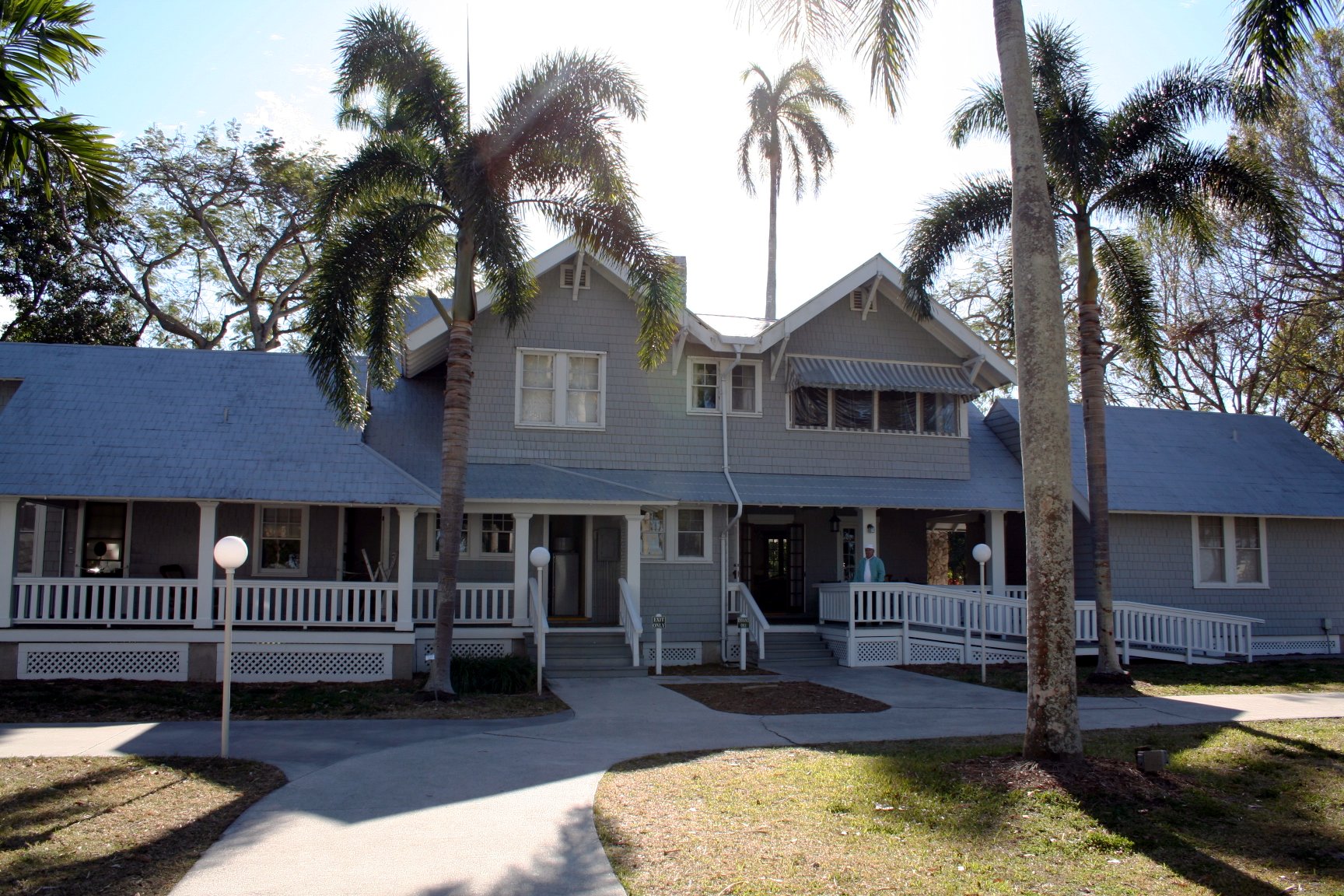 Backstory and Context
Thomas Edison (1847-1931)
Thomas Edison's first visit to Florida was in 1885 when he was vacationing with friends in St. Augustine. They decided to take a trip to the southwest coast, which included a visit to Fort Myers. Impressed by the climate and the bamboo he encountered (he experimented with bamboo filaments for his incandescent light bulbs), he decided to build the winter retreat here in 1886.
It took some time for the estate, which Edison called Seminole Lodge, to take shape but it would eventually include the main house, the guest house, the caretaker's house, Edison's study, a laboratory, and a swimming complex. Not surprisingly, Edison became one of the area's most famous winter residents. He and his family (his first wife had died in 1884 and her remarried in 1886) enjoyed outdoor activities including swimming and boating. The Edisons also hosted parties where other famous people attended including Henry Ford and John Burroughs.
Edison passed away in 1931. His wife, Mina, continued to be active in Fort Myers, becoming involved in preservation and philanthropy. She owned the estate until 1947 when she deeded it to Fort Myers so it could become a museum, which it did until November of that year. As a result, the estate has remained largely intact. The majority of the furnishings in the main and guest houses belonged to the Edisons.
Henry Ford (1863-1947)
Edison and Ford became close friends in the 1890s when Ford started to work at the Detroit Edison Illuminating Company. Edison invited Ford and his family to visit Fort Myers in 1914. Like Edison, Ford was very impressed by climate and in 1916 bought the house next to Edison's, which was built in 1911. Ford named his new estate The Mangoes after the citrus trees that grew along the Caloosahatchee River, and he was always in Fort Myers on Edison's birthday on February 11. After Edison passed away in 1931, Ford closed The Mangoes as it was too painful to stay there. It was rented until 1947 when it became a private residence once again. In 1988, the city bought the Ford estate opened it to the public in 1990. In 2003, the two houses came under one non-profit organization, the Thomas Edison and Henry Ford Winter Estates. 
Sources
"The Edison And Ford Winter Estates, Fort Myers, Florida." Edison and Ford Winter Estates. http://www.edisonfordwinterestates.org/about/what-youll-see/edison-ford-estates.
Tulie W. Taylor. "Edison. Thomas. Winter Estate," National Park Service - National Register of Historic Places Nomination Form. 8-12-91.
Welcher, Vicki L. "Henry Ford Estate." National Park Service - National Register of Historic Places Nomination Form. https://npgallery.nps.gov/GetAsset/c14afa23-1dc2-4a12-bfd1-5e6740453093.
Additional Information