Ebbets Field, 1913-1960
Introduction
Ebbets Field was the home to the Brooklyn Dodgers between 1913 and 1957. In the early 1900s, team owner Charlie Ebbets worked to create a more modern replacement for Washington Park, a wooden ballpark that could no longer accommodate the team and sport's growing fan base. Ebbets acquired bought parcels of land throughout the area, including a garbage dump called Pigtown--a reference to the practice of using urban garbage dumps as a place to raise and feed pigs. Construction of the stadium began in 1912. One year later, Pigtown had been transformed into Ebbets Field. Ebbets Field was one of the most iconic stadiums during baseball's golden age. It also hosted a succession of professional football franchises in the early years of the National Football League. The significance of Ebbets Field transcended the realm of sports when Jackie Robinson took the field on April 15, 1947, making him the first African-American Baseball player in Major League Baseball's modern age. After new team owner Walter O'Malley decided to move the team to Los Angeles, the Dodgers played their last game at Ebbets Field on September 24, 1957. The stadium was torn down three years later. Walter O'Malley's decision to remove the beloved team from Brooklyn remains the most notorious example of an owner moving a professional team in American sports history. To this day, Brooklyn residents view O'Malley as a villain, although many baseball historians insist that the story is more complicated, pointing to examples where O'Malley attempted to keep the team in Brooklyn.
Images
Ebbets Field hosted its first game on April 9, 1913 with an attendance capacity of up to 18,000 that grew to nearly 35,000 after several expansions.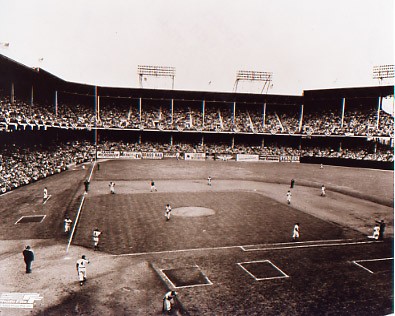 An aerial view of Ebbets Field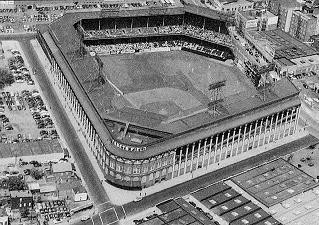 Peter Golenblock, Bums: An Oral History of the Brooklyn Dodgers. On the cover, Jackie Robinson steals home against the Boston Braves on Aug. 22, 1948 at Ebbets Field.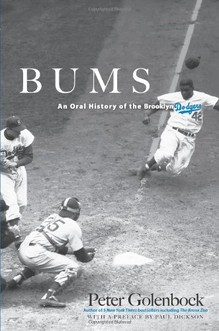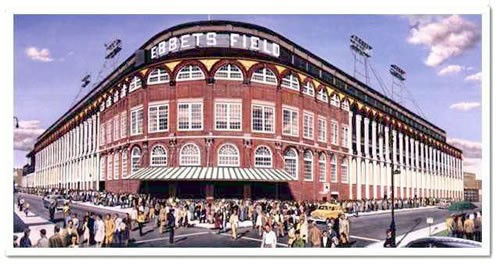 Backstory and Context
Ebbets Field was more than a baseball stadium to the fans of the Brooklyn Dodgers and the local community known as Flatbush. Fans could buy tickets to the game at the stadium in one of the twelve ticket windows and enter the stadium through any of the multiple turnstiles. 
In the early 1900s, a man named Charles Ebbets bought the Dodgers and decided to build a ballpark for them, one made of steel due to the frequent fires that occurred in so many wooden ballparks during that time. The reason for this new stadium was actually because their old one, Washington Park, was one of those that burnt down. He decided to build the park in the Flatbush neighborhood of Brooklyn, purchasing over 1,200 parcels of land along the Bedford Av. and Cedar Place. 
Construction began in 1912, and the stadium was completed in just over a year. Naming the new steel ballpark after himself, Ebbets Field hosted its first game on April 9th, 1913 against Philadelphia. Although it was a loss for the Dodgers, the field would be the scene of many legendary events in baseball history. 
Even though it was open and games were being played there, it wasn't yet complete. They still had to add a flag, seating in left and center field, and a scoreboard. Despite the fact it wasn't complete, it seemed as though the stadium was lucky because the Dodgers saw lots success for the first few years.
Many legends called Ebbets Field home throughout the years, including legendary broadcaster Ernie Harwell. Harwell was a part of history when he became the only broadcaster to ever be traded when the Crackers traded him to Brooklyn for a minor league catcher in 1948. Harwell was with the team through the 1949 season, but got a lot of experience within those two seasons. It was his first time in the majors, and he also got some time on television calling the games. One of the highlights of his time here was Jackie Robinson stole home in Harwell's first ever broadcast with the team.
Ebbets Field hosted nine World Series and was also home to the 1949 All-Star game. But during its 47 years, there was one moment in American and baseball history that stands above the rest--the integration of Major League baseball by Jackie Robinson.
Jackie Robinson was born in Cairo, Georgia and was an outstanding athlete from a young age. He would excel in many sports and became a star running back for UCLA. Robinson also excelled at baseball but faced limited opportunities due to the exclusion of Black players from the Major Leagues.  
After graduation, Robinson served as an officer in the U.S. Army. Robinson repeatedly challenged the army's policies and practices of racial segregation and would even face a court-martial after refusing to give up his seat on an army bus. Army regulations forbid segregation on its buses, and Robinson was eventually exonerated but not until thousands of African Americans rallied to support his cause. 
Following the end of World War II, Jackie signed with the Kansas City Monarchs--a member of the Negro League. His talent and success led Branch Rickey, President of the Brooklyn Dodgers to sign Robinson--the first African-American to play for a Major League team since the late 19th century. Despite facing racial epithets and even death threats, Robinson led an already talented Brooklyn team to the pennant and was selected as Major League Baseball's Rookie of the Year. 
Sources
"Ebbets Field." Baseball Almanac. Accessed Web, 6/7/17. http://www.baseball-almanac.com/stadium/stadiume.shtml.
"Biography." Jackie Robinson. Accessed Web, 6/7/17. http://jackierobinson.com/biography/.
"Ebbets Field." ballparksofbaseball. Accessed Web, 6/7/17. http://www.ballparksofbaseball.com/ballparks/ebbets-field/.
Additional Information