Fort Stanwix National Monument
Introduction
First erected by British General John Stanwix between 1758 and 1762, Fort Stanwix is best known as the location where colonial rebels withstood a British offensive in 1777. The fort was later used as the base for several battles in the area and was destroyed by a fire in 1781. The National Park Service built the current fort as a historic site in the 1970s and offers a variety of programs as well as exhibits in the visitor's center.
Images
Fort Stanwix was constructed in the 18th century. Visitors can tour a replica of the fort thanks to the National Park Service.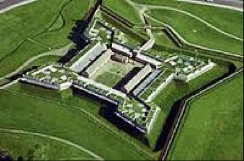 Backstory and Context
Located alongside an ancient trail that connected Native peoples between the Atlantic Ocean and Lake Ontario for centuries, Fort Stanwix is known as "the fort that never surrendered" owing to the tenacity of colonial rebels who occupied the fort during the American Revolution and withstood a siege by the British army.
Fort Stanwix utilized a star-shape that made it difficult to destroy with artillery by making it difficult to hit the fort squarely with artillery. The British built Fort Stanwix between 1758 and 1762 to protect the British from the French during the French and Indian War. The fort was also the site of several treaties, including the 1767 Treaty of Fort Stanwix between the Iroquois and the British colonists that established boundary lines. The treaty was signed by both parties, although it is important to note that the Native leaders who signed the treaty did so under duress and did not represent all of the Six Nations of the Iroquois.
The fort was abandoned after the French and Indian War and later rebuilt by colonial rebels in 1776 and at some point, it was renamed in honor of General Philip Schuyler. Colonial rebels at Fort Schuyler withstood a 21-day siege in the fall of 1777 as British, German, and Native American soldiers attempted to force the colonists to abandon the fort and surrender their small army. Although the fort withstood the siege, it was later destroyed by a fire in 1781.
After the Revolution, the State of New York decided to build a blockhouse on the grounds of the fort in 1794 to store military items. This blockhouse was abandoned in 1815 and the land was later used as a railroad route. In 1935, Franklin D. Roosevelt signed the Wagner-Sission Bill to make Fort Stanwix a National Monument. The National Park Service decided to build a replica of Fort Stanwix in the 1970s. Along with the Visitor's Center which was completed in 2005, Fort Stanwix National Monument offers a variety of programs and events in addition to exhibits and tours.
Sources
Fort Stanwix National Monument, National Park Service, accessed 9/22/17 https://www.nps.gov/fost/index.htm
Additional Information