Four Corners Monument
Introduction
The Four Corners Monument is located in Teec Nos Pos, New Mexico, 268 miles (4 ½ hours by car) northwest from the state capital of Santa Fe. The monument marks the convergence of four states—Utah, Colorado, Arizona, and New Mexico—and is the boundary for the Navajo Nation and the Ute Mountain Ute Indian Reservation. The original monument was erected in 1912 and was later refurbished. The monument is open year-round and hours vary by season. The Navajo Nation oversees the monument, visitor center, and artisan/vendor area and collects a $5 fee (cash only) from all visitors over 6 years old.
Images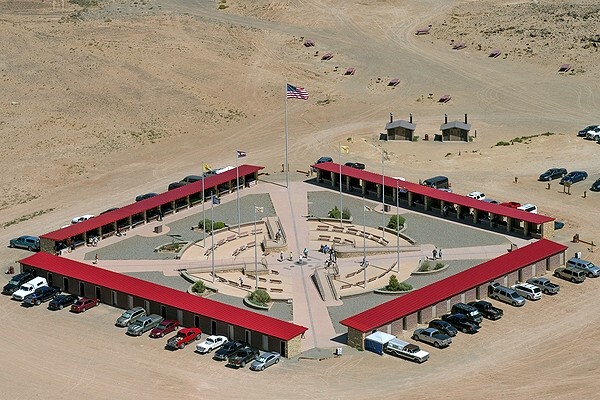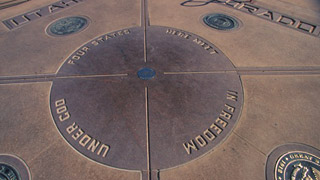 Backstory and Context
At the Four Corners Monument, many visitors lay on the ground spread eagle, touching all four states at once. It is a great photo op! The Navajo Nation offers Native American demonstrations and other learning experiences for the entire family. Vendors sell their wares—mostly jewelry and crafts—and offer authentic Native American food for visitors.
As you can see from the aerial photo, the Four Corners Monument is in a desolate part of New Mexico, so visitors are advised to bring snacks and personal care items with them. Also, visitors are advised to leave the surrounding area as they find it, as it is Native American land.
Why visit? The convergence of four states is a novelty and is worth experiencing. The Native American lands are desolate but beautiful. Again, it is worth experiencing. For travelers in the Santa Fe, New Mexico area, it makes a nice daytrip.
Sources
Visit Arizona Website http://www.visitarizona.com/places-to-visit/arizona-parks-monuments/four-corners-monument New Mexico Website http://www.newmexico.org/listing/?lid=19809 Mesa Verde Website http://www.newmexico.org/listing/?lid=19809
Additional Information