Andrew Carnegie's Final Resting Place (Sleepy Hollow Cemetery)
Introduction
Andrew Carnegie, an industrialist and philanthropist, died in 1919 and is buried in Sleepy Hollow Cemetery. Carnegie immigrated to the United States from Scotland with his parents in 1848. The family endured some hardships once in the United States, but eventually Carnegie advanced and became a leading figure in the steel industry. At one point, Carnegie was the wealthiest person in the country.
Images
Full view of Andrew Carnegie's grave. The flat stone at left marks Andrew Carnegie's grave, while that at left marks the grave of his wife, Louise.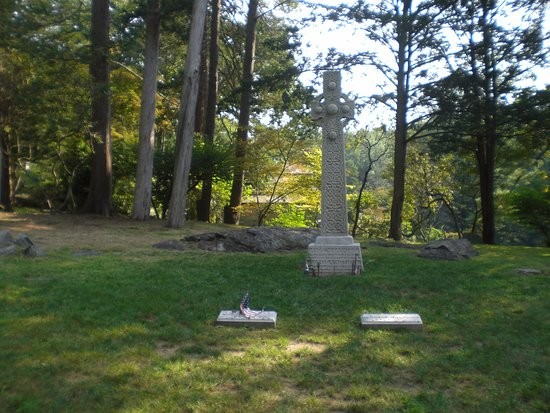 The Carnegie family plot. The cross at flat stones at left mark the graves of Andrew and Louise Carnegie. The stone at center and the two stones at right mark the graves of the individuals connected to the Carnegie household.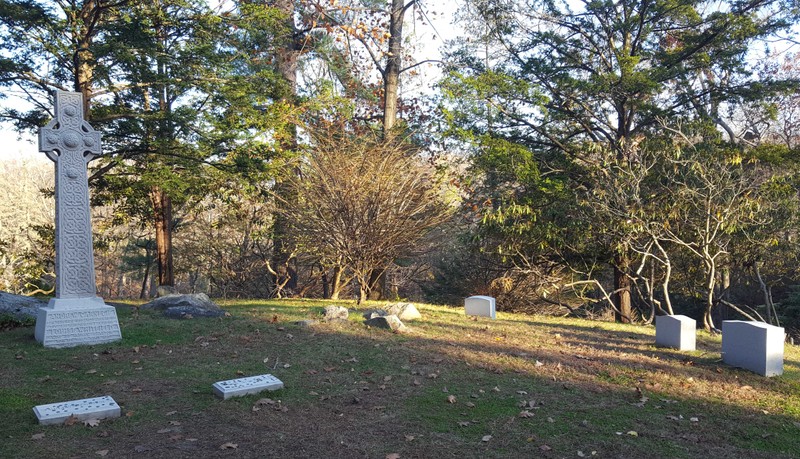 Base of Andrew Carnegie's grave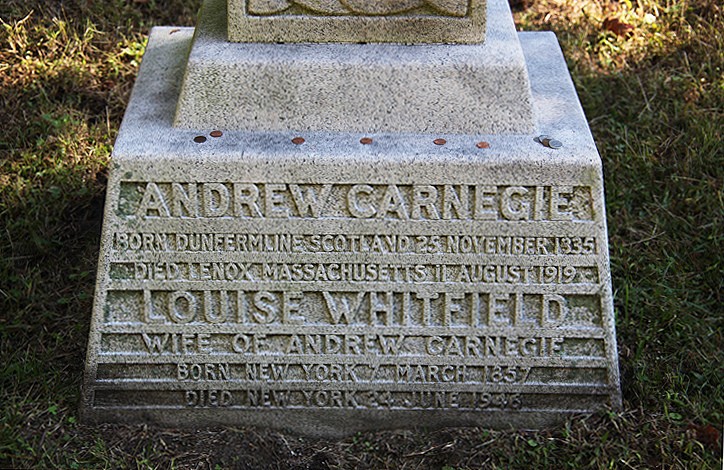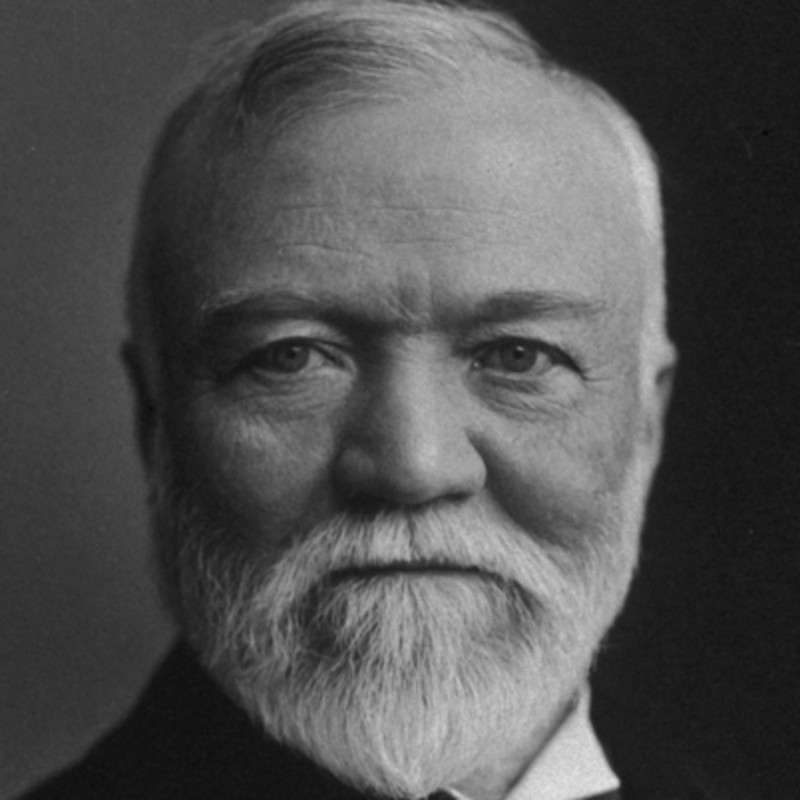 Backstory and Context
Andrew Carnegie died at Shadow Brook, his estate at Lenox, Massachusetts, on August 11, 1919, at the age of 83. Three days later a simple funeral was held in accordance with Carnegie's wishes in the music room at Shadow Brook. That same day, his remains were driven to the railroad depot at Hillsdale, New York, from whence they were conveyed via a special funeral car to White Plains. From White Plains, a hearse and five automobiles drove the funeral party to Sleepy Hollow Cemetery. The New York Herald reported that "before the arrival of the cortege the cemetery gates were closed and a score of guards were stationed at the entrances to keep curious persons away. Scores of towns folk who had intended to witness the burial were turned away."
The funeral party proceeded to the Carnegie family plot, which Carnegie's widow, Louise Whitfield Carnegie, had purchased three years previously. The Reverend Dr. William Pierson Merrill, pastor of the Brick Presbyterian Church in New York City, read the burial service. Carnegie's coffin was placed into a large underground vault that had been constructed at a cost of $40,000.
Louise Whitfield Carnegie was interred beside her husband following her death more than a quarter-century later at the age of 89. Their graves are marked by a simple cross that bears only their names and dates and places of birth and death.
Four other people, all of whom were born in Scotland and three of whom worked for the Carnegie family, are also interred in this plot. The tombstone of Agnes Lockerbie (1862-1949) notes that she was "a beloved member of the household of Mrs. Andrew Carnegie for 42 years." Her occupation was listed as nurse in the 1910 census. Annie Vass (1897) whose tombstone indicates that she was "a valued member of the household of Mrs. Andrew Carnegie," was listed in the 1940 census as a chambermaid. Kenneth Alexander Morrison (1886-1971) appears as Mrs. Carnegie's butler in the 1920 census. His tombstone notes that he was a "lifelong, loyal and devoted member of the Carnegie household." Following his death, Mr. Morrison was laid to rest beside his wife, May Mackenzie (1894-1968), who had been interred in the plot five years previously.
Sources
"Mr. Carnegie's Body Places in Vault." New York Herald (New York, N.Y.) August 15th 1919.
"Presbyterian Rites To Be Read Over Carnegie." New York Tribune (New York, N.Y.) August 14th 1919.
"Simplicity Marks Funeral Service for Mr. Carnegie." New York Herald (New York, N.Y.) August 15th 1919.
Additional Information