Rebecca Winters Memorial Park
Introduction
Located just south of Highway 26, Rebecca Winters Memorial Park is a small but meaningful historic site. It is named after Mormon pioneer Rebecca Winters, who died of cholera in 1852 on route to Utah and is buried here. The site features her grave, a historical marker, and two interpretive signs—one of which describes how Mormons traveled west to Utah to escape persecution, and the other provides information about the nearby Scotts Bluff geologic formation. The grave itself features a tombstone and, remarkably, an iron wagon tire on which Rebecca's husband, William F. Reynolds, inscribed her name: "Rebecca Winters - Age 50."
Images
The original iron tire that, if one looks closely, can see Rebecca's name etched on it.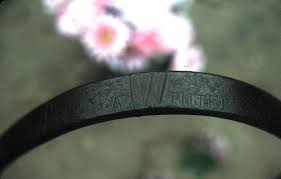 1929 photo of grave site. Fence was made in 1902 when the grave was discovered by workers of the Burlington Railroad and the smaller marker was erected in 1929 by Daughters of the American Revolution, calling Rebecca a "Real Daughter" due to her father se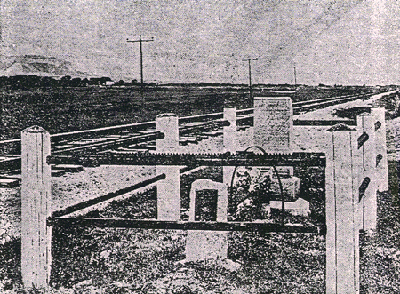 Rebecca Winters was reinterred at this location in 1995.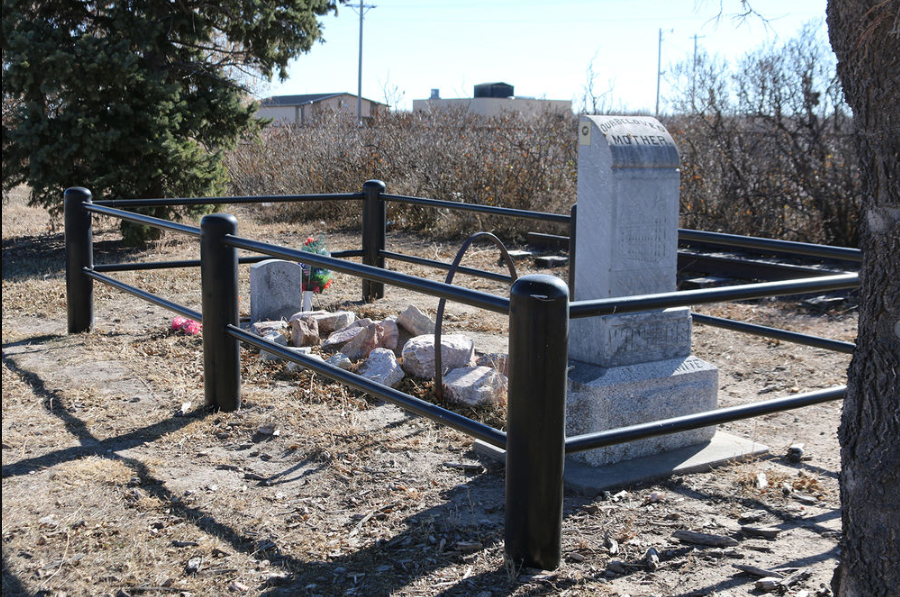 Backstory and Context
Joseph Smith founded the Church of Jesus Christ of Latter Day Saints (originally called the Church of Christ) in 1830. Before Smith (and his brother Hyrum) was murdered in Illinois in 1844, the church had attracted a large following—and ridicule from non-Mormons. Facing persecution in Illinois, Ohio, and Iowa, Mormons, under the leadership of Brigham Young, decided to travel west to Utah where, they believed, they could freely practice their religion. As a result, thousands of Mormon pioneers, including Rebecca and her family, trekked west to the Salt Lake Valley in the late 1840s and 50's.
Rebecca was born in 1802 and was the daughter of a Revolutionary War veteran. She and her husband, William, converted to Mormonism in 1833. Unfortunately, diseases such as cholera struck many pioneers as they headed westward. Rebecca succumbed to cholera on August 15, 1852 and was buried, apparently, under the wagon trail. Her family did make it to Utah.
In 1899, railroad surveyors of the Burlington Northern Railroad found the grave and, as the story goes, routed the tracks a few feet away from it. As her grave attracted visitors, the railroad became worried about safety and suggested to the Rebecca's descendants that it be relocated. As 65 descendants looked on, her remains were exhumed on September 5, 1995. She was reburied at this location in a mahogany casket—just a 100 yards away—on October 14th, with 125 descendants on hand to witness the event. As of October 2019, there has been discussion among Rebecca's descendants and the county about possibly relocating the grave. The county is unable to pay for its maintenance and industrial traffic around the site has increased, raising safety concerns.
Sources
"About the Relocation." RebeccaWinters.com. Accessed October 12, 2019. https://www.rebeccawinters.org.
North, Irene. "Rebecca Winters: Mormon pioneer the center of attention as group plans to move her grave." Star-Herald. June 2, 2019. https://www.starherald.com/features/lifestyle/rebecca-winters-mormon-pioneer-the-center-of-attention-as-group/article_25bf1949-77fb-596e-bf92-b8879baee960.html.
"Rebecca Winters." The Historical Marker Database. Accessed October 12, 2019. https://www.hmdb.org/marker.asp?marker=86666.
"Rebecca Winters' Gravesite, Scottsbluff, Nebraska, USA." Accessed October 12, 2019. http://mormonhistoricsites.org/rebecca-winters-gravesite.
"The Rebecca Winters Story." National Parks Service - Scotts Bluff. Accessed October 12, 2019. https://www.nps.gov/scbl/planyourvisit/upload/Rebecca-Winters-Story.pdf.
Image Sources
Irene North, via the Star-Herald

Additional Information