St. Ann & the Holy Trinity Church
Introduction
Originally named Church of the Holy Trinity, St. Ann's Church is one of the most prominent and historical Episcopal churches in America. Completed in 1848, this church was designed by American architect Minard Lafever. After closing for more than a decade, in 1969, St. Ann's Church, the oldest Episcopal parish in Brooklyn, moved into the building.
Images
The church is famous for its stained glass windows that total seven thousand square feet of painted glass.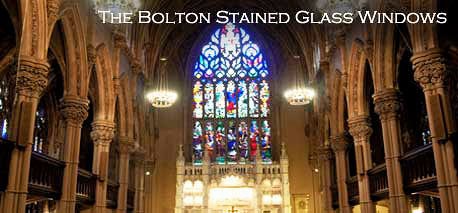 The church was completed in 1848. This undated photograph of the church was taken in the mid-20th century.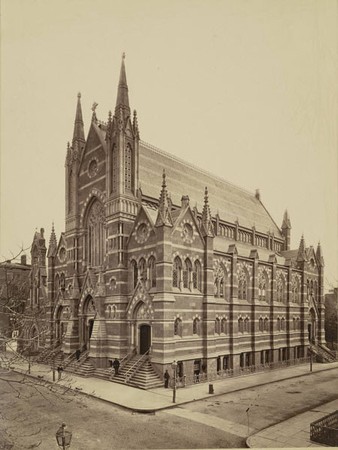 Backstory and Context
St. Ann & the Holy Trinity was built as the Church of the Holy Trinity by Brooklyn paper manufacturer Edgar Bartow who wanted a magnificent edifice for the city of Brooklyn, with pews that were rent-free. He built it between 1844 and 1848 on the highest point in Brooklyn Heights, which was sparsely settled at the time. Designed by early American architect, Minard Lafever, and opened in 1847, it is considered a masterpiece of the Gothic Revival style in America. Along with the notable architecture, the church also possesses a collection of stained glass windows.
Installed in the church's windows are more than 7,000 square feet of stained glass pieces designed by William Jay Bolton. These pieces depict the "Jesse Tree" of Christ's ancestry. This collection is perhaps the most significant (and one of the earliest) works of early American stained glass.
Before it was removed in 1906 due to concerns about falling stones, its spire was the most visible landmark in Brooklyn and was used by ship captains to navigate the harbor. Throughout the richly decorated interior, vines and botanical ornamentation embellish the arches and vault groins of the Gothic-style architecture.
Due to disrepair, the New York Landmarks Conservancy intervened in 1979 to save the aging church and repair the stained glass. It founded the St. Ann Center for Restoration and the Arts in 1983. Since then, the work on the stained glass has included the restoration of the chancel window and 64 stained glass windows by William Bolton located in the nave. Bolton's organ loft window has since been moved and is on permanent exhibition in the American wing of the Metropolitan Museum of Art.
Sources
"St. Ann & the Holy Trinity | An Episcopal Church in Brooklyn Heights." St Ann the Holy Trinity. Accessed May 21, 2017. http://www.stannholytrinity.org/.

St. Ann & the Holy Trinity Episcopal Church - Brooklyn, N.Y. Accessed May 21, 2017. http://www.nycago.org/organs/bkln/html/stannholytrinity.html.


"St. Ann and the Holy Trinity." NYC-ARTS. March 05, 2013. Accessed May 21, 2017. https://www.nyc-arts.org/organizations/54410/st-ann-and-the-holy-trinity.
Additional Information