Huntsville-Madison County Veterans Memorial
Introduction
Dedicated on Veterans Day in 2001, this memorial complex includes a variety of memorials that honor veterans from Huntsville and Madison County. The complex features monuments to veterans of specific conflicts, as well as general monuments that honor all veterans. The memorial park was created with the help of the city and county government and over $3 million in donations. The complex includes an eternal flame and fountains, a reflecting pool, a monument to men risking their lives to save a fallen comrade, and panels of polished Black granite that bear the names of over 365 soldiers from Madison County who died during their term of service. The memorial is surrounded by a brick pathway with over five thousand bricks placed by supporters who helped raise funds for the memorial complex.
Images
For an overview of the history of the Vietnam conflict, consider this book by Pulitzer-prize winning author Stanley Karnow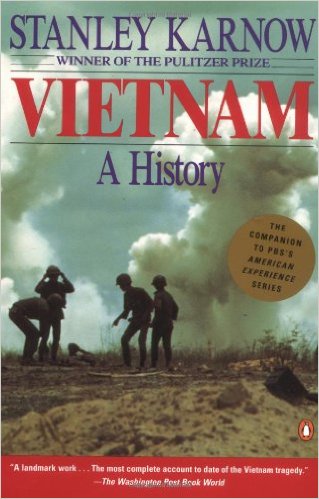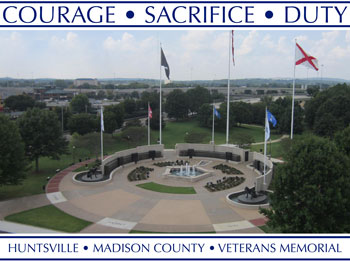 Backstory and Context
This monument is dedicated to Huntsville-area veterans and follows the stories of three specific men who served in the war. The monument begins with the story of Technical Sergeant Ed Detaille, Jr. He was apart of the largest bombing campaign in history and shares the opinion of some soldiers that the military might have prevailed had these bombing campaigns been expanded. Although military historians and many contemporary military officials disagree that more bombing campaigns would have been effective, Detaille's perspective reflects what many soldiers were told by military leaders and politicians at the time.

Staff Sergeant Peter Drake describes the strenuous physical conditions that he and other soldiers endured. He discusses the experience of infantrymen, including those who were drafted and those who volunteered. He also describes the experience of serving in the air-mobile divisions in the Army, a new type of warfare that blended infantry and helicopters for the jungles of Vietnam.

The finally story follows the experience of an older man who had served in Korea. His story is vastly different from the younger men that served, as he had been discharged from the military but reenlisted after college due to the lack of employment opportunities. His service in Vietnam started before the combat troops were on the ground in combat roles, as he was part of the military advisor program designed to assist the South Vietnamese military.

Sources
1959-1975/Vietnam War/Vietnam War, Historical Marker Database (accessed 6/1/2016) http://www.hmdb.org/marker.asp?marker=85464
Additional Information