Lewis H. Latimer House Museum
Introduction
The Lewis H. Latimer House Museum was built from 1887-1889 by the Sexton family. This Queen-Anne style house was owned by the African American inventor Lewis H. Latimer from 1903 to 1928. It was originally located on Holly Avenue, but it was moved to its current location in 1988 after threats of demolition. The building is now owned by the NYC Department of Parks and Recreation and is managed by the Lewis H. Latimer Fund, Inc. It features exhibitions of Latimer's, as well as of other African Americans', life and inventions.
Images
The front of the Lewis H. Latimer House Museum.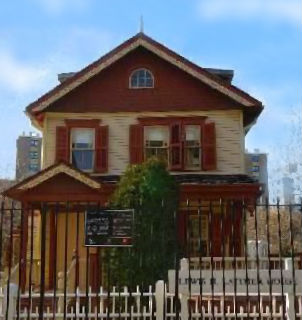 Backstory and Context
Lewis Howard Latimer was born on September 4, 1848, in Chelsea, Massachusetts. He was the child of fugitive slaves, George and Rebecca Latimer. His father left him at an early age, so Lewis lived with his three older siblings and his mother. When he was 16, he enlisted in the Northern Army during the Civil War by lying about his age.

Afterward, Lewis H. Latimer returned to Boston, Massachusetts with an honorable discharge and got a lowly job at the Crosby and Gould patent law office. There, he taught himself the art of drafting and mechanical drawing by watching the draftsmen at his workplace. The firm made him a draftsman after they discovered how good he was at drafting. Latimer designed various inventions while he worked there, coming up with ideas such as air conditioning units and improved bathrooms for railroad cars (also known as the water closet).

He worked with Alexander Graham Bell to draft a patent for the telephone. He also worked alongside Hiram Maxim and Thomas Edison on incandescent lighting. Latimer published a book in 1890 called Incandescent Electric Lighting: A Practical Description of the Edison System. Latimer worked as a patent consultant until 1922.

In 1873, Latimer married Mary Wilson. They had two children together, both of whom were girls. The Latimers were avid supporters of the Unitarian Church. In addition, Lewis Latimer joined support groups for Civil War veterans, such as the Grand Army of the Republic. He also had several hobbies, like painting and writing poems and plays, as well as flute playing. At the Henry Street Settlement in New York, he taught mechanical drawing and English to immigrants during his free time.

Lewis Latimer died December 11, 1928, at the age of 80 in Flushing, Queens, New York. During his lifetime, he made great contributions to science and technology, leaving his mark on African American history.

Although there were threats that his house would be demolished and replaced with new houses in 1988, his descendants, as well as other supporters, demanded otherwise. They decided to move the house from Holly Avenue to Leavitt Street and 34th Avenue, which was a mile away. They also planned to turn the building into a museum dedicated to Lewis H. Latimer's life and accomplishments. Fortunately, with enough funding, the Latimer's home was saved and moved to its current location today.

Sources
"Lewis H. Latimer House Museum." Historic House Trust. Accessed Web 6/18/17. http://historichousetrust.org/house/lewis-h-latimer-house-museum/.

"Lewis Howard Latimer." Biography. Accessed Web, 6/18/17. https://www.biography.com/people/lewis-howard-latimer-9374422.

Fried, Joseph P. "A Campaign to Remember an Inventor." The New York Times. 8/6/88. Accessed Web, 6/18/17. http://www.nytimes.com/1988/08/06/nyregion/a-campaign-to-remember-an-inventor.html.


Additional Information