Grave of Alexander Hamilton
Introduction
Alexander Hamilton was killed in a duel in the same location his son, Philip, was killed by the same means just three years earlier, but questions of whether Hamilton intended to hit his target or not that day still arise. Hamilton, however, is better known for his life's legacy rather than his death. One of the Founding Fathers of the United States, friend to George Washington, and author of the Federalist Papers, Hamilton was one of the most influential men of his time. He was instrumental in the formation of the Constitutional Convention in Philadelphia in 1787, opposing the Articles of Confederation and using his influence to alter the course of history.
Images
Hamilton met Burr at the duel, which was on July 11, 1804, in Weehawken, New Jersey.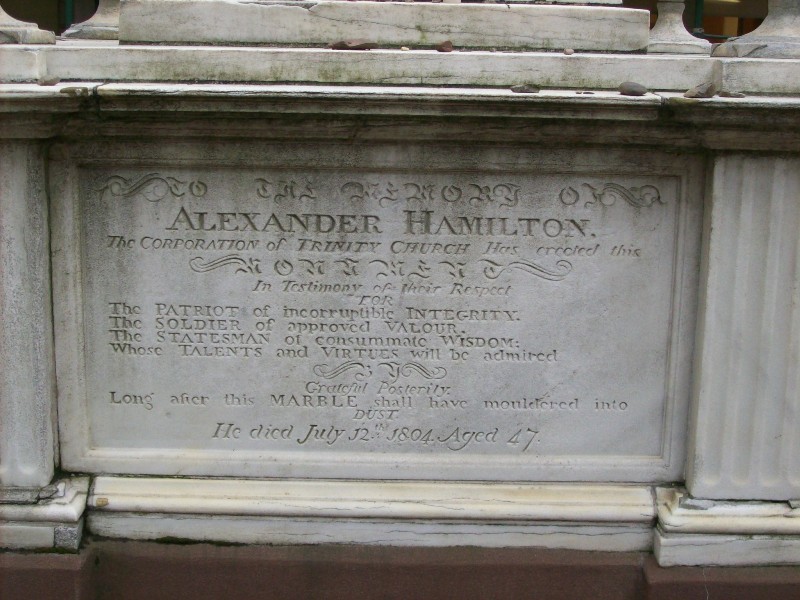 Alexander Hamilton's influence can be seen today in images such as his face on the ten-dollar bill.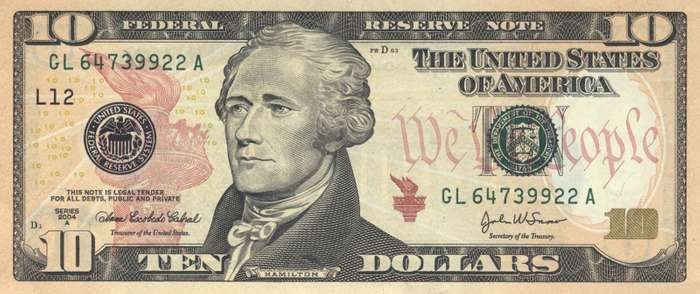 Backstory and Context
Alexander Hamilton was born on the island of Nevis in the British West Indies on January 11 of either 1755 or 1757. His father left he and his mother in 1765 while Hamilton was still young; his mother died a few years later in 1768, leading Hamilton to begin his first job at the age of 11, working as an accounting clerk for a merchant in order to support himself. With this job, Hamilton became interested in international commerce and continued to learn about the business of money and trade.
Hamilton's boss was impressed with his skills when it came to accounting. He and other businessmen raised enough money to send Hamilton to America for a real education. When Hamilton was a teenager in 1773, he arrived in New York, where he studied at King's College, now known as Columbia University. Though sent to America for an education, the American colonies were about to begin a revolution against Great Britain, causing Hamilton to switch interests from academics to politics by becoming an activist for independence from Britain and publicly supporting the Boston Tea Party.
In 1775, when the Revolutionary War officially began, Hamilton became part of the New York Provincial Artillery Company, made captain in 1776, and fought in the battles of Long Island, White Plains, and organized his own company at the Battle of Trenton. In 1777, he was promoted to lieutenant colonel of the Continental Army after fighting in several more battles. During his service in the Revolutionary War, Hamilton became close with General George Washington, who made him his assistant and trusted adviser, and later, liaison officer between Washington and French generals. For five years, Hamilton used his writing skills to write Washington's letters and create many reports on the strategic reform and restructuring of the Continental Army.
On December 14, 1780, Hamilton married Elizabeth Schuyler, who was the daughter of Revolutionary War General Philip Schuyler. They had eight children together and even stayed married after Hamilton's 1791 affair with a married woman, Maria Reynolds. Hamilton's affair with Reynolds is considered one of the first sex scandals in the country's history.
Hamilton got tired of his writing job and in 1781 he convinced Washington to let him go back to the battlefield. With Washington's permission, Hamilton led a victorious charge against the British in the Battle of Yorktown. British surrender after that battle eventually led to several treaties known as the Peace of Paris agreements, marking the end of the Revolutionary War in 1783.
When Washington was elected president in 1789, he appointed Hamilton as the first secretary of the treasury. During his time as treasury secretary and before, Hamilton was pushing for a larger central government, authoring 51 of the 85 essays (from 1787-1788) composing the Federalist Papers calling for ratification of the Constitution, but fellow cabinet members did not agree and were fearful of the idea. Hamilton resigned from his position as secretary of the treasury in 1795. However, he left behind a far more secure U.S. economy to back a strengthened federal government, as he raised funds to pay off war debt, devised the first tax, budget, and accounting systems, and in 1790, created the first central bank, the Bank of the United States.
During the 1800 presidential elections, Thomas Jefferson ran against John Adams. At the time, presidents and vice presidents were voted for separately, and Aaron Burr wanted to be Jefferson's vice president but tied Jefferson for the presidency. Hamilton went to work supporting Jefferson's campaign and formed an enemy in Burr.
During his first term, Jefferson often left Burr out of discussions on party decisions. When Jefferson ran for re-election in 1804, he decided to remove Burr from his ticket. Burr then decided to run independently for the New York governorship but lost. Burr hit his boiling point when he read in a newspaper that Hamilton had called Burr "the most unfit and dangerous man of the community." Burr was convinced that Hamilton had ruined a second election for him, and Burr demanded an explanation. When Hamilton refused to comply, Burr challenged Hamilton to a duel. Hamilton accepted, having accepted duels in the past but ending them peacefully, as Hamilton believed duels to be morally wrong.
Hamilton met Burr at the duel on July 11, 1804, in Weehawken, New Jersey, the same location Hamilton's son, Philip, died in a duel just three years earlier. However, conflicting accounts of what occurred that day are still questionable. Hamilton's assistant claims when it was time to shoot, Hamilton deliberately fired into the air, in hopes Burr would do the same and end the duel amicably. Burr's assistant claims Hamilton fired at Burr, but missed. Nevertheless, Burr's bullet found Hamilton's stomach, and Hamilton died the next day from his injuries, after being transported to Manhattan where he requested communion from a rector in the family's nearby Trinity Church. Just days before, on July 4, Hamilton had written a note to his wife that read "Fly to the bosom of your God and be comforted. With my last idea; I shall cherish the sweet hope of meeting you in a better world. Adieu best of wives and best of Women. Embrace all my darling Children for me." Barr, branded an assassin, fled south. Hamilton's grave is located in the cemetery of Trinity Church in New York City. His wife, Elizabeth, and son, Philip, are buried near him.
Hamilton's inscription reads:
TO THE MEMORY OF
ALEXANDER HAMILTON
THE CORPORATION OF TRINITY CHURCH HAS ERECTED THIS
MONUMENT
IN TESTIMONY OF THEIR RESPECT
FOR
THE PATRIOT OF INCORRUPTIBLE INTEGRITY.
THE SOLDIER OF APPROVED VALOUR.
THE STATESMAN OF CONSUMMATE WISDOM;
WHOSE TALENTS AND VIRTUES WILL BE ADMIRED
BY
GRATEFUL POSTERITY
LONG AFTER THIS MARBLE SHALL HAVE MOULDERED INTO DUST.
HE DIED JULY 12TH 1804. AGED 47.
Sources
Alexander Hamilton (1755-1804) - Find A Grave... (n.d.). Retrieved from https://www.findagrave.com/memorial/437/alexander-hamilton
Alexander Hamilton. (2020, February 7). Retrieved from https://www.biography.com/political-figure/alexander-hamilton
Alexander Hamilton's Dreams of Industry, New Jersey Historical Commission. Accessed August 29th 2020. https://nj.gov/state/historical/it-happened-here/ihhnj-er-hamilton.pdf.
Aaron Burr slays Alexander Hamilton in duel, History. November 24th 2009. Accessed August 29th 2020. https://www.history.com/this-day-in-history/burr-slays-hamilton-in-duel.
DeConde, A. (2019, December 23). Alexander Hamilton. Retrieved from https://www.britannica.com/biography/Alexander-Hamilton-United-States-statesman
Image Sources
Alexander Hamilton (1755-1804) - Find A Grave... (n.d.). Retrieved from https://www.findagrave.com/memorial/437/alexander-hamilton

Brtiannica, Getty Images

Britannica, U.S. Dept. of the Treasury Bureau of Engraving and Printing

Additional Information