Grace Episcopal Church Complex
Introduction
Grace Episcopal Church Complex was built between 1861 and 1862. It was built out of rough-cut sandstone. It has a steeply pitched roof and tall, sharp spire that was made in the Gothic Revival style. The original architect of the church was Dudley Field. There were additions to this church in the 1900s, which included a chancel in 1901 and a parish house in 1912. The chancel is the space around the altar, including the choir and the sanctuary; it is located at the rear of the church. The chancel was made between 1901 and 1902 and was designed by Cady, Berg & See. The parish house, called the Grace Memorial House, is a three-story building made in the Tudor Revival style.
Images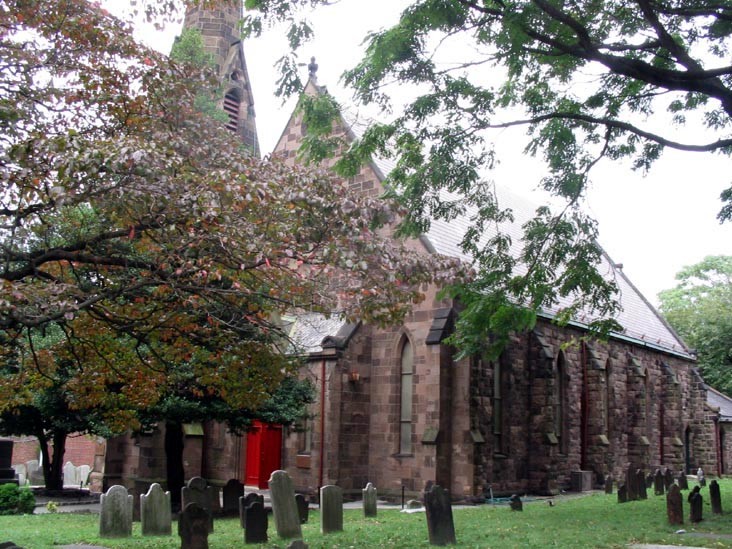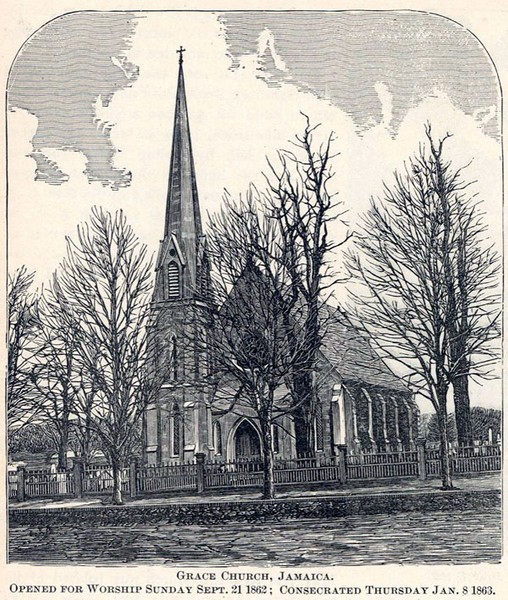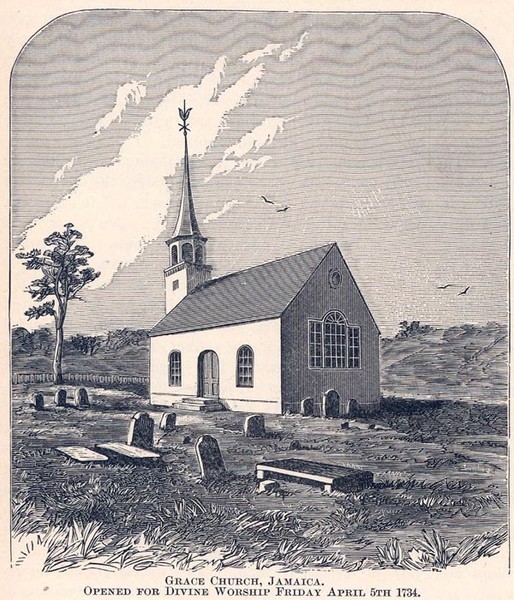 Backstory and Context
A cemetery surrounds the Grace Episcopal Church, which includes burials dating back to 1734. The cemetery contains the remains of Rufus King (1755–1827), Charles King (1789–1867), and William Duer (1747–1799). Rufus King was elected to the first United States Senate in 1789 by New York State. He also became the Minister to England by appointment of George Washington in 1796. Rufus King and his family were active supporters of the Grace Episcopal Church.

The Church's history can be traced back to 1702 when missionary ministers were sent from the Society of Propagation of the Gospel in Foreign Parts, an English organization. They were sent because there was a request from a group of Jamaican residents, who desired a place to worship. The missionaries led worship in the county courthouse until 1733, when the missionaries were given half an acre on which they erected their first church building in 1734.

The Church's property was later enlarged from gifts and purchases. The Grace Episcopal Church was actually the third Church built on the property site. The Church officially became a New York City landmark in 1967 and was added to the National Register of Historic Places in 1983.


Sources
"Grace Episcopal Church and Graveyard." Neighborhood Preservation Center. Accessed Web, 6/16/17. http://www.neighborhoodpreservationcenter.org/db/bb_files/GRACE-EPIS-CHURCH---GRAVEYARD.pdf.

"Grace Church." NYC AGO. Accessed Web, 6/16/17. http://www.nycago.org/organs/qns/html/graceepisjamaica.html.


Additional Information