The Little White Schoolhouse, Birthplace of the Republican Party
Introduction
Constructed in 1853, this modest wood frame schoolhouse was the site of a meeting in 1854 that gave birth to the Republican Party. The building later became the home of Wisconsin governor George Peck. The building was saved and moved several times in the 20th century thanks to local preservationists.
Images
This modest schoolhouse was home to an 1854 meeting that resulted in the creation of the Repulican Party.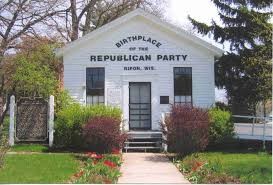 Backstory and Context
In 1854, Ripon citizens filled the schoolhouse in the hopes of creating a new political party to replace the Whig Party which had disintegrated over the extension of slavery. The new party also hoped to counter the Democrat's support of the Kansas-Nebraska Bill and the extension of slavery into the West.
Sources
Wisconsin and the Republican Party. Wisconsin Historical Society. . Accessed September 16, 2018. https://www.wisconsinhistory.org/turningpoints/tp-022/.


Additional Information