T.T. Wentworth Jr. Florida State Museum
Introduction
Located in an historic building that originally served as Pensacola's City Hall, the T.T. Wentworth Jr. Florida State Museum opened in 1988 and offers three floors of exhibits that preserve and interpret the history of Pensacola and the surrounding region. Constructed in 1907, this Alamo mission-style building served as a city hall until 1985. The museum is open daily and is located in the heart of Historic Pensacola Village.
Images
The T.T. Wentworth Jr. Florida State Museum.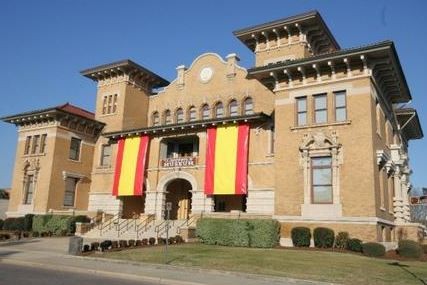 W.D. Donaldson and T. T. Wentworth Jr. standing with a brick collection which dated back to the 1600s at the museum.
A tribute to the Civil War can be found on the second floor of the museum.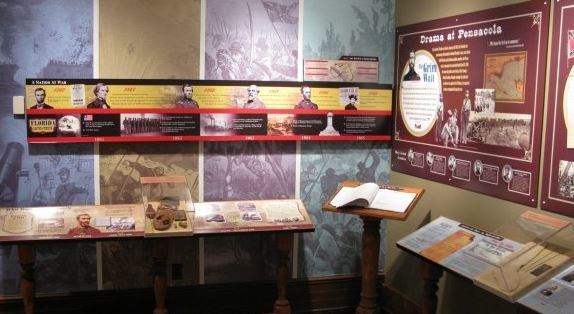 The museum is full from wall to wall with hundred of items of artifacts and miscellanea.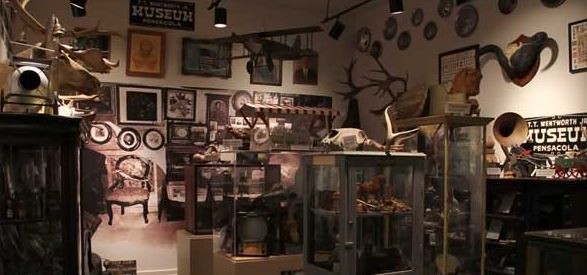 T.T. Wentworth, Jr. with a dinosaur bone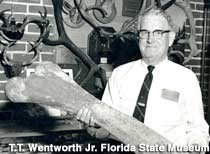 Backstory and Context
T.T. Wentworth was an entrepreneur, politician, and collector, and preservationist. His collection of artifacts and curiosities are now part of the museum's permanent collection. Although the museum was not officially opened until 1988, these artifacts have long served an educational role. In the 1920s, Wentworth began to display parts of his collection of historical items in the windows of his bicycle shop. As the town of Pensacola grew, Wentworth started to see there was a need to preserve the city's history.

In 1938, Wentworth donated what was then known as the Dorothy Walton House to the city of Pensacola. With additional support from the Wentworth family and others, this home served the community as a museum and meeting place. During World War II, however, there were not enough volunteers to keep the museum running so Wentworth moved his collection to his new home in Ensley. However, Wentworth continued to add to his collection and even built a separate building to house and share his collection with others.

In 1983, Wentorth donated his collection of over 150,000 collectibles to the State of Florida. With a $1.2 million grant from the state and the support of many local volunteers, this new museum was able to open its door in November, 1988. One year later, Mr. Wentworth died of cancer.

Sources
http://www.pensapedia.com/wiki/T._T._Wentworth http://uwf.edu/offices/historic-trust/what-we-do/museums/#mcmillan http://vivaflorida.org/Explore/Museums/Historic-Pensacola-Village-T.T.-Wentworth-Jr.-Florida-State-Museum Photo Sources: https://www.floridamemory.com/items/show/7001 http://www.flpublicarchaeology.org/civilwar/museum-exhibits/pensacola/t.t.-wentworth-museum/time-line-exhibit-etc.jpg.php http://www.roadsideamerica.com/story/16973 http://vivaflorida.org/Explore/Museums/Historic-Pensacola-Village-T.T.-Wentworth-Jr.-Florida-State-Museum
Additional Information