The Farm House Museum (Iowa State University)
Introduction
Home of agriculturist and teacher Seagram A. Knapp and of U.S. Secretary of Agriculture James Wilson, now located on Iowa State University's campus. The Farm House is the oldest building on campus. It is a two-story building with 14 rooms. It was built in 1860 through funds from the state and members of the surrounding community to become the State Agricultural College and Model Farm. It cost $25,500 to build and was completed in 1861 at the beginning of the Civil War. Under the Morrill Land Grant Act, the college opened in 1869 providing students with a free education. The Farm House was home to Adonijah Welch, the first president of Iowa State Agricultural College. Over the years, the Farm House continued to house deans of the college as well as students in the 1940s. The Farm House was added to the National Register of Historic Places in 1965 and was turned into a museum in 1976.
Images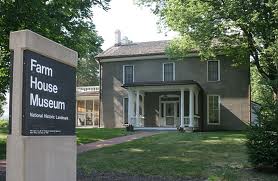 The Farm House-1865- Courtesy of Iowa State University Museums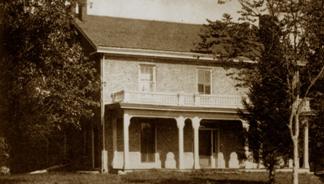 Knapp Family outside the Farm House- Courtesy of Iowa State University Museums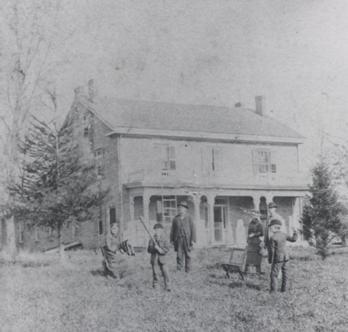 Backstory and Context
The Farm House was completed in 1861 but the college did not open until 1869. The Farm House housed members of Iowa State University, as well as their families and farm laborers. The building used kerosene lighting until 1873. The Farm House underwent several small renovations over the years until 1948 when it was "…updated to become a home management house…".
[1]
The renovations included "…replastering and repapering the walls, refinishing of the original stairway, modernization of the restrooms, an updated kitchen, and the removal of the fireplace in the Curtiss library."
[2]
The Farm House was recognized as a National Historic Landmark in 1965 and was originally named the Knapp-Wilson house (named after previous residents) and was later renamed the Farm House by President Hilton.
[3]
In 1970, the Farm House was in danger of being demolished but was saved by a committee that formed to restore it to it's original state. Federal grants and donations allowed the structure to undergo a large renovation. The Farm House Museum opened on July 4th, 1976.
Sources
[1] http://www.museums.iastate.edu/Farm%20HouseTimeline.html [2] http://www.museums.iastate.edu/Farm%20HouseTimeline.html [3] http://www.museums.iastate.edu/Farm%20HouseTimeline.html
Additional Information