BRIC Media House
Introduction
BRIC has been providing a creative home for the arts and artists in Brooklyn since 1979. BRIC House serves as a home for artists and audiences. BRIC House brings BRIC's contemporary art, performing arts and community media programs under one roof for the first time. The project repurposed the former Strand Theater building in the heart of the Brooklyn Cultural District.
Images
BRIC Arts Media House is located at 647 Fulton Street in Brooklyn and provides a wide array of spaces and services for artists and audiences alike.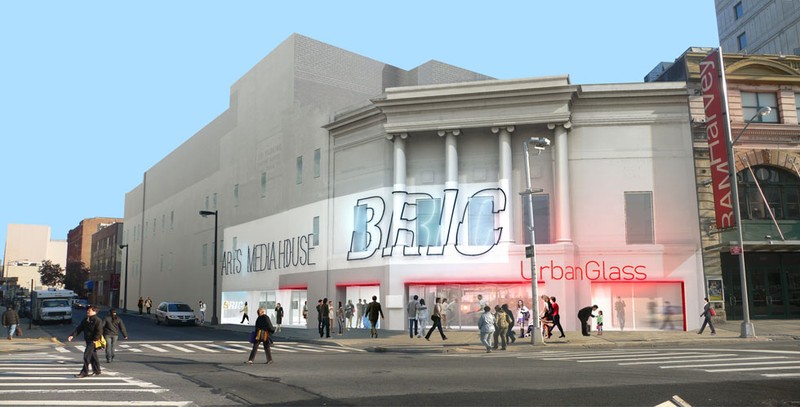 Backstory and Context
BRIC House features spaces for performing arts, an artist studio, a 3,000 square-foot gallery, public access TV center, cultural gathering space featuring drop-in programming for all ages, a cafe and classrooms - all under one roof. It is also the home of UrbanGlass.

BRIC presents contemporary art, performing arts and community media programs that showcase Brooklyn's creativity and diversity. BRIC also provides the necessary resources to help artists and media makers. It strives to advance access to and understanding of arts and media by presenting free and low-cost programming, and by offering education and other public programs to people of all ages.
Some of BRIC's most noted programs include the BRIC Celebrate Brooklyn! Festival in Prospect Park, several public access media initiatives, including the newly-renamed BRIC TV, and a renowned contemporary art exhibition series. BRIC also offers education and other programs.

In addition to making cultural programming accessible to everyone, BRIC provides substantial support to artists and media makers in their efforts to develop work and reach new audiences.
Sources
"About BRIC." BRIC. Accessed Web, 6/13/17. https://www.bricartsmedia.org/about-bric.


Additional Information