St. Patrick's Cathedral
Introduction
Completed in 1878, St. Patrick's Cathedral stands in New York, New York on Madison Avenue. This exquisite 135 year old cathedral is home to many Catholics under the leadership of Timothy Dolan (2013). The cathedral is right across from Rockefeller Center which makes it a tourist must see in New York City. The property was purchased in late 1828 due to unpaid taxes. The sight was going to be home to a Catholic cemetery, but eventually grew into a bigger and better idea. The Civil War caused the delay of construction for about seven years, but it now stands tall today. Since the cathedral is now aging, and more rapidly because of acid rain, the cathedral is going through restoration that will cost about $177 million. St. Patrick's can hold 2,200 people and takes up a whole city block. The details of the cathedral are very beautiful and thought out. Most of the work is created in the United States. Some of the work includes: stained glass from Boston, spires made of marble from Massachusetts and also New York, and Tiffany & Company designed both the Saint Michael and Saint Lewis altar. The cathedral is truly a work of art.
Images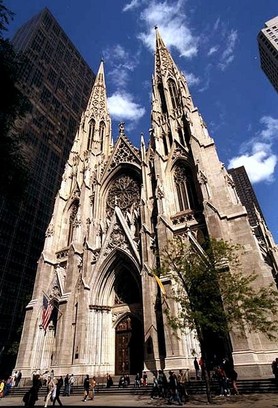 Backstory and Context
In 1785, Catholicism wasn't very popular in New York. It was practiced by only two hundred New Yorkers, and the state only had one Catholic priest. However, as New York came into the early 1800s the Catholic population began to grow. It was during this time that the state was elevated to an episcopal see, meaning it gained a bishop to care for the local churches. The duties of this role are (but are not limited to) guiding, delegating, and keeping holy the followers of their Catholic church. Events such as this made for growth in the New York Catholic population until there were enough New York Catholics for an original Cathedral of New York to be built. It was constructed near Mulberry Street in lower Manhattan, which is not where it lives today. The cathedral is named after Saint Patrick, the patron saint of Ireland. It was funded by the contributions of many poor immigrants, along with $1000 donations from 103 prominent citizens. This cathedral, created early in the 19th century, was designed by Mr. Joseph Mangin, a famous architect in New York City, and exhibits Gothic architecture.

In the mid 18th-century, Archbishop Hughes wanted to erect a new cathedral that would do justice to the numerical, intellectual, and economic growth of New York's Catholic community. James Renwick, a popular architect, designed the new cathedral, and his plan costed upwards of $850,000. The church was to be located between Madison avenue and 5th avenue, between 50th street and 51st street. The plan was referred to as the "Hughes' Folly," because people believed this location to be too far out of the more heavily-populated downtown area to be successful, but it was executed at the midtown location. Its construction began in the August of 1858, and was interrupted by the Civil War (along with a lack of funds), but construction quickly picked up after the end of the war. The cathedral was finally opened to the public on May 25, 1789. It was praised as the most glorious spiritual center raised in the name of Saint Patrick, and as "the glory of Catholic America" by newspapers.

In 1927, a renovation project for the Cathedral was proposed by Cardinal Hayes, in honor of its 50th anniversary. This renovation included, but was not limited to, sanctuary enlargement choir gallery rebuilding, new organ building, new baptistery construction, and new flooring. In the 1940s many benefactors were willing to fund improvements such as window, door, and altar reconstruction, further improving the already praised Cathedral. At the current time, plans are being put into place to continually preserve Saint Patrick's Cathedral for the glorious piece of history that it is.
Sources
http://www.nyc-arts.org/organizations/2478/saint-patrick-s-cathedral http://saintpatrickscathedral.org/historical-timeline http://saintpatrickscathedral.org/history-heritage/
Additional Information