Harry S Truman Farm Home
Introduction
Harry S Truman is an American and Political icon who redefined American foreign policy for decades. Truman was a man who made extremely tough and complicated decisions like sending troops to Korea and using atomic weapons against Japan to end World War II. Choices like these require steady leadership, stiff resolve, and strengthened determination from a dedicated leader and Harry Truman possessed all of these qualities in spades. Many of these qualities and traits were developed by Truman while he lived and worked on his family's farm in early adulthood. Public office is where Harry Truman became a leader. The Truman farm is where Harry Truman became a man.
Images
This home is where President Truman spent years of his life while learning to be a hard worker.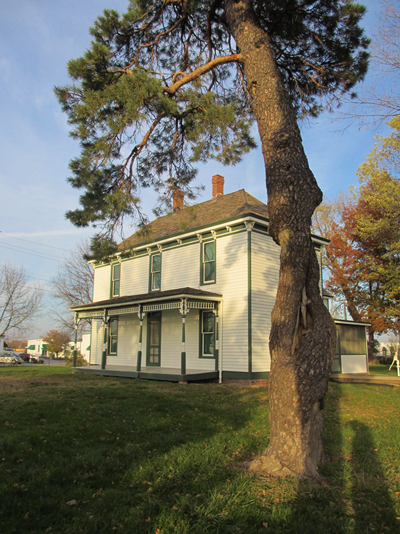 Louisa Young was a matriarchal figure in the Truman household until her death. She is pictured here in her formidable years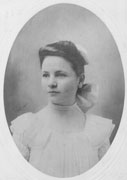 This portrait shows President Truman at about the age he was when living and working on the farm.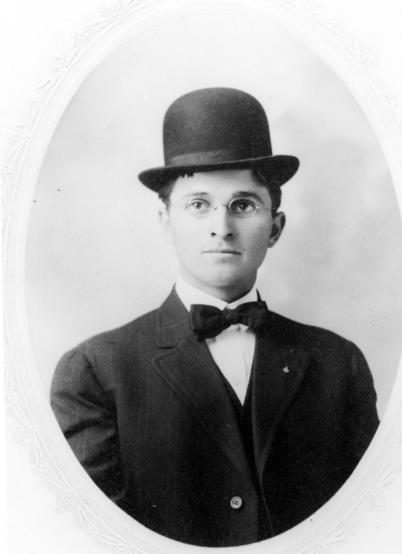 Backstory and Context
Originally built in the 1860's, the initial farm house burnt down in 1894. The home's original builder and proprietor, Solomon Young, passed away in 1892 leaving his widow behind to mend the pieces and rebuild the home after its destruction. Louisa Young, Solomon Young's widow, and Harry Truman's grandmother saw the reconstruction of the home through. It is believed that the home was rebuilt in two phases and not all at once. While she valued the work that was put into the build, Young admitted that it lacked the same feel as the original and was "just kind of thrown together."


The Truman farm at one time accounted for over 1,500 acres when Solomon young was still alive but by the time Harry Truman permanently moved to the farmhouse in 1906, the land accounted for had shrunk down to 600 acres. This was still considered a hefty size and reputable by Missouri standards. The estimated value of the farm was an approximate $100,000 in 1914. Harry Truman spent many weekends at his grandmother's farm between 1905 and 1906. During this period, the young president worked at a local bank for $100 a month. Truman's parents moved to the farm indefinitely before he did but in 1906 he left his impressive salary behind to become a full-time resident and laborer for his grandmother.


Truman's time there was not easy by any means. The twenty-two-year-old left a profitable position to live in a rustic house with no plumbing or electricity. The living conditions were cramped requiring Harry to room with his younger brother, Vivian, and hired workers. The room was on the second floor and debatably the worst room to live in regardless of the season. The room reached unbearable temperatures in the evenings during the summer and cruel lows in the winter. Despite all of this, Truman still woke up every day when his father called him, determined to make the most of his day.


Truman worked diligently every day to live up to his father's high standards. A young neighbor boy recalled Truman always being well kept and always charismatic. He was an overachiever and impressed most who observed him. Per the neighbor boy, Truman would often leave a room and conversation would revolve around him and his presence would linger in such ways because people found him so impressive. The boy also noted that nobody thought the farm was permanent for Harry and that he was just in a transitional period of his life. Everybody knew Harry Truman was destined for bigger and better things. Truman would enlist in the National Guard in 1917 and departed for France. Once "the Great War" concluded, Truman separated from the army and returned to the farm in 1919. He would remain there till he married Bess Truman later that year and the two would move to Delaware Street. As the years passed, the farm continued to shrink as there were fewer people dedicated to taking care of it. Eventually, it reached its current size of approximately five acres. In 1980, the federal government allotted $378,250 to the State of Missouri to purchase the property. In 1994, the location became a National Historic Site.
Sources
Listing of National Historic Landmarks By State. National Parks Service. Accessed April 24, 2017. https://www.nps.gov/nhl/find/statelists/mo/MO.pdf.

The Truman Farm House. Harry S Truman Presidential Library. Accessed April 17, 2017. https://www.trumanlibrary.org/places/gv31.htm.

The Truman Farm. National Park Service. Accessed April 16, 2017. https://www.nps.gov/hstr/learn/historyculture/truman-farm-home-photo-tour.htm.


Additional Information