Fort Halifax
Introduction
Designated a National Historic Landmark in 1968, Fort Halifax is the oldest remaining wooden blockhouse in the country. It was part of a bigger fort that was constructed in 1754-1755 by the British during the French and Indian War, during which the French (and their indian allies) fought the British for control of disputed territory in North America. The fort was built on a strategic location where the Kennebec and Sebasticook rivers meet. It was one of three the British built on major rivers in the frontier region in Maine and their purpose was to control access to the ocean. The British left the fort in October of 1766. There is no evidence that it was attacked. It is also listed on the National Register of Historic Places. Today, it is located in a municipal park.
Images
The blockhouse at Fort Halifax
Rendering of what the fort looked like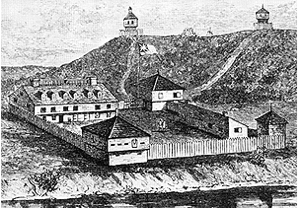 Backstory and Context
The fort was named after Earle Halifax, then the British Secretary of State. Archaeological remains have revealed that the site was first inhabited 5,000 years ago. During the Revolutionary War, the blockhouse served as a tavern, meeting place, and dancing hall. It was also a stop on the Penobscot Expedition, the military expedition led by Benedict Arnold to attack the British in Quebec. After the war it became a trading post. During the 1800s it often sat the in shadow of other things around it like a mill and a warehouse. It was repaired in 1874 but then later destroyed by a flood; the same timbers were used to rebuilt it. The Daughters of the American Revolution bought the site in 1924 and owned it until 1965 when the State of Maine acquired the property. It has been open to the public ever since.
Sources
https://en.wikipedia.org/wiki/Fort_Halifax_(Maine) http://www.winslow-me.gov/departments/fthalifax/content/348/about-the-project.php. Polly M. Rettig. "Fort Halifax," National Park Service - National Register of Historic Places. 11-24-68.
Additional Information