Nazi Spy Landing Site
Introduction
Listed on the National Register of Historic Places, this site marks the location where two Nazi spies successfully landed and entered the United States during World War II. On November 29, 1944, Erich Gimpel and William Colepaugh (an American Nazi sympathizer who defected to Germany) disembarked from a German submarine, landing on the shores of Frenchman Bay in a rubber boat. Their mission was to gather military intelligence and relay it by radio back to Germany. A few days after arriving in New York, Gimpel and Colepaugh quarreled. Colepaugh eventually succumbed to second thoughts about the enterprise and turned Gimpel into the FBI. The original death sentences issued to both men were commuted by President Truman after Roosevelt's death in April 1945.
Images
Erich Gimpel. The 34-year old Nazi spy was selected for Operation Magpie due to his expertise in radio technology.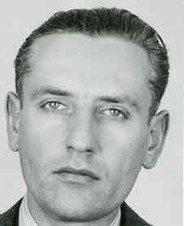 William Colepaugh. Despite attending a private naval prep school as a young man, he was rejected by the Annapolis Naval Academy, and later flunked out after 3 years at MIT. He harbored great admiration for the Nazi regime from prior to the war.

Colepaugh's childhood home. He was still a child when his American father died, and he was raised by his German mother and a number of German relatives. (Getty images).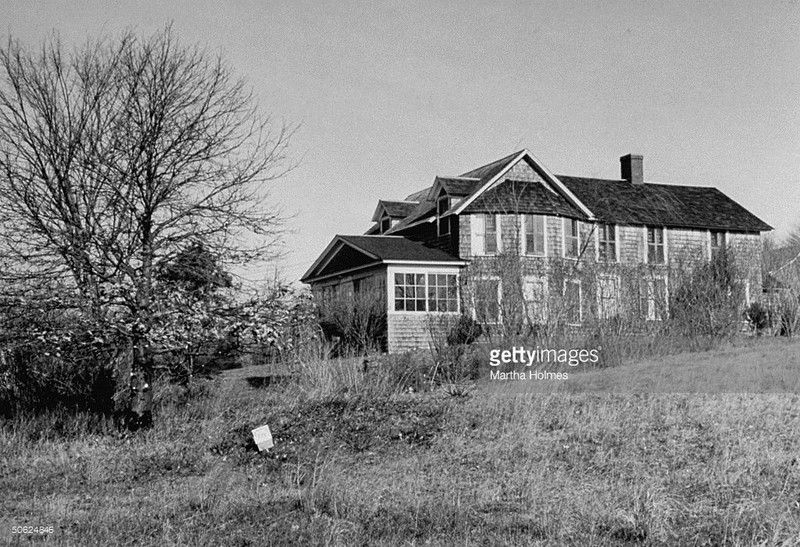 Artist's rendition of the spies being brought ashore. One version of the story claims that the boat had to return to the submarine for sausages, needed to feed a suspicious dog that began barking as they landed. (Frank W. Handlen).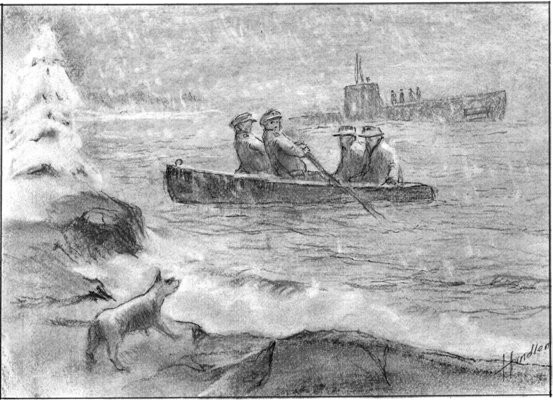 Gimpel (front R.) and Colepaugh (rear R.) escorted to trial by military authorities. The original death sentence was commuted to life in prison by President Truman. Both men were released far sooner. (Associated Press).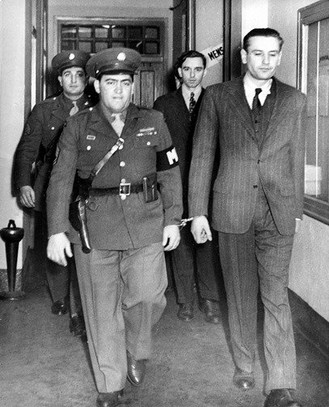 Erich Gimpel (R.) returning to Germany in 1955. The reasons for his deportation after serving only 10 years are unknown. He enjoyed a somewhat celebrated life there, and died in the early 2000s. (Getty Images).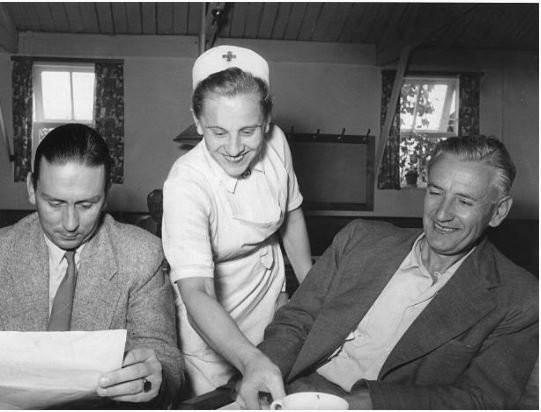 "Spy For Germany," a 1956 German film released shortly after Gimpel's return to the country, offers a fanciful version of Operation Magpie.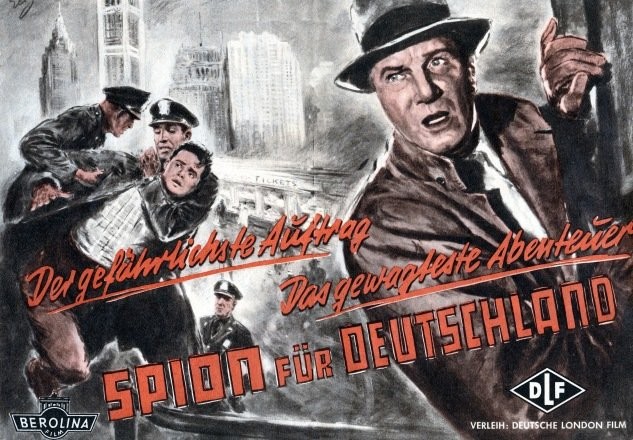 Babe Ruth poses with Boy Scout Harvard Hodgkins. Hodgkins and his family were flown to New York for his role in catching the spies. He was given the keys to the city, and an autograph from the baseball legend. (Getty Images).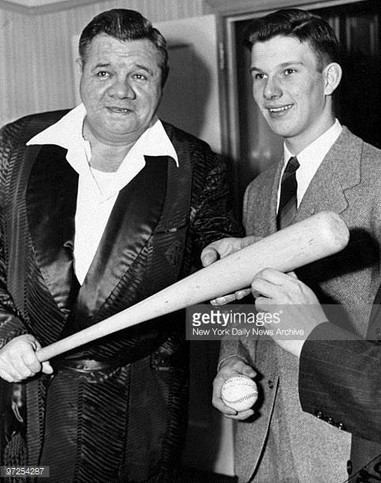 Backstory and Context
For his part, 26-year old William Colepaugh had harbored Nazi sympathies since before the United States declared war on the Axis Powers in 1941. Raised by his German mother in Connecticut, Colepaugh flunked out of MIT after three years and was noted for friendships with members of the German consulate in Boston (he attended a birthday party honoring Hitler there before the war), and expressed admiration for the highly modern German military. FBI suspicions earned him an honorable discharge after being drafted in 1943, but he was working in the kitchen of a Swedish relief vessel by 1944--before jumping ship in Lisbon, Portugal, to present himself to the German consulate.
The Germans recognized the tool they possessed, and Colepaugh entered training in Nazi-occupied Netherlands to become a spy. He was soon paired up with a more experienced German agent, Erich Gimpel, for Operation Magpie, wherein the two would be landed on the New England coast, travel in secret to New York, and relay any information they could find about America's new doomsday weapon (which would later turn out to be the Manhattan Project developing the first atomic bomb). Gimpel had been an agent in Peru before the war, transmitting the locations of foreign vessels back to German intelligence. To accomplish this mission in America, he'd requested "a proper American. He must know the latest dance steps and the latest popular songs. He must know everything about baseball and have all the Hollywood gossip at his fingertips."
With $60,000 and a bag of small diamonds, enough cash to keep their operation funded through 1946, the pair were shuttled across the Atlantic for two harrowing months aboard the U-1230, mostly underwater, and with the two agents posing as members of the crew. At 11pm on November 29, 1944, the submarine crept to within a few hundred yards of Sunset Ledge near Bar Harbor. Two Kriegsmarine officers inflated a small raft and rowed the spies ashore, then returned to their ship. U-1230 departed. Gimpel and Colepaugh trudged through the snow up to U.S. Highway 1. They were spotted by three cars that night--first by a local woman returning from a card party, second by a 17-year old Boy Scout headed home from a dance, and finally by a taxi from nearby Ellsworth. The cabbie believed the spies' story about their car sliding into a ditch, and gave them a ride to Bangor.
Though Gimpel and Colepaugh slipped virtually unnoticed into New York within 48 hours and soon found an apartment, things began to go awry within a few weeks. U-1230 torpedoed a Canadian freighter after dropping off the two men, which aroused suspicion at the FBI--another recently-inserted Nazi spy who'd been caught had the Bureau on high alert for similar schemes. Soon FBI agents were headed up to Hancock County, Maine, to patrol the area and follow up on a tip from the Boy Scout, Harvard Hodgkins. Noting the men he'd seen emerging from the woods had been ill-dressed for winter weather, Hodgkins had later turned back, followed their footprints in the snow down to shore, and spotted the rubber raft in which Gimpel and Colepaugh had arrived. Soon the testimony of the first woman who'd spotted the pair, May Forni, was added to the body of evidence, and the hunt was on.
The FBI might still never have tracked Gimpel and Colepaugh to New York were it not for the latter's un-covert behavior. Colepaugh was soon using their prodigious funds to party and drink, and an altercation occurred before Gimpel took control of the purse strings. Then Colepaugh got cold feet and absconded with their suitcases, intending to cut bait and run. Gimpel correctly surmised his plans, tracked Colepaugh to Grand Central Station, and stole back the suitcases from the baggage room. But the game was soon up--Colepaugh confided his espionage activities to an American friend who called the FBI. The pair were captured on December 30, 1944.
Colepaugh confessed the plan in full detail, attempting to minimize his role in the treason and mitigate his sentence through cooperation. Both were sentenced to death anyway. However, President Roosevelt's death on April 1945 mere days before the scheduled executions resulted in a customary delay. Truman later commuted both sentences to life in prison, citing that the war with Germany was over and that Colepaugh had cooperated with authorities to capture Gimpel.
Colepaugh was paroled after 17 years and later moved to Philadelphia, living out his days much like any ordinary citizen. Gimpel spent 10 years in several prisons (including Alcatraz) before being deported to Germany for unknown reasons in 1955. He later published a book of his experiences, which was translated into English in 2002. The site, which is on private property, was added to the National Register of Historic Places in 2003.
Sources
Christi Mitchell. "Nazi Landing Site," National Park Service - National Register of Historic Places. 2-13-03.

Sassaman, Richard. Nazi Spies Come Ashore. America in World War II. Accessed February 04, 2018. http://www.americainwwii.com/articles/nazi-spies-come-ashore/. Originally published in October 2005 issue of America in World War 2 Magazine.

William Colepaugh, The Connecticut Spy Who Went Out in the Maine Cold. New England Historical Society. Accessed February 05, 2018. http://www.newenglandhistoricalsociety.com/william-colepaugh-the-connecticut-spy-who-went-out-in-the....

A Connecticut Nazi Spy Has a Change of Heart. Connecticut History. Accessed February 05, 2018. https://connecticuthistory.org/a-connecticut-nazi-spy-has-a-change-of-heart/.

Buffa, Denise. "Niantic Boy Scout Became Nazi Spy." Hartford Courant(Hartford), April 23, 2014. http://www.courant.com/courant-250/moments-in-history/hc-250-colepaugh-nazi-spy-20140422-story.html


Barron, James. "HARVARD M. HODGKINS, HELPED CATCH 2 NAZI SPIES." New York Times(New York), May 15, 1984, Obituaries sec. http://www.nytimes.com/1984/05/15/obituaries/harvard-m-hodgkins-helped-catch-2-nazi-spies.html


Additional Information