Museum of Contemporary African Diasporan Arts
Introduction
The Museum of Contemporary African Diasporan Arts (MoCADA) in Brooklyn is a one-of-a-kind contemporary art museum located in the Fort Greene neighborhood of Brooklyn. Founded on the idea of rediscovering the cultural traditions of the African diaspora, many of which were lost through colonization and the Atlantic Slave Trade, MoCADA uses visual arts to explore new artistic productions across several disciplines, such as painting, sculpture, dance performances, and even film screenings. Since its opening in 1999, MoCADA has also served as an integral art institution for the Brooklyn community, giving diverse voices from the neighborhood and around the world a platform for expression. MoCADA features a variety of exhibitions throughout the year and hosts art making workshops, panel discussions, yoga classes, unique education programs, and more. Because of the combination of visual arts, exhibitions, and programming, MoCADA provides a dynamic and stimulating place for the creation and evolution of culture, while at the same time fostering dialogue on pressing social issues.
Images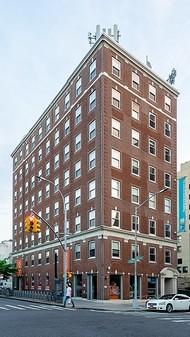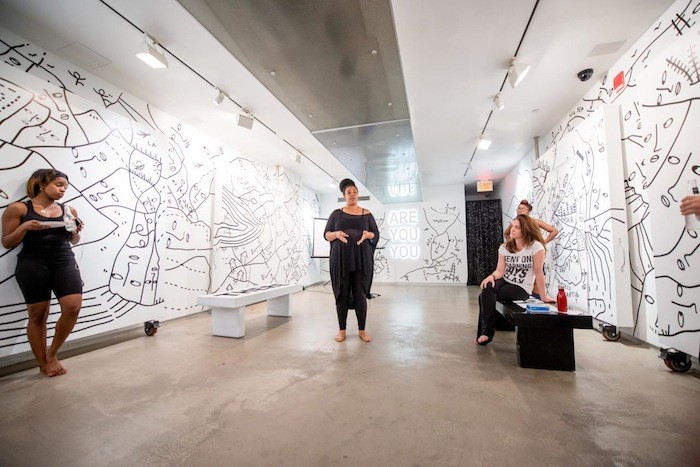 Part of the "Sit Be Breathe With Me" yoga event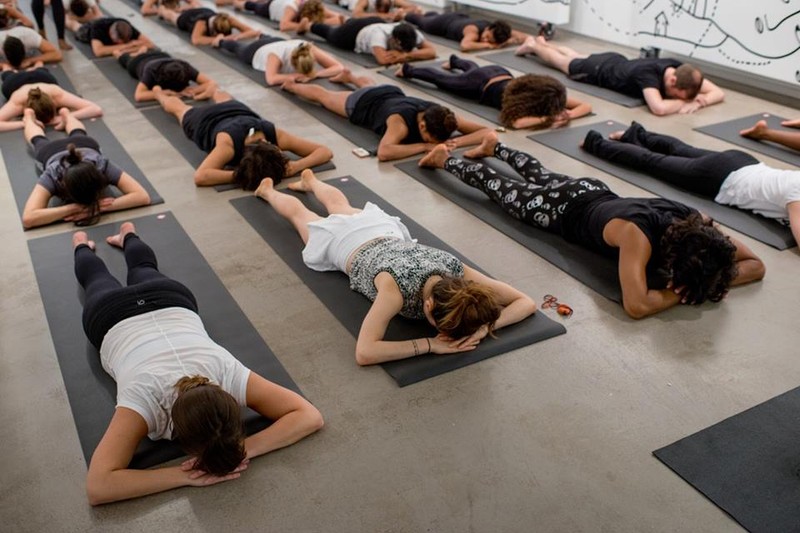 Students at Brooklyn High School for Law & Tech work with a MoCADA Teaching Artist.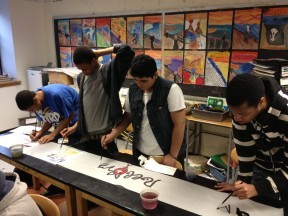 Backstory and Context
History of the Museum
The Museum of Contemporary African Diasporan Arts (MoCADA) began as an idea conceptualized in a graduate thesis paper at New York University. Laurie Angela Cumbo, the writer of the thesis, argued for the feasibility of an African diaspora museum that would contribute to and revitalize the Brooklyn community economically, socially, and aesthetically. Over the years, Cumbo's concept grew, and by 1999, Ms. Cumbo founded MoCADA in a brownstone building located near the Bridge Street AWME Church in Bedford-Stuyvesant. In the first few years, Ms. Cumbo organized the museum with socially and politically charged exhibitions, presentations, and other programs, all of which sought to provide new light and ideas on contemporary issues affecting people of the African diaspora. 
By 2006, MoCADA moved out of its original brownstone and took up a new location at 80 Hanson Place in Fort Greene, near the Brooklyn Academy of Music arts district. Because of this new location, a historically African American middle class neighborhood, MoCADA was able to organize events that reach multiple communities in Brooklyn. Furthermore, the larger space of the new location gave MoCADA an opportunity to expand both audiences and programming, which thereafter included the Exhibition and Curatorial Program, the Curatorial Fellowship and Internship Program, the Educational Artist-In-Schools and Guided Tours Program, and many others.
Exhibitions
Exhibitions form the heart and soul of MoCADA, and through the museum's constant stream of exhibitions from local, national, and international artists, MoCADA it is able to continually challenge conventional thought while celebrating the creation and evolution of culture. Exhibitions focus on a massive variety of topics faced by people of the African diaspora, and exhibitions are often featured in any type of medium. One highly popular exhibition at the museum was Re-Imagining Haiti, a two-part exhibition that reflected the desire to protect sacred traditions while contributing to Haiti's collective vision for the future. Other popular past exhibitions have included Saying No: Reconciling Spirituality and Resistance in Indigenous Australian Art, Le Projet Nouveau, Vision Quest, No One Belongs Here More Than You, and many more.
Events
Community outreach and involvement contribute to MoCADA's principal mission of bringing the Brooklyn community together and fostering artistic, aesthetic, social, and political voices. In many cases, even the gallery space features many events, allowing visitors much more than a passive viewing experience. Some programs at the museum include school programs, visiting artists, studio art intensive programs, education and engagement programs, and others. Members and visitors can also explore art workshops, panel discussions, and even yoga classes, among many other events. From dance performances to film screenings, one of the most unique aspects of MoCADA is its ability to coordinate many different contemporary artistic mediums while continuously engaging the Brooklyn community.
Sources
Mission & History, MoCADA. Accessed November 1, 2015, http://mocada.org/about/mission-history/.
Museum of Contemporary African Diasporan Arts, NYC Arts. Accessed October 20th 2020. https://www.nyc-arts.org/organizations/2527/museum-of-contemporary-african-diasporan-arts.
Past Exhibitions, MoCADA. Accessed November 1, 2015, http://mocada.org/category/curatorial/current-exhibitions/.
Upcoming Events, MoCADA. Accessed November 1, 2015, http://mocada.org/events/.
Image Sources
Suresh, Ajay. "MoCADA - 80 Hanson Place." 2019. Wikimedia. Accessed October 20, 2020. https://commons.wikimedia.org/wiki/File:MoCADA_-_80_Hanson_Place_(48228093772).jpg.

Additional Information