Brooklyn in the 1977 Blackout
Introduction
An extended power outage in 1977 caused widespread Blackouts throughout Brooklyn. The event facilitated looting, and to this day, memories of the Blackout and the widespread chaos and destruction shape part of the city's collective memory. Around 9:34 PM on July 13th, 1977, after a series of unfortunate lightning strikes that hit transmission lines and substations, NYC power provider Con Edison shut down, and among Manhattan, Bronx, Queens, and Brooklyn, the entire city went Black. In Brooklyn, the Bedford-Stuyvesant area and Broadway were among the hardest hit. Thousands upon thousands of people poured into the streets, broke into shops, pillaged everything, and destroyed, often by fire, hundreds of shops. Throughout the 25-hour Blackout in some parts of the city, including Brooklyn, more than 1,600 stores were pillaged with property losses running as high as $300 million. A mile and a half of Brooklyn's Broadway was set aflame. Following the Blackout, there were few stores around the Broadway area and throughout Bedford-Stuyvesant (and even in Downtown Brooklyn) where people could buy food, clothing, and other items, as shops had been stripped, destroyed, torched, or abandoned. In Brooklyn, as well as other parts of New York City, the 1977 Blackout was one of its most destructive periods, essentially reflecting the great malaise that had been striking the city that year.
Images
On Broadway in Bed-Stuy during the 1977 Blackout, Tyrone Dukes/New York Times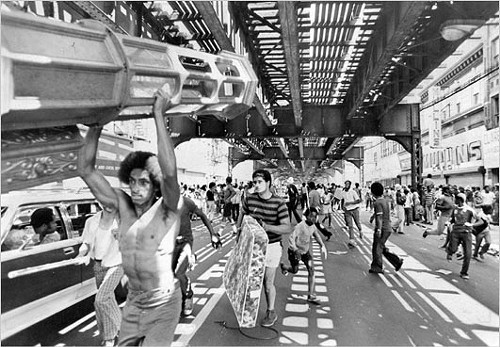 Bushwick after the Blackout of 1977, Brooklyn Historical Society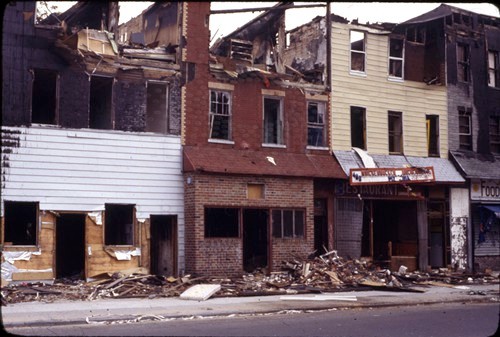 Empire State Building during the Blackout. New York Daily News Archive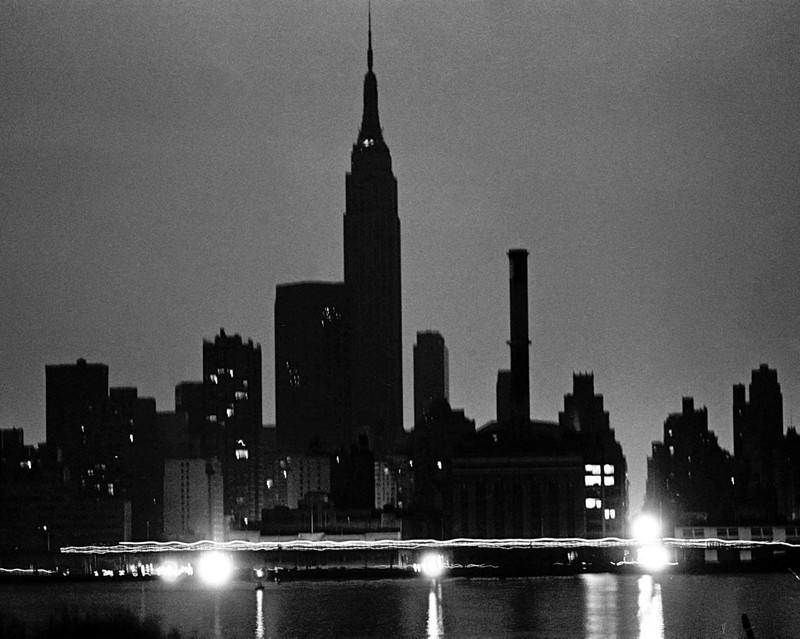 Bushwick in the aftermath of the Blackout. Brooklyn Historical Society.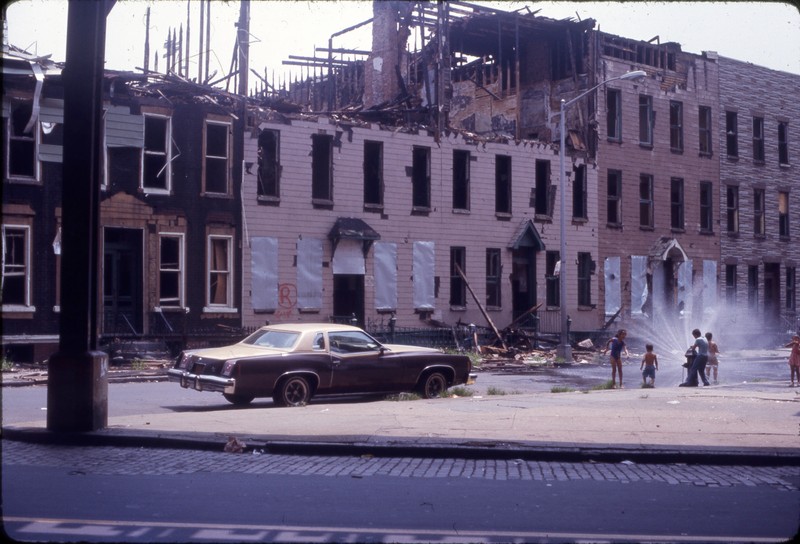 A street in Bedfort-Stuyvesant after the Blackout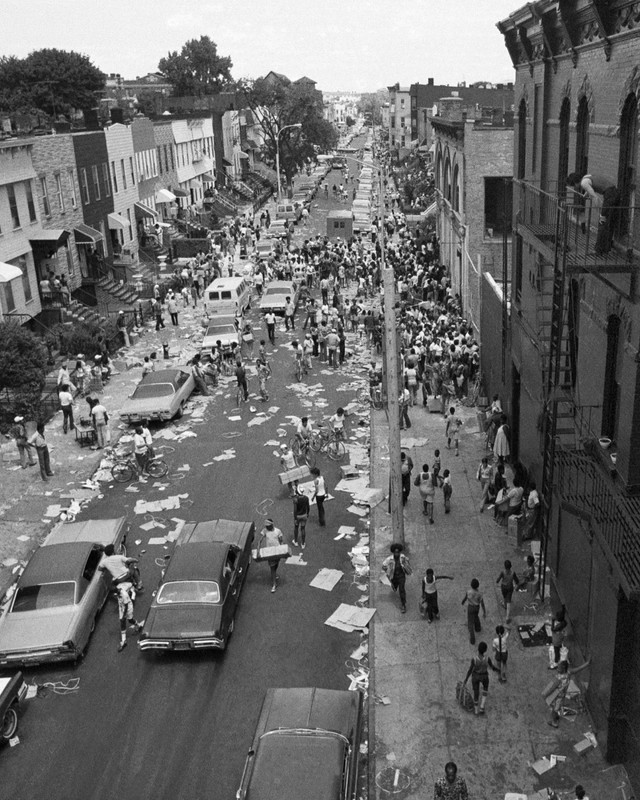 Backstory and Context
Timeline of the 1977 Blackout
Aside from the Blackout, the year 1977 was already becoming a year to remember, with events such as the hunt for the serial killer known as the Son of Sam to the New York Yankees road to the World Series amidst clubhouse feuds. More importantly, 1977 marked the continuation of an economic downturn and recession that had been prominent since 1973 (reaching a peak in 1975, and after a period of economic growth, another great downturn in 1977). Thus, tensions were high during the summer of '77, and the week when the Blackout occurred, New York and Brooklyn were suffering from an immense heat wave with daily temperatures surpassing the 100s.
On the evening of July 13th, around 8:30 pm, a severe lightning storm rolled over the entire region, and with it, two lightning strikes hit extra-high-voltage lines in Westchester County, in the northern area of Con Edison's power service area. Despite the strikes, the system balanced itself out and continued functioning normally. Near 9:00 pm, however, two more lightning strikes hit two critical transmission lines in Yonkers, and the entire system became dangerously overloaded. By 9:20 pm, due to overloading and other reasons, transformers began shutting down because they were surpassing their load capacities. Then, by 9:36 pm, after generators shut down en masse, the power went out across New York City and a greater part of Westchester County.
Within ten minutes of the Blackout, the looting began, starting spontaneously and across the five Burroughs. Looting, vandalism, theft, arson, and other criminal acts exploded over the next couple hours, and between 1:30 and 2:30 AM, most of the 3,776 arrests were made by police. By 10:40 pm the following evening, July 14th, restoration of all power was completed.1
Arson and Looting in Brooklyn
Some of the hardest hit areas of greater New York City included Crown Heights, Bedford-Stuyvesant, and Bushwick, all located near Downtown Brooklyn. In Crown Heights, over 75 stores in a five-block range were looted; in Bushwick, more than 25 arson fires still burned the morning of July 14th; on Broadway between Bushwick and Bedford-Stuyvesant, nearly two blocks were on fire. About 35 blocks of Broadway were also destroyed, which comprised of 134 stores looted and 45 of them set ablaze. Once the Blackout hit, witnesses remember hearing shops slamming their grates; yet, youths were seen backing cars into stores, tying ropes around the grates, and using cars to tear away grates before then looting the store.
Although numbers in Brooklyn are not specified, a total of 1,616 stores in New York were damaged from looting and rioting, over 1,000 fires were reported (including 14 multiple alarm fires), and 3,776 people were arrested, making it the largest mass arrest in city history.2
Sources
1.) "Heart of Darkness," Newsweek, July 25, 2015. Accessed November 1, 2015, http://Blackout.gmu.edu/archive/pdf/newsweek_77.pdf

2.) Moritz, Owen. "Looters prey on the city during the Blackout of 1977," NY Daily News, July 15, 1977. Accessed November 1, 2015, http://www.nydailynews.com/new-york/nyc-crime/looters-prey-city-Blackout-1977-article-1.2284260
Additional Information