The Cotton Club (1923-1935)
Introduction
The Cotton Club, originally owned by the famous New York gangster Owney Madden, was the home of prominent jazz musician Duke Ellington for over four years. Other famous musicians such as Louis Armstrong and Ethel Waters performed here regularly. This club was whites exclusive even though many legendary African American musicians began their career here. In 1984 a movie starring actor Nicolas Cage was released revolving around The Cotton Club. Today, The Cotton Club is in operation featuring swing dances, traditional food, and live jazz music. The Cotton Club was only open to white guests and utilized racist imagery while also promising "authentic" Negro entertainment. The club employed only light-skinned chorus girls and played to white fantasies about Black life and culture. The African American poet Langston Hughes visited the Cotton Club in the 1920s and called it "a Jim Crow club for gangsters and monied whites."
Images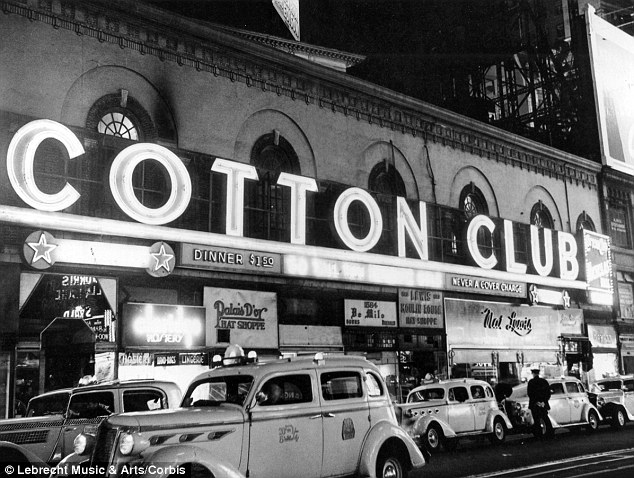 Cab Calloway and dancers at The Cotton Club in 1937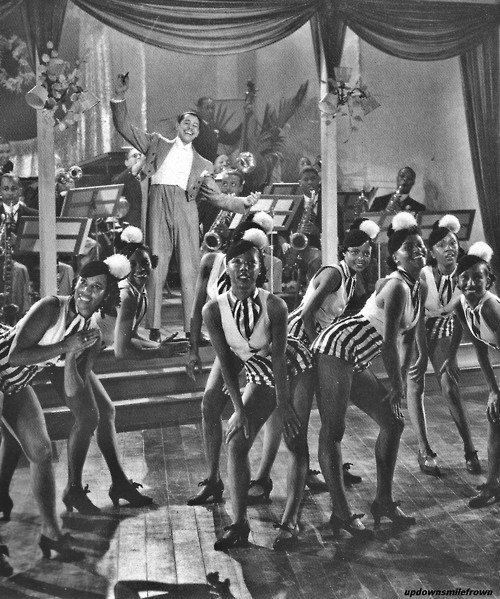 1937 New Years' Eve Party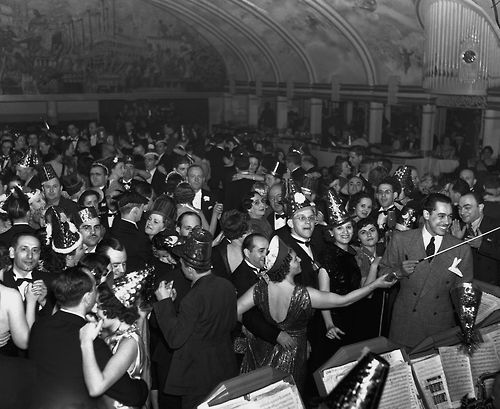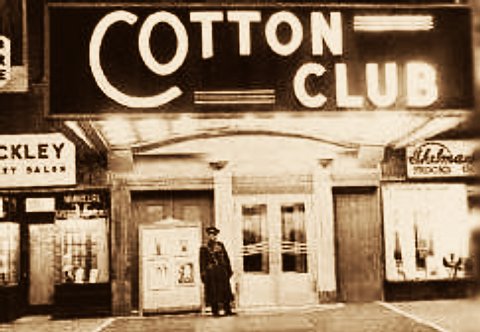 Backstory and Context
The original Cotton Club was opened in 1923 in Harlem, New York on 142nd Street and Lenox Ave. Being in Harlem, popular opinion would assume that this would be primarily a club used by African Americans. However, this was an exclusive club for whites only. It was opened by Owney Madden, who was a prominent gangster during the prohibition period. His nickname was "The Killer." Madden originally bought the 'Club Deluxe' from Jack Johnson, who was the former heavyweight boxing champion at the time. After renovations, Madden renamed the club 'The Cotton Club' and used it to sell his beer illegally during the prohibition.
The Cotton Club, when it first opened to the public, was themed as a "plantation environment," and it included themed decorations and a mostly African American staff as the "plantation slaves." Music that was played was even exotic and jungle-like at times. This club was geared towards the rich, white people of New York City.
Many extremely famous jazz musicians performed at the Cotton Club during its prime years. Duke Ellington's orchestra played here for over four years from 1927 to 1931. Other famous musicians including Louis Armstrong, Ethel Waters, and the Nicholas Brothers played here frequently. The Cotton Club gained a national reputation due to the radio broadcasts of various performing artists at the club.
In 1935, The Cotton Club was forced to shut down due to the lack of customers. Starting in 1935, race riots in Harlem began to escalate and the number of white customers began to decline since it was unsafe for white people in this part of Harlem. Since whites were the only customers, this crushed the business. The Cotton Club moved and reopened at Broadway and 48th Street in 1936 and thrived until 1940 when it again closed down.
The Cotton Club was closed and stood as merely a legend until a movie filmed in 1984 named "The Cotton Club," starring Nicolas Cage, was released. This movie is a crime-based, love story movie that brings to life Harlem Jazz at The Cotton Club. The movie was nominated for several Golden Globe and Oscar awards. After the creation of the movie, The Cotton Club was reopened allowing people of all races and ethnicities.
Today, the Cotton Club has a rich history evident by the musicians who became famous by performing there. The Cotton Club is currently located in a different location, but it carries with it a proud reputation of jazz music. Various types of events are held there weekly and monthly such as Swing Dance Night, Dinner & Jazz sessions, and Gospel Brunch. The Cotton Club is open to the public and is a restaurant and jazz music stage.
Sources
"Cotton Club of Harlem (1923-)." BlackPast. Accessed Web, 5/27/17. http://www.Blackpast.org/aah/cotton-club-harlem-1923.

"The Cotton Club." IMDb. Accessed Web, 5/27/17. http://www.imdb.com/title/tt0087089/.

Elmayan, Lara. "Vintage Photos: Inside the Cotton Club, One of NYC's Leading Jazz Venues of the 1920s and '30s." Untapped Cities. 8/4/13. Accessed Web, 5/27/17. http://untappedcities.com/2013/08/04/vintage-photos-inside-the-cotton-club-one-of-nycs-leading-jazz-venues-of-the-1920s-and-30s/.


Additional Information