Lyndhurst, Jay Gould Estate
Introduction
In 1838, Lyndhurst Mansion was designed for New York City Mayor William Paulding by Alexander Jackson Davis. This Hudson River villa is considered one of America's finest examples of Gothic Revival architecture. In 1880 railroad tycoon and speculator Jay Gould bought the estate from its second owner George Merritt, a merchant and banker who doubled the size of the house and added numerous buildings and landscape features. It is now owned by the National Trust for Historic Preservation and open to the public for tours and events.
Images
The front view of the Lyndhurst Estate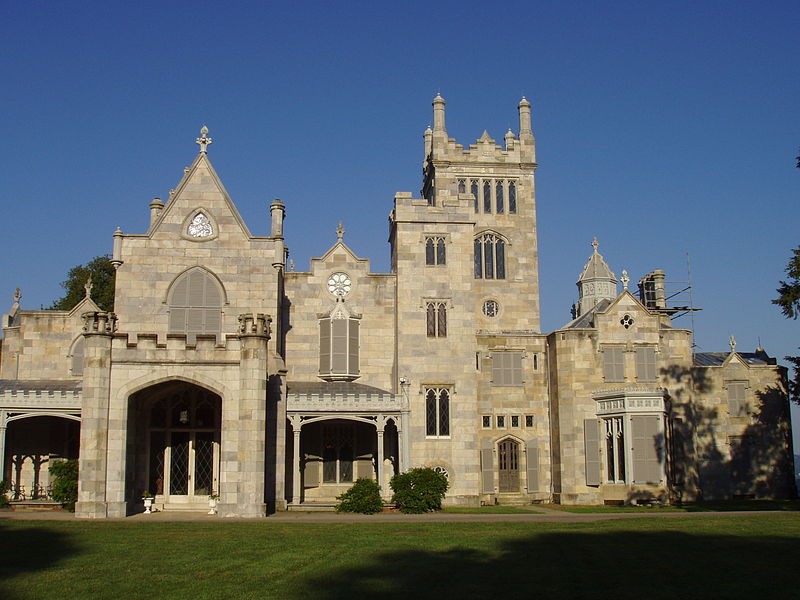 The inside of one of the rooms in the Lyndhurst mansion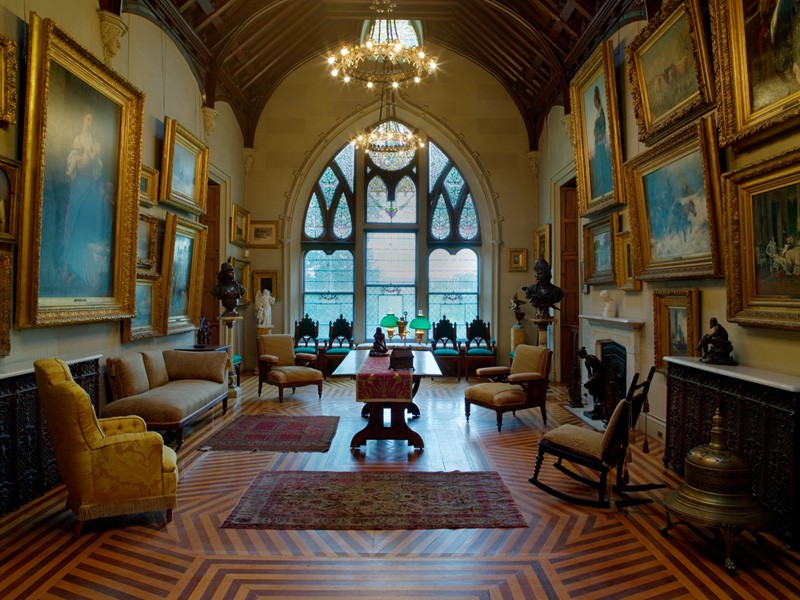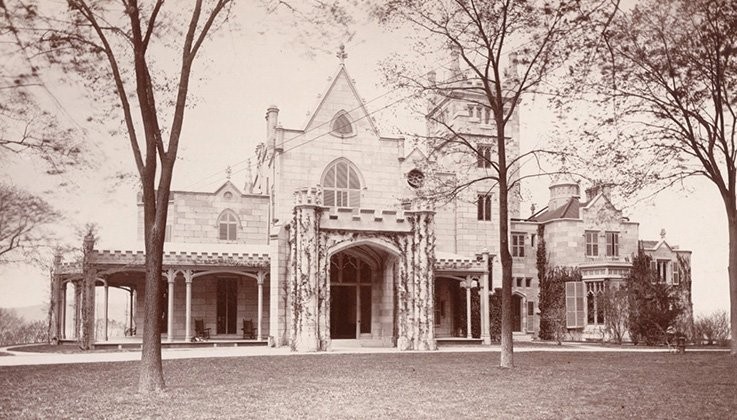 Lyndhurst Mansion, modern day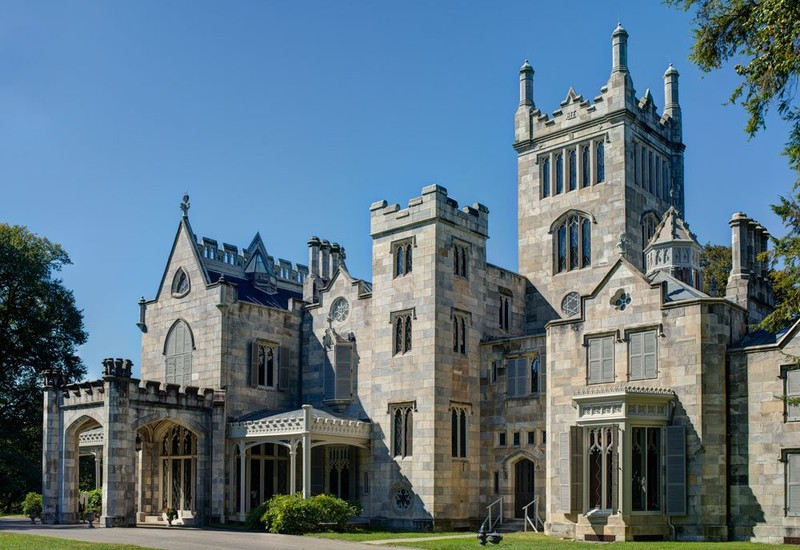 Lyndhurst Mansion, aerial view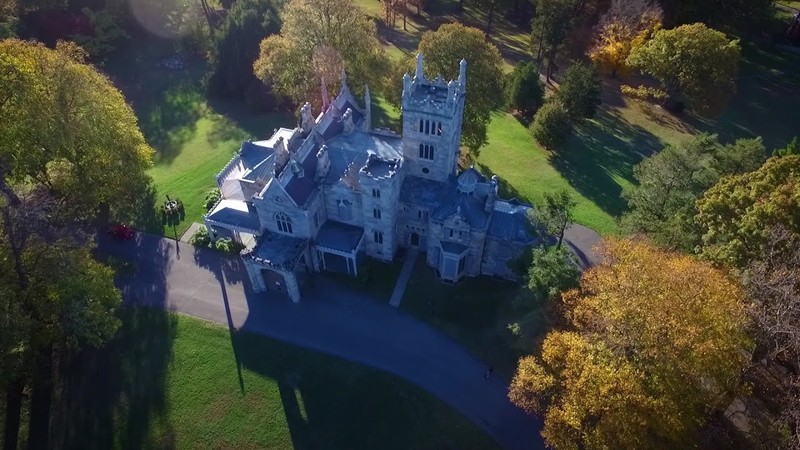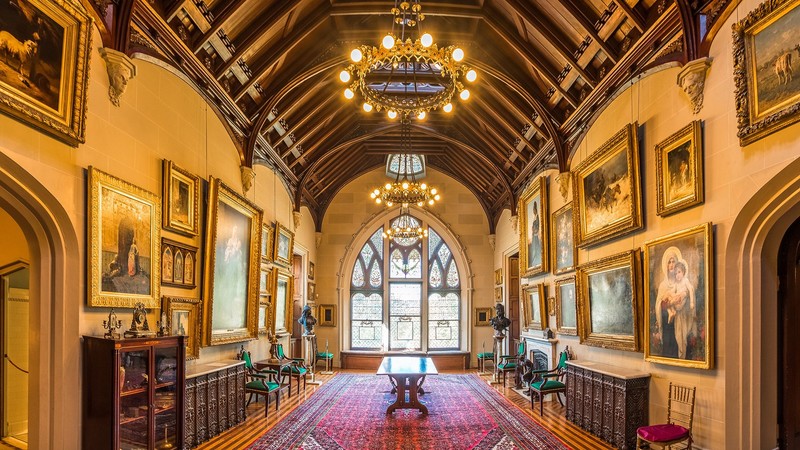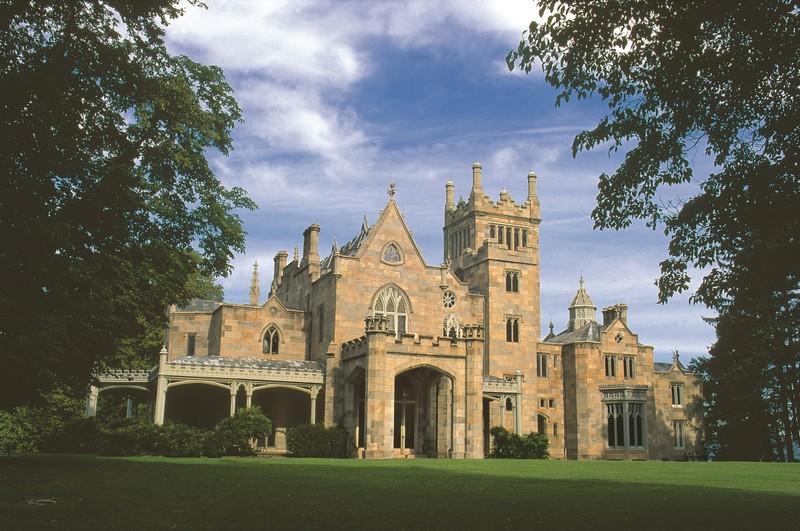 Backstory and Context
In 1838, Lyndhurst was designed by Alexander Jackson Davis for William Paulding, New York City mayor (1824-25 & 1927-29). In this Romantic era exotic styles such as the Gothic evoked strong emotion, and emphasized a strong relation to nature in the design with broad verandas and soaring windows . he original name of the Lyndhurst was "Knoll" in reference to its perch on the bluffs of the Hudson River. Contemporary critics referred to it as "Paulding's Folly" due to the asymmetrical design which was a novelty in the post-colonial era.
The second owner, George Merritt, a merchant and banker purchased the estate in 1864 and hired Alexander Jackson David to doubled the size of the house.The landscape was also greatly embellished and the name of the property was changed to Lyndhurst in reference to the Linden trees that had grown up around the house.
The estate changed hands in 1880 when it was purchased by a railroad tycoon and speculator, Jay Gould. Gould was keenly interested in horticulture and his main contribution to the estate was to replace the great greenhouse of the Merritts, after it burned. The iron frame greenhouse was a model for the great conservatories being built in this era.
Gould lived in the home for 12 years before passing away in 1892 from tuberculosis. Upon his death, his eldest daughter Helen, who would later marry Finley J. Shepard, bought the property from her siblings. In 1938, her sister Anna, Dutchess of Talleyrand-Perigord returned from France and kept the estate in the family. It wasn't until Anna's death in 1961 that the property was donated to the National Trust for Historic Preservation. It is widely recognized as the finest Gothic Revival residence in America..
Sources
"The History of Lyndhurst Mansion." Lyndhurst, lyndhurst.org/about/history/. 
Peck, Amelia. Alexander Jackson Davis, American Architect 1803-1892. New York. The Metropolitan Museum/ Rizzoli, 1992.
Accessed January 30th 2020. www.lyndhurst.org.
Accessed January 30th 2020. www.savingplaces.org.
Beall, Gordon. Gothic on the Hudson. Historic Preservation. December 1st 1990.
Greenwood, Richard. Jay Gould Estate, Lyndhurst. National Register of Historic Places Inventory Nomination Form. Published May 30th 1975.
Additional Information