LaRue Ohio Home of the Oorang Tribe Football Team Historical Marker
Introduction
LaRue Ohio was home to Walter Lingo. Lingo raised Airedale Terriers, which proved to be a lucrative endeavor for him, but his importance in sports history has a real significance. Lingo had seen the football successes that all Native American schools at Haskell and Carlisle, and chose to utilize that as a marketing tool. In his commercialization of Native American sports Lingo created the Oorang Tribe football team composed of all Native Americans.
Images
Oorang Tribe football team picture with Jim Thorpe, October 27, 1922.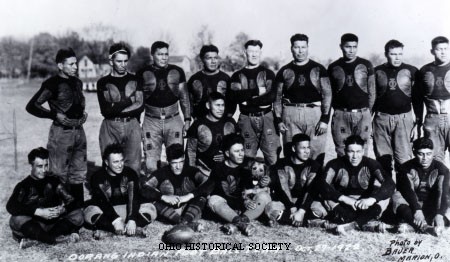 Football jersey and helmet of the Oorang Airedales football team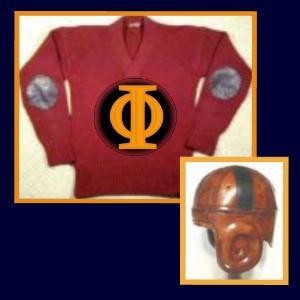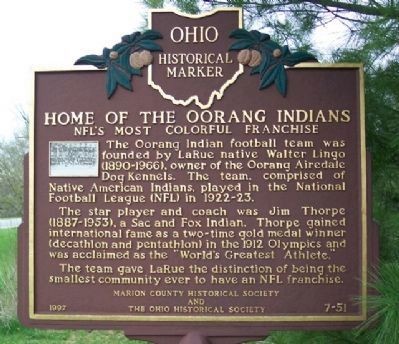 Backstory and Context
Lingo was a unique individual that chose to bring commercialization to sports. Lingo felt the best way to achieve this was to utilize the success of Carlisle, Haskell and any other exclusive Native school. Lingo felt the best way to bring commercialization to sports was to utilize the success of Carlisle, Haskell and any other exclusive Native school. The successful Lingo had a general store and a tire mill. The prized business venture of Lingo was his Oorang Kennel Company where he bred King Oorang Airedale Terriers. He sold up to 15000 Airedales a year and estimated to be spending 2000 a month on advertising. He had famous people stop by to purchase his dogs and these celebrities included the likes of Lou Gehrig and Jack Dempsey. Walter Lingo knew that an NFL franchise fee was $100.00 and his Airedales sold for $150.00 apiece. His business acumen kicked in and he saw an opportunity for advertising for his dogs. He created the NFL team the Oorang Indians. With the help of Jim Thorpe, he was able to build a team of all Native Americans. 
LaRue is a small village that is approximately 80 miles north of Columbus with a population of less than 800, making this the smallest town ever to have an NFL team.
Thorpe helped recruit players like Wrinklemeat, Lone Wolf, Eagle Feather, Running Deer, Red Fox, Bear Behind, The Wood Chuck, and Long Time Sleep. These Native Americans represented the Cherokee, Mohawk, Chippewa, Blackfeet, Winnebago and Seneca among other tribes. He had fifty Native Americans on his team. The gimmick worked for Lingo. His intentions were to get the name out there and advertise for his kennel. Many people came out to see Lingo's team. The Oorang Indians were essentially a traveling team. They traveled because they did not have a playing field in LaRue, and partially because Lingo wanted to spread the news of his superior Airedales to people outside of the immediate LarRe area.
Halftime became more than just intermission. Some historians credit Lingo with being the originator of the halftime show. It was during the halftime shows that Lingo would take the opportunity to promote his dogs. The halftime shows became famous as Lingo incorporated many types of shows to entertain the crowds. During halftime, the players would take the dogs for walks around the playing field and would have them perform tricks in hopes that they would be purchased. There would be shooting exhibitions with the Airedales retrieving the targets. The Native American players would perform Native American dances and would have a tomahawk and a knife throwing demonstration.  
During one of the halftime shows, a player named Long Time Sleep would wrestle a live bear. The team itself had Jim Thorpe and other Native Americans that were good football players. The Indians played in the NFL in 1922 and 1923. The Oorang Indians were one of the best drawing teams in the NFL, demonstrating the long connection between cultural appropriation and sport and the commercialization of Native cultures.
Sources
Bibliography Archdeacon, Tom. 1995. "Pigskin Tale May Repeat; Legendary Team Called Larue Home." The Dayton Daily News, December 24: 1D. Becker, Carl. 1998. Home & Away The Rise and Fall of Professional Football On the Banks of the Ohio 1919-1934. Athens: Ohio University Press.
Additional Information