Stetson University
Introduction
Established by Henry Deland in 1883, Stetson University is the oldest private college in Florida. The university was the first in Florida to allow women into its law school. In 1962, Stetson also became the first Florida university to integrate its courses when nine African American students were admitted to the institution. The university was placed on the National Register of Historic Places in 1991.
Images
Deland Hall opened in 1884.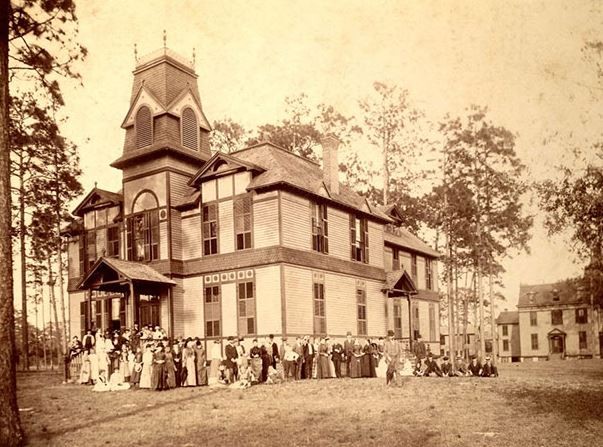 Sampson Hall on the Deland campus was made possible by a gift from Andrew Carnegie. The building now houses the Duncan Gallery of Art.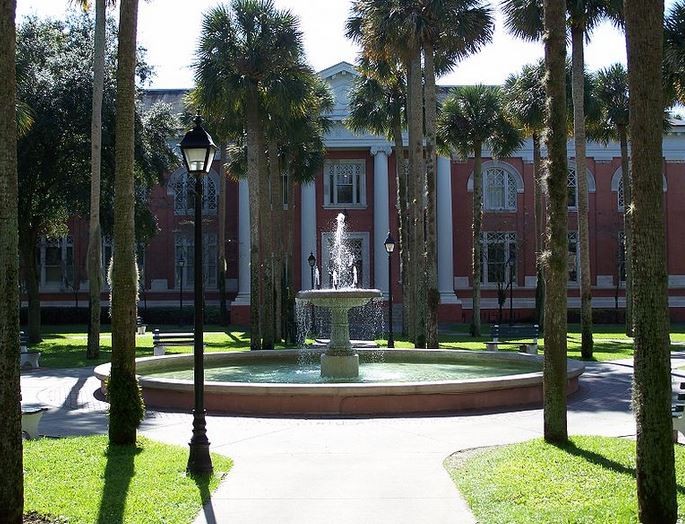 Historical marker on campus.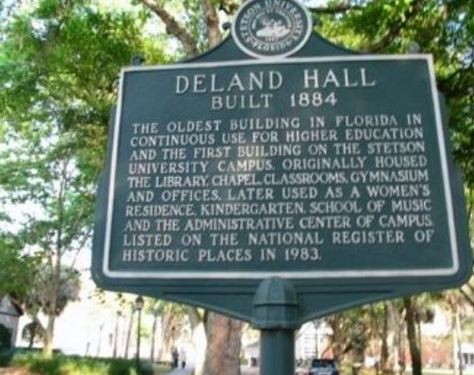 A History of Stetson University by Maggi Smith Hall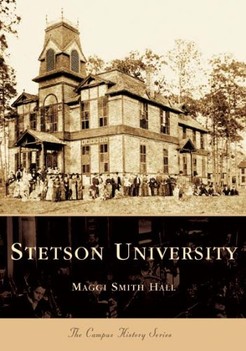 Backstory and Context
Noticing the lack of four-year colleges in this section of the country, Deland hoped to turn the city he established into a center of learning by establishing Deland Academy in 1883. The school opened its first academic building the following year, purchasing the structure known as Deland Hall for $4000.

The institution grew quickly, becoming Deland College in 1885 under its first president, John Forbes. Under Forbes' leadership, the college grew from 88 students to 300 students by 1904. During these years, iconic campus buildings such as Elizabeth Hall and Flagler Hall were constructed. Elizabeth Hall was named in honor of Stetson's wife Elizabeth Shindler Stetson. Flagler Hall was made possible by a gift from railroad magnate Henry Flagler, who had a hand in designing the building that still bears his name. Sampson Hall was built in 1908 with a gift by steel magnate Andrew Carnegie.

In 1887, the state legislature enacted the Charter of DeLand University as an independent institution of higher learning. In 1889, it was renamed Stetson University after benefactor John Stetson, a legendary hat manufacturer who made Deland his winter home. Ten years later in 1890, the university established its business school-the first in Florida. In 1900, the university achieved another first when it established the Stetson School of Law, Florida's first law school. It also became the first law school in Florida to allow women into their program.

Stetson University would later become the first private, non-HBCU university in Florida to allow African Americans into the university. In 1962, Nine African American teachers went to graduate school there.It was Cornelius Hunter who was the first African-American undergraduate student to graduate in 1966. George Williams Sr. was also the first African-American to earn a graduate degree in 1964. Today Stetson University has campuses in Celebration, Tampa, and Gulfport. Their residential campuses are smoke and tobacco free. The main campus in Deland has also been featured in films such as The Waterboy and Ghost Story.

Sources
http://www.stetson.edu/other/about/history.php https://en.wikipedia.org/wiki/Stetson_University_Campus_Historic_District https://en.wikipedia.org/wiki/Stetson_University Photo Credits: http://www.stetson.edu/other/about/history.php http://www.tripadvisor.com/Attraction_Review-g34178-d124421-Reviews-Stetson_University-DeLand_Florida.html#photos https://en.wikipedia.org/wiki/Stetson_University_Campus_Historic_District#/media/File:Stetson_Univ_-_Sampson_Hall1.jpg
Additional Information