Route 66 Museum
Introduction
Located inside the county library, the museum features recreations of a 1950s gas station and a classic diner, along with displays of antique cars, a collection of Route 66 books, magazines and videos. The museum has a number of many different antiques and cool features to check out and is definitely a "must see" stop! The museum is based around the actual historical pieces of Route 66. Route 66 is a major highway that has connected Chicago to Los Angeles. Route 66 really got its fame when there were not any major highway systems that could connect all the small towns on one road system. Route 66 was able to give the nation its major way of travel. without this advancement, many would have never been able to enjoy the scenery and get for Chicago to Los Angeles.
Images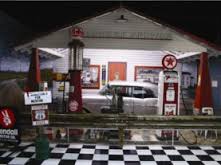 A map of Route 66 spanning from Chicago, Illinois to Los Angeles, California.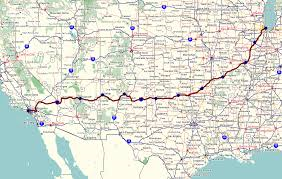 Backstory and Context
The Route 66 Museum is located inside the Lebanon-Laclede County Library and has many different things to offer you. This is considered a "must see" attraction with a variety of different antiques to look at. However a few of the bigger attractions in this awesome museum would have to be: the service station, 1938 Buick Phaeton, and of course Rt. 66 history as well. Many locals enjoy visiting this museum along with many schools who are sure to make this field trip to show the kids their local heritage. This smaller museum is a place that you can get lost in and immerse yourself in all the different aspects of the local history.
Route 66 is a highway system that was designed by Cyrus Avery and John Woodruff for the transportation between Chicago, Illinois and Los Angeles, California. However, the two were not able to take most of the credit due to the fact that without the help from the national program of highway and road development there would have never been a Route 66. The legislation for Route 66 went into effect in 1916 and was revised and presented again in 1921; however it took a third time for the charm to finally kick in for the plan to go into action. In 1926, the government finally agreed to allow the construction of Route 66. The developers had a certain picture that they wanted to see on paper; however, some things just never plan out. They wanted all of the smaller roads to be able to have access to a highway system, considering many places were not able to have that access. When they decided to set up Route 66, they decided not to have a predominantly linear set up, they wanted to be sure to get as many communities from Chicago to LA connected as possible. Hence, the birth of the diagonal highway system was born! For this project alone, the government spent around $70 billion between 1941-1945.
Many people are familiar with Route 66 due to the famous song slogan "get your kicks on Route 66" which was released in 1946 by Nat King Cole. This allowed many different people to suddenly realized that travelers would need food, gas, and other utilities to be able to survive the long trip across the country. This made the owners of chains like vultures. They were able to make a deal and were able to set up their shops and stations along Route 66. This also made motel chain owners very happy, because many of them realized that the travelers did not want to stay in hotels, rather that they preferred motels. This was a big investment for the owners of this chain. However, now there are large four-lane systems that pass up the old Route 66. But, Route 66 is the way to travel if you would like to do it the way all of our ancestors in the past had to!
Sources
http://lebanon-laclede.lib.mo.us/index.htm http://national66.org/resources/history-of-route-66/
Additional Information