Moreton Bay Fig Tree
Introduction
Located at the corner of Montecito and Chapala Streets, Santa Barbara's Moreton Bay Fig Tree arrived in 1876 as a seedling from its native Australia. The 140 year old tree has since grown to a height of 80 feet and its canopy to a distance of almost 200 feet which provides over 20,000 square feet of shade. It's trunk now measures an impressive 12.5 feet in diameter and it is thought to be one of the largest fig trees in North America, although there are nearby trees competing for that title in Los Angles and San Diego.
Images
The tree's grandeur can be seen from a distance.
The person in the image provides scale to the tree's root system.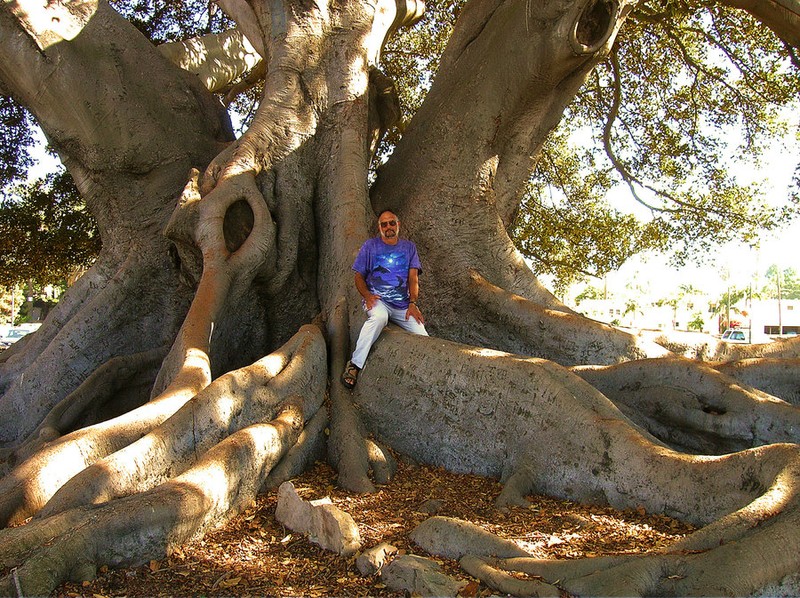 A satellite image of the tree.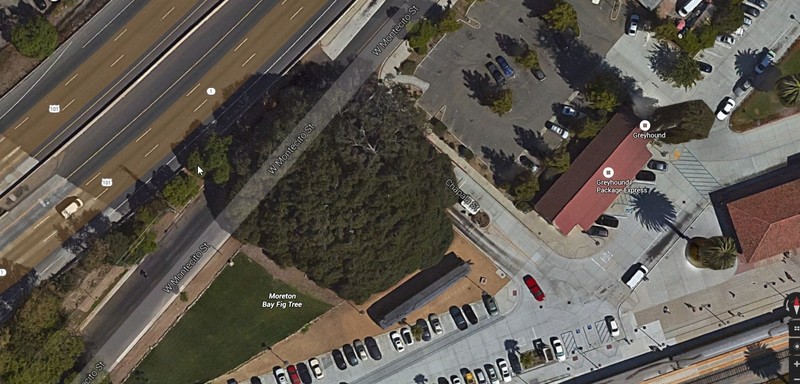 Backstory and Context
Santa Barbara's Moreton Bay Fig Ficus macrophylla immigrated from east Australia in 1874, when a sailor gave a young girl a cutting from his travels and she planted it on State Street. During this time, gardening enthusiasts and scientists alike in Santa Barbara and San Francisco worked together to get large quantities of Australian trees, especially Moreton Bay Figs and different kinds of eucalyptus, which you can also see all over the city and county! The leader of this movement was Ellwood Cooper of Goleta Valley, who introduced eucalyptus here in 1872, and by 1875, he planted 50,000 of more than 50 varieties between Santa Barbara and Goleta alone. There was so much interest in Australian trees because the climates of Australia and Santa Barbara were thought to be very similar. Eucalyptus in particular grows fast, and gardeners and scientists were interested in using the species to revolutionize logging in southern California to create infrastructure like railroads and even Sterns Wharf, which at one time had its pilings replaced with eucalyptus! Perhaps the sailor was on a mission to bring seeds, cuttings, and saplings of eucalyptus and brought the Moreton Bay Fig cutting for his sweetheart?
While we do not know any more information about the sailor or the Moreton Bay Fig's first recipient, who moved from Santa Barbara a year later, her friend, Adeline Crabb, transplanted the fig three years later to its current location of land owned by the Southern Pacific Transportation Company, which is why it is so close to the train station! She continued to care for it for the rest of her life. The Moreton Bay Fig was designated as a historical landmark in 1970, which gave it special protections from urban development, and the property was deeded to the City of Santa Barbara in 1976. 
When a Moreton Bay Fig has enough room to grow and its roots can spread, it can have up to 150 feet (50 meter) circumference. If it has a crowded habitat, it grows taller and more narrow. Our Moreton Bay Fig has a 41.5 feet (12.6 meter) circumference and is 80 feet (24 meters) tall. Its crown--the top of the tree-spreads about 176 feet (54 meters), providing lots of shade on hot summer days!
Additional Information