Pilgrim State Hospital, 1931-
Introduction
Pilgrim State Hospital opened in 1931 and was once the largest psychiatric hospital in the United States. The former complex is now home to the Pilgrim Psychiatric Center as well as parts of Suffolk County Community College and Brentwood State Park athletic fields.
Images
Image of New York Student's model of the Pilgram Hospital and it's surroundings.
Image of people around Pilgram Hospital.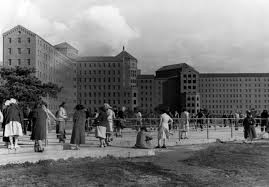 Nurses holding a patient.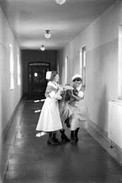 Patients of the hospital.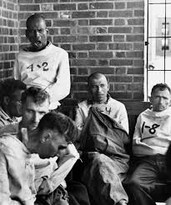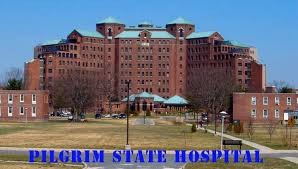 Backstory and Context
In the 1920s New York had six mental hospitals that provided psychiatric care, and each were dealing with overcrowding. Reformers proposed the creation of a work farm that might offer patients a way to connect and find meaning in performing basic tasks and working with animals. The third of the agricultural-based psychiatric centers in New York during this time period, Pilgrim State Hospital began with the purchase of 825 acres in Brentwood in 1929. Opened in 1930, Pilgrim State Hospital was named in honor of New York State commissioner of Mental Health Dr. Charles W. Pilgrim.
The hospital complex included a small police and fire department, bank, laundry, bakery, power plant, and of course, the working farm and housing for patients as well as single-family homes for doctors and their families. The hospital was built for 12,500 patients but included a population of as many as 14,000 patients. A few other mental hospitals were built around Pilgrim State Hospital due to the rise in patients, including Edgewood and Mason State Hospital. Pilgrim State hospital was so large it reached into Suffolk.
During the World War II, the War Department took control of Edgewood and used three new buildings at Pilgrim State Hospital for treating soldiers who had been traumatized by battle. The issue of battle and mental health was known to doctors but rarely discussed in the public during these years. For example, John Huston, made a documentary at Mason General Hospital called "Let There Be Light," which demonstrated the effects of war upon mental health. The film was not seen by the public until 1981.
Like many other psychiatric facilities, Pilgrim State Hospital performed procedures that have been discredited, including different types of shock therapy, electro-convulsive therapy, and lobotomy. Beluha Jones, a patient from 1952-1972, was left seriously impaired after receiving a lobotomy at Pilgrim State Hospital. With the introduction of more pharmaceutical treatments, Pilgrim State Hospital and other facilities moved towards greater reliance on medication. Once home to 14,000 patients, the hospital complex is now home only to Pilgrim Psychiatric Center which houses 400 patients. The community that surrounded the hospital was sold for development and now includes west end of Suffolk Community College and Brentwood State Park's athletic facility. Gerald Wolkoff bought 462 of the remaining acres for $21 million and announced a plan to build a $4 billion residential/office complex called the Heartland Town Center.
Pilgrim Psychiatric Center hosts the Long Island Psychiatric Museum, which has items from Kings Park, Pilgrim, and Edgewood hospitals. Exhibits and collections include photos, newsletters, records, and relics from these hospitals.
Sources
David Everitt, New York Times, December 29, 2002 "A Selective Memorial For an Unsettling Past," http://www.nytimes.com/2002/12/29/nyregion/a-selective-memorial-for-an-unsettling-past.html Kara McGrath, "Pilgrim State Hospital still stands in Brentwood," http://longislandreport.org/front-page-content/photo-eerie-pilgrim-state-hospital-still-stands-in-brentwood/14031 Images from Pilgrim State Hospital on Opacity, http://opacity.us/site23_pilgrim_state_hospital.htm
Additional Information