Patee House Museum and Jesse James House
Introduction
Built by John Patee in 1858, this historic building was home to three different hotels, a college for women, and a shirt factory. It was the last luxury hotel for passengers traveling west by stagecoach. At that time, this was the starting point for a daily stagecoach from St. Joseph to Placerville CA and part of the stagecoach line from St. Joseph to Salt Lake City. The hotel also served as the headquarters for the Pony Express office. The hotel was home to the Provost Marshal's office during the Civil War and where Confederate raiders were tried following the war. Today, the Patee House is a museum that shares the history of Missouri in the 19th century and westward expansion, as well as the history of St. Joseph through the 20th century. Visitors to the museum can also see the nearby historic home where notorious outlaw Jesse James was killed in by Robert Ford in 1882.
Images
Visitors can also tour the Jesse James' Home.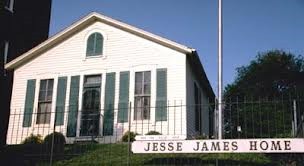 The hotel later became the St. Joseph Female College and a garment factory that operated until the 1950s.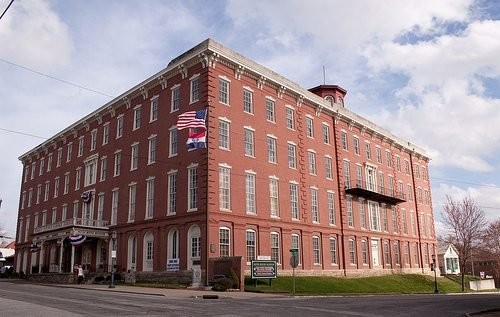 Backstory and Context
Patee House

Several factors led John Patee to build the hotel. By the time it was constructed, St. Joseph had been a starting off point for settlers heading west, usually by stagecoach. Railroad lines also reached St. Joseph and the city's location next to the Missouri River attracted people as well (the Transcontinental Railroad was not completed until 1869). Therefore, the demand for lodging was very high and Patee took advantage of this need. Soon, the Patee House became the starting point for a daily stagecoach to Placerville, California, as well as the beginning of a stagecoach line from St. Joseph to Salt Lake City, Utah. As a result, the hotel played a key role in further connecting St. Joseph to westward expansion.

John Patee owned several other businesses throughout St. Joseph. He opened the first drugstore and owned several lots and houses that he rented out.

Jesse James

Jesse Woodson James was born on September 5, 1847, in Kearney, Missouri. He was the son of Reverend Robert James and Zerelda Cole James. James had an older brother Frank that looked out for him in his younger days. The James family moved from Kentucky to Missouri in 1842 just a year before their first son Frank was born. When James turned 16 their family farm in Missouri was attacked by Union troops. This inspired both Frank and Jesse to join the Confederate army as guerrilla fighters, fighting alongside William Quantrill and "Bloody Bill" Anderson. After the war, Frank and Jesse returned home to Missouri. In the ensuing years, the brothers and their gang robbed an estimated twenty banks.
In 1874 James married his first cousin Zerelda. The James brothers had planned one more robbery with the Ford brothers Charlie and Robert. On the morning of April 3, 1882 soon after breakfast, James reached up to straighten a picture and was shot in the back of the head by Robert Ford at a house about a block from this museum that visitors can also tour.
Sources
Carneal, Thomas W. "Jesse James House." National Park Service - National Register of Historic Places Nomination Form. September 4, 1980.
https://dnr.mo.gov/shpo/nps-nr/80002319.pdf.

Lissandrello, Stephen. "Patee House." National Park Service - National Register of Historic Places Nomination Form. October 15, 1966.
https://dnr.mo.gov/shpo/nps-nr/66000414.pdf.

"The Patee House." Patee House Museum. Accessed February 8, 2019. http://ponyexpressjessejames.com/our-history.

Additional Information