Beaumont Tower Carillon at Michigan State University
Introduction
Beaumont Tower is an enduring symbol of Michigan State University. After going silent in 1987, the clock & carillon mechanisms were refurbished in 1995. About half of the existing bells were replaced in order to better match the tone of the entire instrument and two new claviers were installed. The restored 49-bell instrument had its inaugural concert on May 3rd, 1996. The tower was designed in the collegiate Gothic style and combines religious and fortress architectural elements.
Images
Beaumont Tower was built in 1928 and is an important symbol of the university.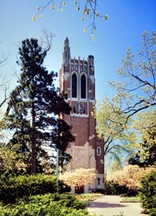 Backstory and Context
Beaumont Tower was constructed in 1928 thanks to the efforts of alum John W. Beaumont. It is located at what was once the northeast corner of a building called College Hall that was situated on a part of campus called Campus Circle. Structural problems cause it to collapse in 1918 and a fire destroyed two nearby dormitories in 1918. Rather than seeing this part of campus redeveloped, Beaumont was determined to preserve it and the memory of College Hall. He and other alumni began a campaign called "Save the Circle" and were ultimately successful.



Sources
"History of Beaumont Tower and the MSU Carillon." College of Music - Michigan State University. Accessed June 2, 1918. http://www.music.msu.edu/carillon/history-of-beaumont-tower-and-the-carillon.