Rockefeller Center
Introduction
John D. Rockefeller envisioned Rockefeller Center as the grandest plaza in the city and the center of New York commerce. The largest private building project in American history, Rockefeller secured $250 million with personal lines of credit. The 22-acre complex opened in 1933 and grew to include 14 buildings by the 1940s. Each of the landmark buildings include murals by the leading artists of the 1930s and 1940s, while public spaces are home to famous sculptures such as Prometheus and Atlas. Today, the complex includes five other commercial buildings. Rockefeller Center is regarded as the heart of Midtown and features popular skating rink and commons area that is the top tourist spot in the city during Christmas.
Images
The GE Building is one of six landmark buildings in the 19-building complex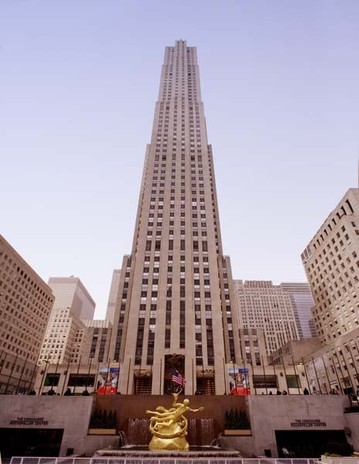 The view of Central Park from the observation deck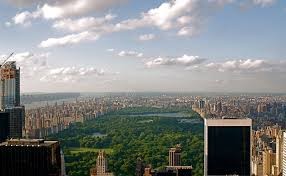 the 18 foot statue of Prometheus was built in 1934 and remains one of the symbols of New York City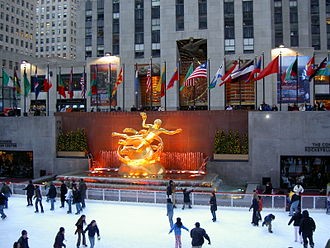 The mural American Progress in the lobby of the GE Building
Backstory and Context
In the 1930's the worst years of the Great Depression were amidst. John D. Rockefeller had a dream to construct a "city within a city", and that is just what he did. The construction of the Rockefeller Center employed more than 40,000 people. When the doors opened in May of 1933, the team that constructed the Rockefeller Center concluded that it was an act of good citizenship. The lobby was beautifully decorated by two very famous European artists, José Maria Sert, and Frank Brangwyn.
Throughout the 1930's the Rockefeller Center improved rapidly. One of these improvements included the Christmas Tree tradition that started in 1931. The skating rink was added to the complex in 1936. By 1939, Rockefeller Center had more than 125,000 visitors per day.
During the first decade of opening, the Rockefeller Center had tenants' like News-Week, the French Bookstore, and Librairie de France. Current tenants include financial firms such as Bank of America, textbook publisher McGraw Hill, and NBC. One of the earliest tenants of the 19-building complex included the British and American intelligence services during World War II.

An underground concourse connects many of the buildings and includes restaurants retailers. The entrance to the observation deck is on 50th Street between 5th & 6th Avenue. There are actually three observation decks, allowing for a 360 degree view of New York. There is also the famous skating rink on the concourse level with its 20-foot high statue of Prometheus. The famous "Top of the Rock" view is one that can never be forgotten.
Today over a million people visit the Rockefeller Center every year. To keep the environment healthy, Rockefeller Center has installed over 350 solar panels, and is planning to put a green roof on top of the Radio City Music Hall. Many improvements are still being made today to make sure that Rock is still magnificent in the decades to come.
Additional Information