Karpeles Manuscript Library
Introduction
Founded in 1983 by real estate developer and mathematician David Karpeles, his original Karpeles Manuscript Library in Santa Barbara has since expanded to twelve branches scattered across the country. Mr. Karpeles began to acquire and display original documents as a way to inspire learning, especially among America's young people. Located in an unassuming building along Anapamu Avenue, it houses numerous original manuscripts and documents from the areas of literature, science, religion, history, art and music.
Images
Entrance to the manuscript library.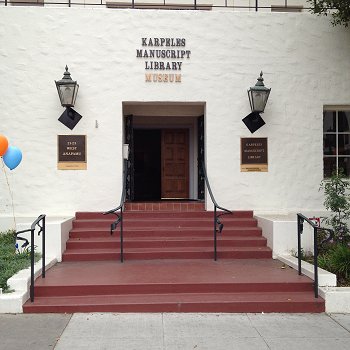 Interior of the library with display cases.
NASA control panel from the first space station on display.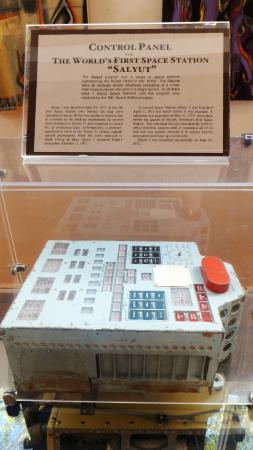 Backstory and Context
With branches in Buffalo, NY; Alvin, TX; Tacoma, WA; and Jacksonville, FL; among others, these libraries comprise the "world's largest private holding of important original manuscripts and documents." In total, the libraries currently hold over one million documents and Mr. Karpeles continues to grow the collection. These documents rotate among the twelve branches on a quarterly basis in order to ensure that local residents have access to Karpeles' diverse collection and each branch highlights a daily general exhibit.
Among the holdings are a transcript of Handel's Messiah annotated by Beethoven, an 1183 decree from Pope Lucius III to Europe's knights as they embarked on the third Crusade to the Holy Land, an original draft of the Bill of Rights, and an original draft of Lincoln's Emancipation Proclamation.
The Santa Barbara branch has recently displayed exhibits that have centered on Mark Twain, very early baseball, and the progress of communication which included a cuneiform tablet from 2400 BCE, documents from Alexander Graham Bell and NASA computers from the 1969 moon landing. At this hidden gem, as at all the branches, admission is free and open to the public during normal operating hours.
Additional Information