Niagara Falls State Park
Introduction
Established in 1885, Niagara Falls State Park is the oldest state park in the country. It is located on the eastern shore of the Niagara River. The park offers visitors several attractions and activities to learn about and view the falls. These include the visitor center, a 30-minute trolley ride, the Cave of the Winds tour (which takes visitors behind the falls wearing ponchos), the Maid of the Mist boat tour, the Niagara Gorge Discovery Center, and an observation tower. The park is listed on the National Register of Historic Places as is also a National Historic Landmark.
Images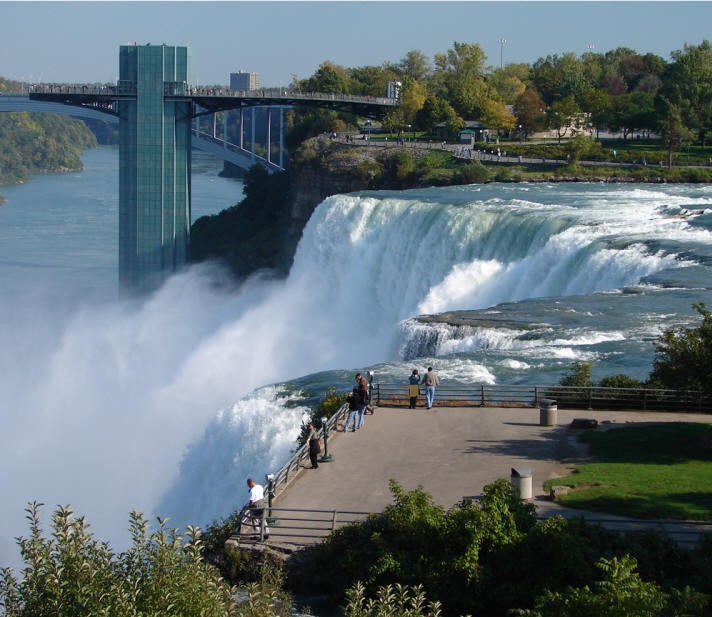 Aerial view of the falls. The park is on the left side.

Visitors on the Cave of the Winds Tour
The Maid of the Mist boat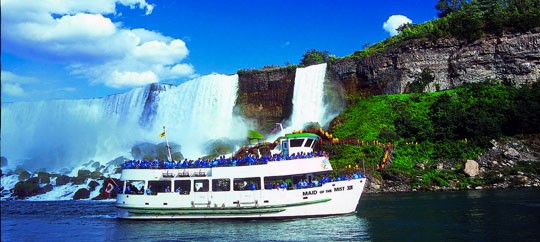 Backstory and Context
Calls to the create park began as early as 1834. There was a strong desire to clear the area of factories and hotels which took away from the natural beauty of the area. A state government authorized report in 1879, which was signed by the Vice President of the United States and the Governor General of Canada, among other prominent politicians, encouraged the state of New York to take action. The administration at the time did nothing, however. In the ensuing years, park supporters kept pressuring the state government. Finally, in 1885, by decree of eminent domain, the park was established and all of the structures on the property were demolished. New York was the first state to use the power of eminent domain to acquire private property for public, esthetic purposes.
Sources
Greenwood, Richard. "Niagara Reservation."
National Park Service - National Register of Historic Places Nomination Form. November 3, 1983.
http://focus.nps.gov/pdfhost/docs/NRHP/Text/66000555.pdf.
"Niagara Falls State Park." New York State Parks, Recreation and Historic Preservation. Accessed October 21, 2015. http://parks.ny.gov/parks/46/details.aspx http://focus.nps.gov/pdfhost/docs/NRHP/Text/66000555.pdf
Additional Information