California Citrus State Historic Park
Introduction
Opened in 1993, the 377 acre California Citrus State Historic Park is home to some of Riverside's few remaining citrus groves, a visitor's center/museum, the Sunkist Center, a restaurant, amphitheater, and a recreated citrus producing community. It also boasts tree- lined hiking and walking trails as well as picnic areas and a reservoir which is fed by the historic Gage Canal.
Images
Replica roadside fruit stand near the park's entrance.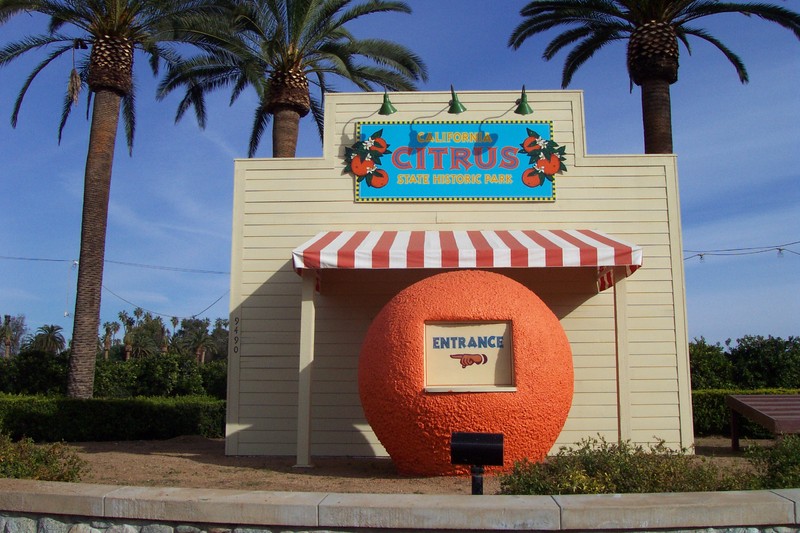 Interior of the visitor's center and museum.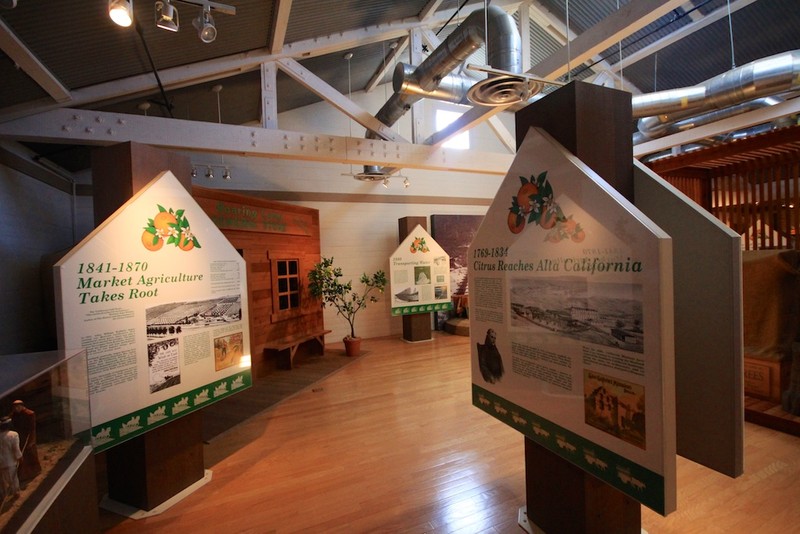 People gather at the lawn surrounding the park's amphitheater.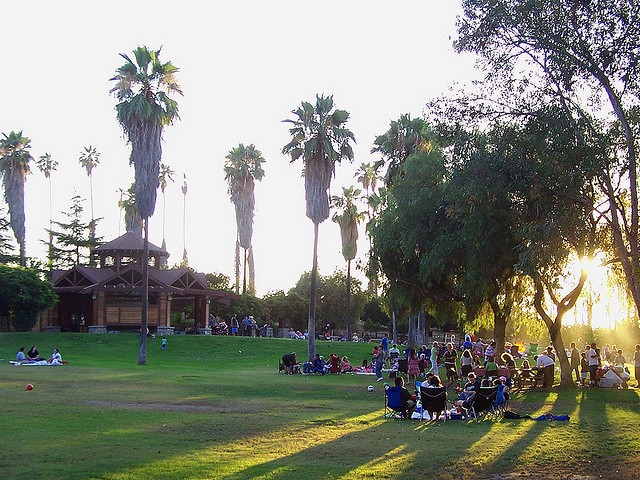 Backstory and Context
This living, outdoor museum, in the form of a park, harkens back to a lost era in Riverside's history, an era when the citrus industry was king. Visitors are welcomed at the entrance by a replica roadside fruit stand, complete with a giant orange as part of the building. The visitor's center and museum tells the story of the citrus industry and its important role in the development of Riverside and surrounding communities. It utilizes interpretive exhibits to tell this story and also provides a gift shop for visitors and self-guided tours. The visitor's center and museum is open Saturdays, Sundays and Wednesdays from 10:00 to 4:00.
The park's greatest beauty, however, lies with its palm trees and groves of navel and Valencia oranges as well as lemon and grapefruit. These working groves provide the park with much needed revenue and also provide visitors with quiet, green spaces in which to wander, not to mention great snacks, but don't pick your own! In conjunction with the groves, the park is home to a recreated citrus community that includes a packing shed, laborer's camp, citrus pavilion and water and land offices.
The park's Sunkist Center, with its adjoining gazebo and rose garden, is perfect for weddings, reunions and other special events. Finally, the replica land owner's home contains a conference area and restaurant for visitor's to relax in after walking the park's picturesque trails.
Additional Information