Naples Historical Society
Introduction
Founded in 1962, the Naples Historical Society is dedicated to preserving and promoting Naples history. It is housed in the historic Palm Cottage, which was built in 1895 and is the oldest house in the city. The house is also significant for its tabby construction and association with Henry Watterson (1840-1921) and Walter N. Haldeman (1821-1903), the founders of the Louisville Courier-Journal. It appears that Haldeman built the house for Watterson, who lived here during the winter. The Society offers tours of the house, which contains with furnishings, artwork, and tools dating back to the late 1800s. A variety of events and educational programs are offered as well. Those interested in conducting research can do so in the Society's archives. The property also features the Norris Gardens. The Palm Cottage house was added to the National Register for Historic Places in 1942.
Images
Naples Historical Society is housed in the historic Palm Cottage, which was built in 1895. The Society works to promote the history of Naples.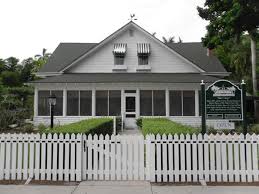 Backstory and Context
Naples was established in the late 1880s by Haldeman and Kentucky U.S. Senator John Stuart Williams (1818-1898). They founded a venture called the Naples Improvement Company in 1887 and bought 8,700 acres of southwestern Florida coastline for the purpose of creating a resort town. Haldeman, who was a newspaper publisher and businessman, built Palm Cottage in 1895 as part of this development. He established Louisville Courier-Journal with Watterson in 1868 in a merger of the Louisville Courier and Louisville Journal. Watterson was the editor and Waldeman was the publisher.
According to the National Register nomination form, Haldeman built Palm Cottage for Watterson who used it as a winter residence. It was also apparently used by other guests when the hotel Haldeman built was full. As noted above, Palm Cottage was built using tabby, which is a mixture of water, sand, shells, ash and lime. Walls were stuccoed over to give a smooth exterior. The house has wood-frame construction as well including gable roofs and a screened-in one-story porch.
Waldeman passed away in 1902 but the family owned Palm Cottage until 1916. The next owners, the Palmers, added indoor plumbing and electricity in 1926. In the 1940s, the owners of the house at the time, the Browns, entertained celebrities including Gary Cooper and Heddy Lamar. In 1978, the Society acquired the house and later restored it in 1996.
Sources
Deibler, Dan G. "Palm Cottage." National Park Service - National Register of Historic Places Nomination Form. May 24, 1982. https://npgallery.nps.gov/GetAsset/aa89681d-90d9-4e49-9353-088d8caa9111.
Ettinger, Nitta. "Historic Palm Cottage is Naple's Oldest House." Must Do Visitor Guides. Accessed March 5, 2021. https://www.mustdo.com/articles/historic-palm-cottage-is-naples-oldest-house.
"Overview of Naples Historical Society." Naples Historical Society. Accessed March 5, 2021. https://napleshistoricalsociety.org/about-us-organization-overview.
Additional Information