Slifer House Museum
Introduction
Slifer House Museum is located in Lewisburg, PA, near Bucknell University. The house originally belonged to Eli Slifer (1818-1888), the Commonwealth of Pennsylvania Secretary during the Civil War. The Slifer family lived in the house until 1905, when the estate was sold to the Ross family. Within the next several decades, the house changed hands multiple times, until it was opened in 1976 as a museum and historic site by its current owners, Albright Care Services. The house stands as a symbol of life during the Civil War and Victorian architecture.
Images
Slifer House Museum, which was occupied by Eli Slifer, Commonwealth of Pennsylvania Secretary during the Civil War. http://www.trekaroo.com/activities/slifer-house-museum-lewisburg-pennsylvania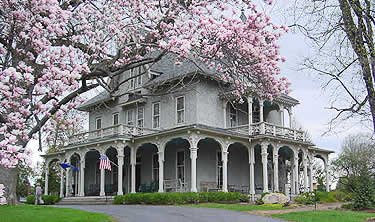 Longwood Mansion (Mississippi) was designed by Samuel Sloan (1815-1884), the same architect who designed the Slifer House. http://www.natchezpilgrimage.com/dailylongwood.php
Backstory and Context
The Slifer House, located in central Pennsylvania near Bucknell University, was first opened as a historic museum in 1976. The house was first owned by Eli Slifer (1818-1888), the Commonwealth of Pennsylvania Secretary during the Civil War, who used it as a country retreat for his family. Slifer became an influential figure in Pennsylvania politics, though he came from an extremely humble background. He was born in Coventry Township, Pennsylvania in 1818 to Abraham and Mary Coulter Slifer. Tragically, his parents both died when he was just 16. Slifer was forced to take up residence with his aunt on his father's side in Chester County, where he grew up speaking predominantly German. After reaching maturity, Slifer moved to Lewisburg, Pennsylvania where he began to make a living as a hat-maker. Eventually, the young entrepreneur opened his own boat-making business and grew to become one of the most successful men in his community. Slifer next entered Pennsylvania politics and was elected to several statewide offices. He is most well-known for his work as Commonwealth of Pennsylvania Secretary during the Civil War, serving under Governor Andrew Curtin (1817-1894).

Slifer lived in the house until his death in 1888; however his wife and children continued to reside there until 1905. The house was then sold to a local doctor and his family, who lived there until it was sold once again to the Evangelical Church Association in 1915. Shortly after the Evangelical Church Association bought the house, it was converted into an elderly home and orphanage, called "The Home for Old People and Orphans." It underwent multiple renovations to accommodate the new residents, including the addition of a new wing and multiple other annex buildings around the property. In 1921 a separate orphanage was constructed on the grounds, which was followed by a nursing home and hospital. The property was eventually bought by Albright Care Services, who still own and operate the grounds to this day. In 1976, the decision was made to move the residents out of the Slifer home. Rather than selling the house, the Slifer House was restored to its original Civil War appearance.

Today, the Slifer House Museum stands as a testament to Victorian architecture. Visitors typically are most interested in the beautiful physical facility, which was designed by Samuel Sloan (1815-1884), a prominent nineteenth century architect who is most famous for his creation of the Longwood Mansion House in Natchez, Mississippi. Interpretively, the Slifer House tells the story of a prominent political family who spanned the Civil War era in a divided and struggling nation. It offers insights into local history, while embedding its narrative within broader national themes. Visitors can step back in time to see how families lived during the 1800s, as well as to gain a better understanding of mid-nineteenth century American culture. This site is a popular attraction, particularly for locals, but also has appeal for anyone who enjoys Civil War history.

The Slifer House Museum is innovative in the manner in which it encourages visitor interaction with objects and items. The house has no barricades or barriers to prevent visitors from entering rooms. Further, every room has various objects that a visitor can touch and pick up. The Slifer House staff has made a special and intentional effort to acquire original objects, furnishings, and paintings that were in the house when the Slifer's lived there. Because no barriers regulate patron experiences, each visitor is supposed to feel like a guest, finding their own place in history.

Various special events also occur at the site each year. The Slifer House Museum aims at providing educational and entertaining programming for the community. Civil War reenactments take place during the summer, allowing children to interact with soldiers from both sides of the war and hear President Lincoln deliver the Gettysburg Address. For adults, Civil War balls are held each year. Guests arrive in period dress and dance to traditional pipe and drum music. An annual Christmas celebration remains a favorite event as visitors celebrate the season in Victorian fashion. Programs constantly change, so visitors find new events on the calendar each year. In 2015, for example, the Slifer House hosted a series of concerts that were held on the back lawn of the house. Special events, such as corporate functions and weddings, also frequently take place there.

The Slifer House is a great place to learn about Civil War history, lifestyle, and a significant man in Pennsylvania history. It definitely is worth a visit if you are in the area.
Sources
http://riverwoods.org/about-us/slifer-museum/ http://explorepahistory.com/hmarker.php?markerId=1-A-122 http://www.legis.state.pa.us/cfdocs/legis/BiosHistory/MemBio.cfm?ID=5478&body=S http://archives.dickinson.edu/collection-descriptions/eli-slifer-papers http://www.bucknell.edu/x18881.xml
Additional Information