Centennial Olympic Park
Introduction
Centennial Olympic Park spans twenty-one acres in downtown Atlanta, GA. The park was commissioned by the Atlanta Committee for the Olympic Games (ACOG) in preparation for the upcoming 1996 Summer Games. The site chosen for the park was a dilapidated area of downtown Atlanta characterized by vacant lots and abandoned industrial properties. Centennial Olympic Park hosts a popular summer concert series and fireworks display, attracting nearly three million people to the park annually. The park sustained major damage in 2008 when a tornado struck the downtown area. Two large outdoor lamps, measuring sixty-five feet in height, were blown down. The tornado marked the first of its kind in Atlanta since weather patterns began to be regularly recorded in the 1880s.
Images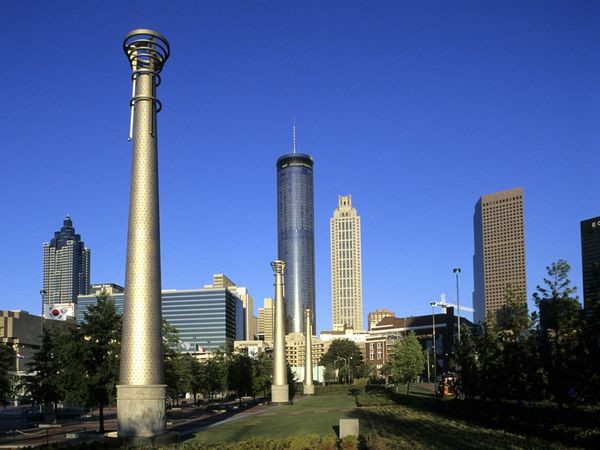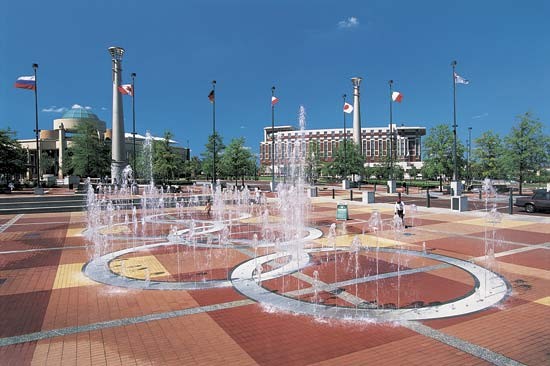 Backstory and Context
On July 27, 1996 a bomb killed one person and injured one hundred and eleven others in the midst of the Olympics. Security guard Richard Jewell discovered the bomb before detonation and likely saved many lives by clearing people out of the area. Unfortunately, he became the initial suspect and the media coverage focussed heavily on Jewell. In 2003, Eric Robert Rudolph was convicted for the bombing.
Sources
"Atlanta Olympic Games bombing of 1996." Encyclopedia Brittanica. Accessed April 5, 2014. https://www.britannica.com/event/Atlanta-Olympic-Games-bombing-of-1996.

Newman, Harvey. "Olympic Games in 1996." New Georgia Encyclopedia. August 9, 2004. Last Updated June 8, 2017. http://www.georgiaencyclopedia.org/articles/sports-outdoor-recreation/olympic-games-1996.

"Olympic Legacy." Centennial Olympic Park. Accessed April 5, 2014. https://www.gwcca.org/park/olympic-legacy.
Additional Information