This entry includes a walking tour! Take the tour.
Introduction
Blennerhassett Island is and island in the middle of the Ohio River, near Parkersburg, West Virginia, named after Harman Blennerhassett and his wife, Margaret Blennerhasset, who were Irish aristocrats who settled there in 1798. President Thomas Jefferson accused Harman Blennerhassett, along with Aaron Burr, of trying to create an empire in the Southwest. The mansion Blennerhassett constructed on the Island burned in 1811. However, its foundation was rediscovered in 1973 and the mansion was recreated through historical and architectural research.
Images
Blennerhassett Island is a small island in the middle of the Ohio River close to Parkersburg, WV.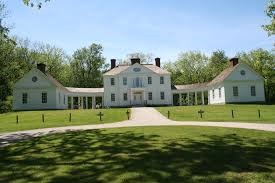 Marshall University Special Collections.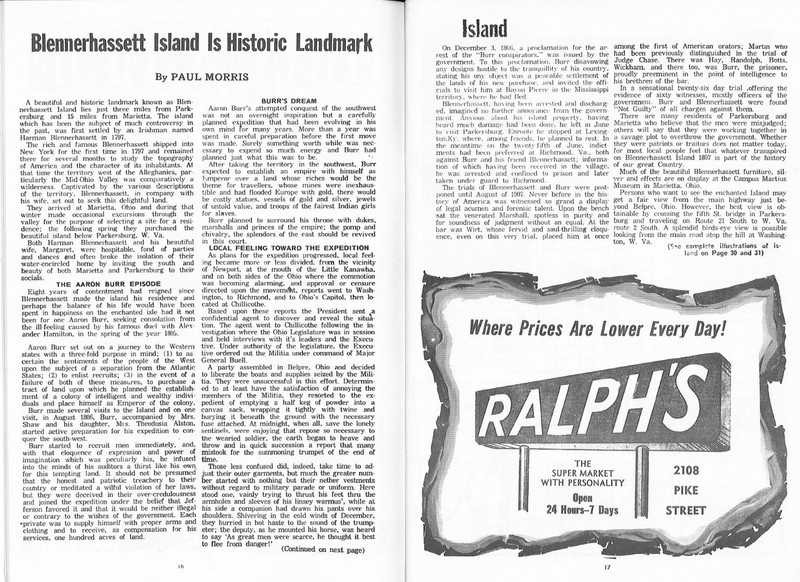 Marshall University Special Collections.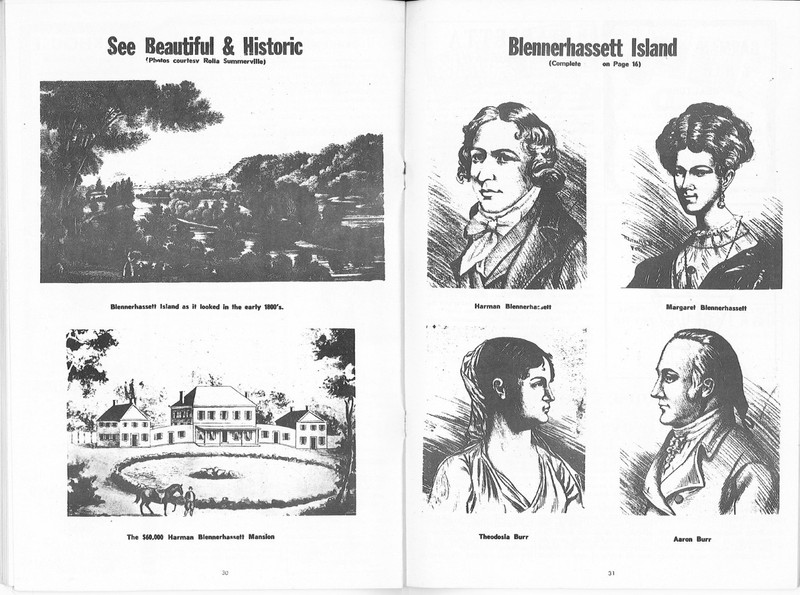 Marshall University Special Collections.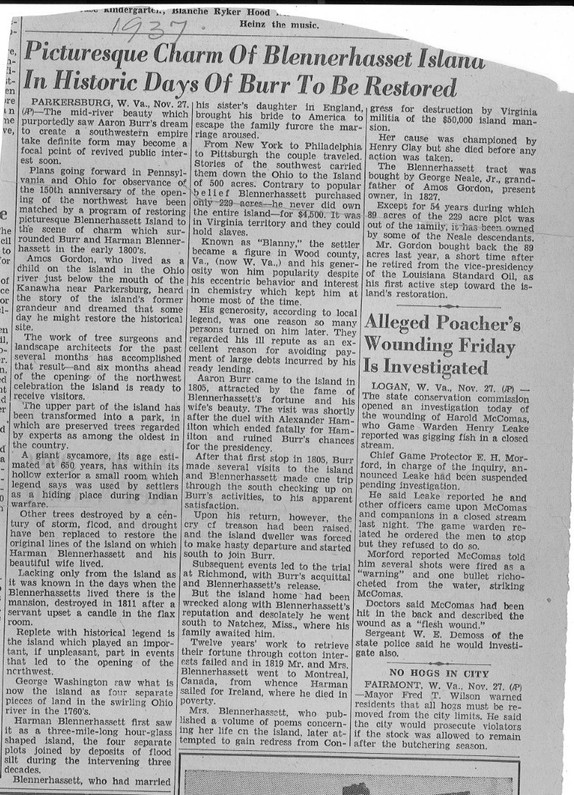 Marshall University Special Collections.
1911 color postcard of Blennerhassett House on island. Courtesy of Marshall University Special Collections.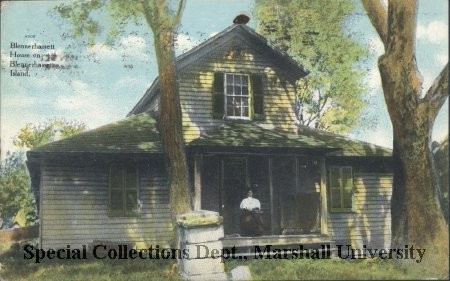 Blennerhassett Island in 1906. Courtesy of Marshall University Special Collections.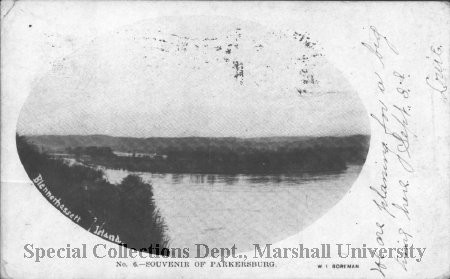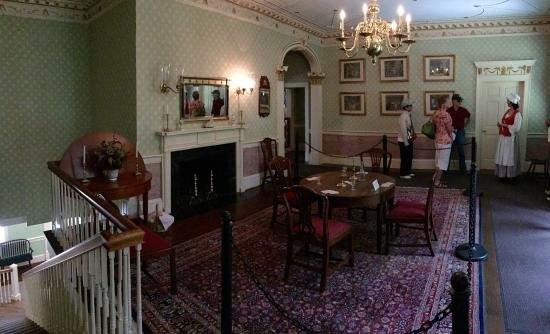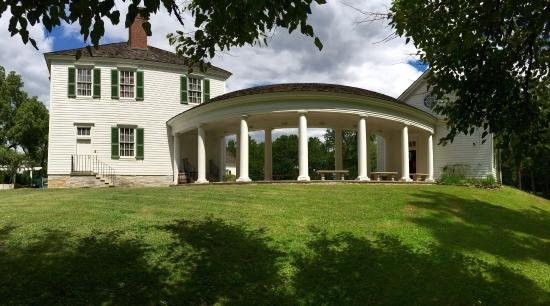 "Famous Persons Who Traveled By BlennerHassett Island."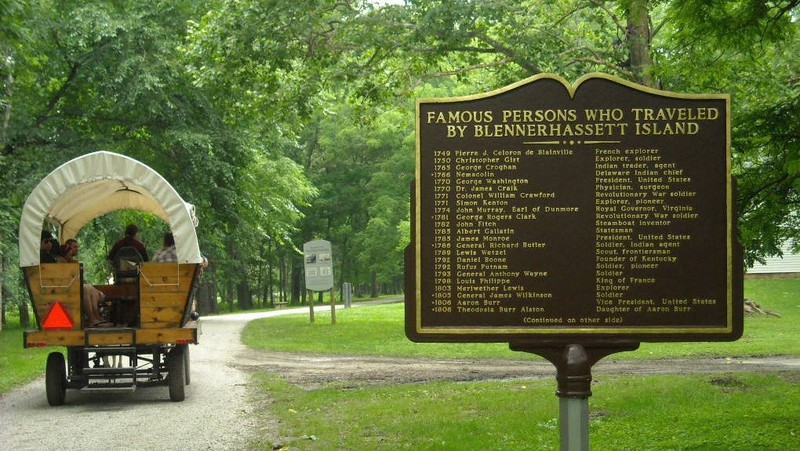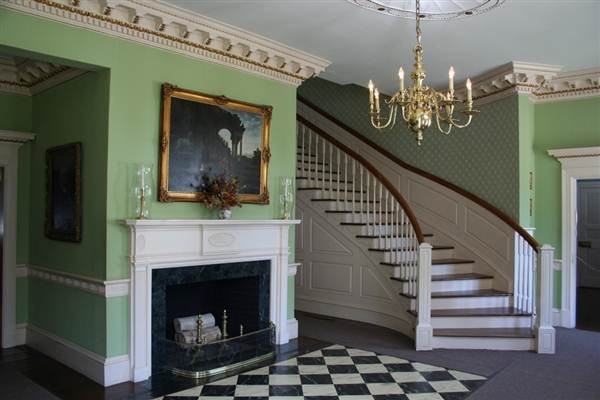 Backstory and Context
Blennerhassett Island was first inhabited by Native Americans from the Deleware tribe in the mid-18th century. The island was purchased by Elijah Backus in the 1790s, and it was known by locals as Backus Island. Backus sold a portion of the island to the Blennerhassetts for the construction of their home around 1798.
Harman Blennerhassett was a wealthy, Irish aristocrat who attended Trinity College in Dublin and attended law school at King's Inn, London. Harman immigrated to the United States after being ostracized by his family for marrying his niece, Margaret. Blennerhassett and his wife moved from Ireland to New York in 1795 and a few short years later, they began construction on their mansion on the Ohio River.
Like George Washington's Mount Vernon, the Blennerhassett mansion was built in a Palladian style, and it contained 7,000 square feet of floor space. The rooms were furnished with British furniture and Parisian porcelain. The lamps which hung from the ceilings were alabaster, and the hardware on the doors was silver.
Although Blennerhassett and his wife put in a great deal of hard work and dedication into building such a magnificent home, they fled their home after he became entangled in the Aaron Burr's expedition plans. Blennerhassett opened his island to Burr to hold base there while trying to expand his plan and gave Burr large amounts of money.
In 1806, Harmon Blennerhassett and Aaron Burr were accused of working together and planning a scheme to have the westernmost parts of the United States secede from the Union for exploiting the West. However, when rumors crossed the ears of the Federalists, they began to seize Blennerhassett's estate and property on grounds of treason. Blennerhassett fled to Lexington, Kentucky, but he was arrested, and eventually, released.
Blennerhassett was then broke and settled on a cotton plantation in Mississippi, but lost all of his money and eventually moved back to Europe and settled in England. He died in 1831.
The mansion accidentally burned to the ground in 1811, leaving no trace of what was once there. However, archaeologists rediscovered the foundation of the structure in 1973. Through historical and architectural research, the mansion has been recreated at its original site for visitors to see.
The replica of the mansion features a library, parlors, a separate kitchen, and is decorated with period correct furniture, oil paintings and sculptures which give visitors an idea of what the interior of the mansion originally might have looked like.
The island is now owned by the state of West Virginia and is operated as a state park. To get to the park, a tourist must ride a sternwheeler down the Ohio River from Parkersburg, WV to the island. This 1.9 mile long boat ride to the island takes approximately twenty minutes. The island closes for inclement weather and is not open during the winter months.
Sources
Blennerhassett Island website, http://www.blennerhassettislandstatepark.com/history.html C. Clifford Caverlee collection. Accession number 1994/08.0596. Located in Marshall University Special Collections.
Additional Information