Tangier Island Murder
Introduction
This is the site of the island's only unsolved murder. Charles C. "Bud" Connorton, the Town Sergeant, was eating in an earlier building here when he was fatally shot through an open window. His assailant was never identified. The marker is at the intersection of Main Ridge Road and Thomas Road on Main Ridge Road.
Images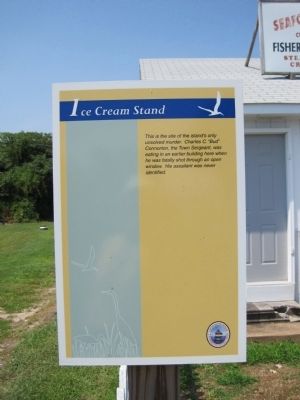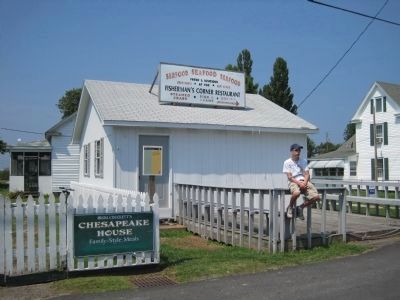 Backstory and Context
On Tangier Island, Virginia in 1920 they had a very strict blue law. It said on Sunday you were either in church or you were home inside your house – no sitting on the porch – but inside the house. To ensure that law was enforced, the island selected Charles Christopher "Bud" Connorton as their constable or sergeant of police.

On April 11th 1920, Sunday, Sergeant Connorton found Roland Parks, son of Henry. P. Parks, sitting on the porch of his brother's store, definitely not in church nor at home. He told Roland to go home. Roland started cussing but went home, however on arriving at home he decided to sit on the front porch. Sergeant Connorton grabbed him to take hin to jail and in the ensuing fight Parks was shot. The family took Roland Parks the 12 miles to the Crisfield hospital where he recovered. A gang of Tangier citizens went looking for the Mayor whom they found hiding in his attic and demanded Connorton be arrested. Bud Connorton was not arrested but gave himself up volunteering to the Accomack courthouse and was placed on bail.

Found guilty of unlawfully shooting Roland Parks when he refused to go to church, Bud Connorton was given a year in the State penitentiary at Richmond ,Virgina. After jail, Bud Connorton returned to the island and was made Constable or Chief of Police again.

On April 25, 1925 Charles Connorton was shot in the back by an unknown assassin and he died the next day of his wounds at McCready hospital in Crisfield.

Sources
http://www.hmdb.org/marker.asp?marker=39555 http://delmardustpan.blogspot.com/2015/03/the-sunday-blue-law-on-tangier-island.html