Columbia Heights Heritage Trail
Introduction
Columbia Heights Heritage Trial celebrates social justice and cultural unity within the Nation's capitol. Being near All Souls church the area has seen many social movements throughout the last century. A place of advocacy for civil rights, social justice, and nuclear disarmament. The All Souls Church has led progressive movement in within the D.C. area for social justice.
Images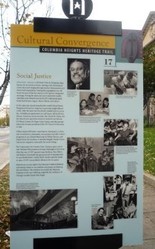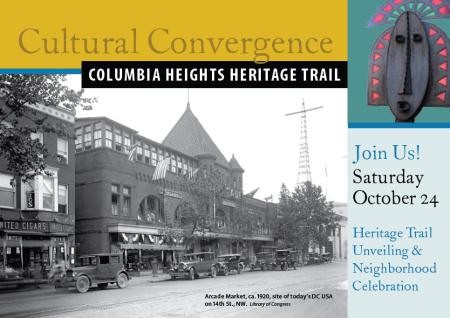 Backstory and Context
The Columbia Heights Heritage Trial allows for a walking tour of many important cultural and social progression within the D.C borders. The social activism that happened here has spread throughout the nation. The trial consists of nineteen signs that tell the history as well as showcasing historic photographs. This self guided tour will take you throughout Columbia Heights and ends 14th Street and Columbia Road, NW.(3)
The markers lead you through sites consisting of "Where the Marriott got it's start, the City's Latino Intelligence Center, the blocks that once were home to a who's who of African American Leaders. The Signs continue to direct you to Al Capone's old night club, the site of Reverand Dr. Martin Luther King Jr's Poor People's campaign headquarters, the building that housed DC's longest operating gay bar, and one of the sites of D.C's earliest racetrack(3),just to name a few. The allows you to see social progression first hand and connect it to the actions and places that made it possible.






Sources
http://www.hmdb.org/marker.asp?marker=24152 http://www.culturaltourismdc.org/portal/819 http://www.culturaltourismdc.org/portal/819 (3)
Additional Information