Museum of World War 2
Introduction
Founder by Kenneth W. Rendell, this private non-profit museum includes an expansive research library and galleries that tell the history of the period leading up to World War II as well as the military and social history of the conflict. There are numerous special exhibits that incorporate the thousands of original artifacts into the themed galleries that cover topics such as pre-war Europe, The Battle of Britain, and America's entry into the war. Of special interest to historians, the research library includes over half a million photos and documents.
Images
One of many museum exhibits that incorporate authentic weapons and equipment into the display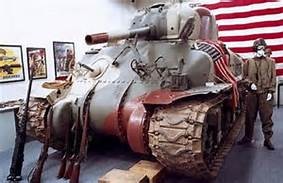 Sources
Museum of World War 2. N.p., n.d. Web. 15 Oct. 2015. .
Additional Information