Federal Hill
Introduction
Federal Hill takes its name from the raucous party it hosted in May 1788. To celebrate Maryland's ratification of the Constitution, 4000 people paraded around Baltimore, led by Commodore Joshua Barney, a Revolutionary War hero. Wealthy Baltimoreans such as William Goddard, editor-in-chief of the Maryland Journal and Baltimore Advertiser, provided vast quantities of meat, beer, and brandy for the revelers. Bonfires and firework displays lit up the city. A 15-foot ship model named the Federalist was put on wheels, brought up onto the hill, and finally sent sailing with Commodore Barney down the Potomac River to Mount Vernon, where it was given to George Washington. Today, the hill is a public park offering panoramic views of the Baltimore skyline.
Images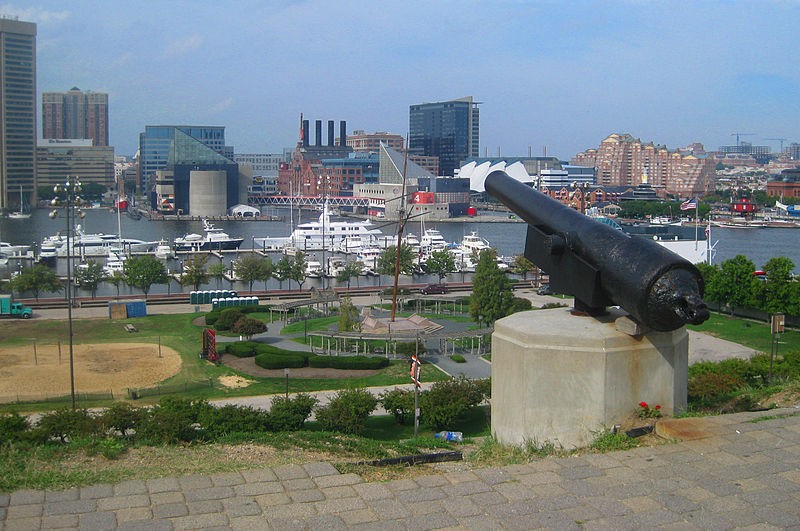 Backstory and Context
English settler John Smith saw the hill when he sailed up the Patapsco River in 1608. He described it as "a great red bank of clay flanking a natural harbor basin." Over the years, the hill has been used to signal ships and has been mined for sand and clay. Its resources were essential to Baltimore's brick-making and pottery businesses.

Union forces occupied the hill during the Civil War. In 1861, General Benjamin Butler and the 6th Massachusetts Regiment, along with members of Cook's Light Artillery, occupied the hill. The army constructed fortifications, in part as a defensive response to the presence of numerous Confederate sympathizers in Baltimore. The site became known as "Fort Federal Hill" during this time.

Sold to the City of Baltimore in 1880, Federal Hill became a public park. A monument to Colonel George Armistead, in charge of Fort McHenry during the Battle of Baltimore, was raised on the hill in 1882.




Sources
"History." Federal Hill Online. Accessed February 13, 2017. http://www.federalhillonline.com/history.htm.

"National Register of Historic Places--Nomination Form: Federal Hill Historic District." U.S. Dept. of the Interior, National Park Service. April 16, 1969. Accessed February 13, 2017. https://mht.maryland.gov/secure/medusa/PDF/NR_PDFs/NR-36.pdf.


Additional Information