The Quonset Air Museum
Introduction
Rhode Island's Quonset Air Museum preserves, interprets and shares the history of the state's aviation history through exhibits and special programs. Founded in 1992 with the assistance of then Governor Bruce Sundlun, the museum offers a variety of static displays, documents and special collections, and exhibits that document the contributions of Rhode Island residents to the growth and development of aviation and space exploration.
Images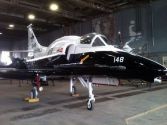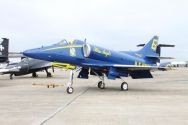 Backstory and Context
QAM is housed on three acres in an original Naval Air Station Quonset Point (NASQP) hangar built in 1945, as the point building for the Overhaul and Repair (O&R) facility. The museum has a large and valuable collection of aircraft, aircraft parts and other historical artifacts. The 28 aircraft currently on display or under restoration include civilian, military and prototype aircraft dating from 1944 (Hellcat under restoration) to 1983 (F-14 Tomcat), including the last aircraft to fly from Quonset NAS, a C-1A COD BU#136792, a one-of-a-kind TWIN TAIL Navy transport.
The Quonset Air Museum (QAM) mission is to educate the public in Rhode Island aviation legacy through activities, hands-on displays and school classroom presentations, both in the school and at the museum. Current activities include visits and presentations for elementary, middle school and high school classes where presentations, by QAM mentors, augment history, math, science and geography classes taught by the classroom teachers. We do this for all grade levels. The QAM can coordinate these activities with the classroom teachers prior to the arranged visits.
Creative, interesting displays at the museum provide field trippers with a wealth of information addressing all topics of aviation. These educational, interactive displays are throughout the museum, some related directly to the many aircraft on display. These displays not only support the classroom information, but also provide visitors with a clear understanding of the history and science of aviation.
Sources
http://www.quonsetairmuseum.com/index.php?page=our-mission
Additional Information