Healy Hall, Georgetown University
Introduction
Constructed from 1877 to 1879, Healy Hall is the best-known academic building on the Georgetown campus and one of only a small number of campus landmarks that have been elevated to the status of a National Historic Landmark. The building is named in honor of university president Patrick Healy who was the president of the small but growing college at the time of this building's completion. Healy Hall originally served as a dormitory, library, and classroom space similar to many other colleges at this time. The building was designed by the same architects who designed the Library of Congress, and while the building now serves as a symbol of the university's continuity and stability, it is important to note that the construction of the building left the university with substantial debt.
Images
Healy Hall was named in honor of a Georgetown University President who was legally born into slavery and hid his racial identity.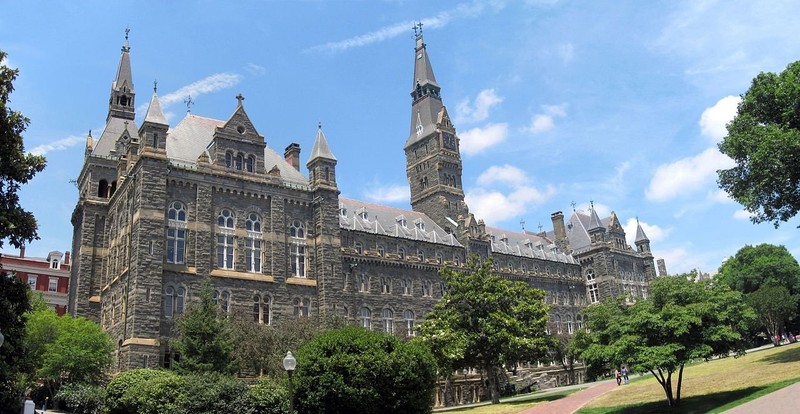 Backstory and Context
Patrick Healy was born into slavery as his mother, a light-skinned woman of African descent was owned by his father, a Georgia planter of Irish descent. Healy's parents lived as husband and wife and sent their son to New York where he was able to assume an identity as a white man. Healy graduated from Holy Cross College in Massachusetts and entered the Jesuit priesthood in 1850. Healy traveled throughout the United States and Europe and spoke many languages in addition to acquiring proficient knowledge in literature and philosophy. Healy was assigned to teach philosophy at the small but growing college in 1866 and served as the president of Georgetown 1873 to 1881. His mixed racial heritage was not known until historians discovered Healy's story in the 1960s.

Georgetown University, formerly known as Georgetown College (1789–1814) is the oldest Catholic educational institution in the United States. The college was founded in 1789 by John Carroll, America's first Catholic Bishop. Former President Bill Clinton, US Chief Justice Edward Douglass White, among many other prominent figures are Georgetown alumni. The university campus spans about 104 acres and includes numerous historic buildings.

The Civil War nearly resulted in the closure of Georgetown, as the student body dropped from 313 to 17 between 1859 and 1861. A total of 1,141 students and alumni enlisted in the war, serving in both the Union and Confederate forces. After the Second Battle of Bull Run in 1862, several campus buildings were turned into a temporary hospital. To celebrate the end of the Civil War, Georgetown students selected the colors blue (Union) and gray (Confederate) as the school's official colors in 1876.

Georgetown's athletic teams, nicknamed the Hoyas, include a men's basketball team that has won seven Big East championships, appeared in five Final Fours, and won a national championship in 1984. Campus organizations include the country's largest student-run business and largest student-run financial institution.

Sources
Information about Reverend Patrick F. Healy, Part of the Finding Aid for the S.J., papers, 1841-1983 from Georgetown University Libraries.

Janet Cooke, "G.U. Honors Memory Of Patrick Healy, Pioneer in Education." Washington Post, March 13, 1980.

Additional Information