Johnstown Inclined Plane
Introduction
The Johnstown Inclined Plane was constructed between 1890 and 1891, and it remains the steepest of its kind in the world. The Cambria Iron Company built the inclined railway to connect the city of Johnstown to the borough of Westmont on top of the hill. The railway was primarily built to offer more housing for the growing community, but it was also influenced by the catastrophic flood of 1889 that resulted in 2,209 deaths. At that time, supporters of the plan to build the incline saw its value as a potential escape route for any future floods. The incline was used in this way when major floods occurred in 1936 and 1977. The incline transported four thousand people to safety in 1936 and also transported supplies into the city.
Images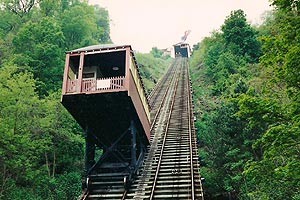 Johnstown Incline Plane looking over the city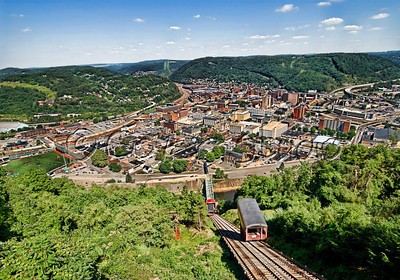 The cars that travel on the incline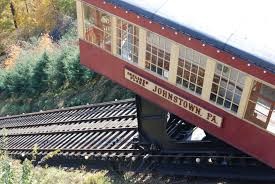 Incline plane with double decker cars. The passengers would be in the bottom while vehicles, horses, etc would be on the upper deck.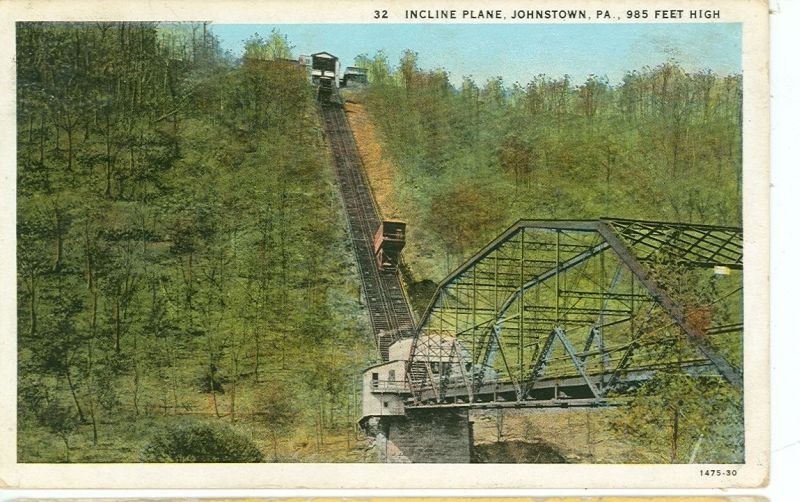 Backstory and Context
After the flood of 1889, the city of Johnstown started to rebuild and the Cambria Iron Company decided to construct a residential area on Yoder Hill in Westmont Borough. In need of a transportation system for people to get down to the city, the decision was made to build an incline. The Cambria Iron Company hired Samuel Diescher, the same man who designed inclines in Pittsburgh including the Castle Shannon, Duquesne, and Fort Pitt inclines. The inclined railroad was completed in 1891 and cost $133,296 to build.

The design is a parallel set of railroad tracks with just under an 80 percent grade that supports two cars. While one car descends the tracks, the other would goes up and acts as a counterweight. The motor and winch are at a 90 degree angle to the incline, a design that is unique to the Johnstown incline and a result of the sharp angle of descent. An emergency brake is connected to a switch and will stop the cars if tripped.

The incline originally operated with two double decker cars until 1921 when the current design for the cars was adopted. Today, the two cars carry people as well as cargo and vehicles on the ninety-second journey up or down the hill. There has been one fatality on the incline, but this was not due to an accident or malfunction. The only accidents have been the result of horses were spooked and jumped out onto the rails.

The Cambria County Transit Authority, now CamTran, owns the incline after buying it from Westmont borough in 1983 for the sum of $1. As part of that agreement, the Transit Authority agreed to pay $3.5 million dollars for renovations. The incline was added to the National Register of Historic Places in 1973. In addition to serving as part of the daily commute for many residents, the incline serves as a tourist attraction for the city of Johnstown.

Sources
"Johnstown Inclined Plane, 1891." Johnstown, PA.com. Accessed December 13, 2016. http://www.johnstownpa.com/History/hist17.html
Wiseman, Lisa. "Johnstown's Inclined Plane is steeped in history, tragedy." The Baltimore Sun. December 23, 2004. Accessed December 13, 2015. http://www.baltimoresun.com/bal-li.trips23dec23-story.html
Lasky, Jennifer. "Up, up, and away! The Johnstown Inclined Plane." Pa book 2 libraries, Penn State University. Fall, 2010. Accessed December 13, 2016. http://pabook2.libraries.psu.edu/palitmap/JtownIncline.html
Additional Information