John F. Kennedy Birthplace
Introduction
A man was born on May 29, 1917. A man born to change precedents, John F. Kennedy. This three story home located at 83 Beals Street in Brookline, MA. This man was the youngest President, the only Roman-Catholic President, and was a national heartthrob. The home is now maintained by the National Park Service to which President Kennedy's mother gave the house after refurbishing and restoring it to the period of the family's occupancy. The house today is open to the public, and offers tours and video presentations with a detailed look at the earliest years of the Kennedy's life.
Images
The house was designated a National Historic Landmark in 1964, and National Historic Site on May 26, 1967.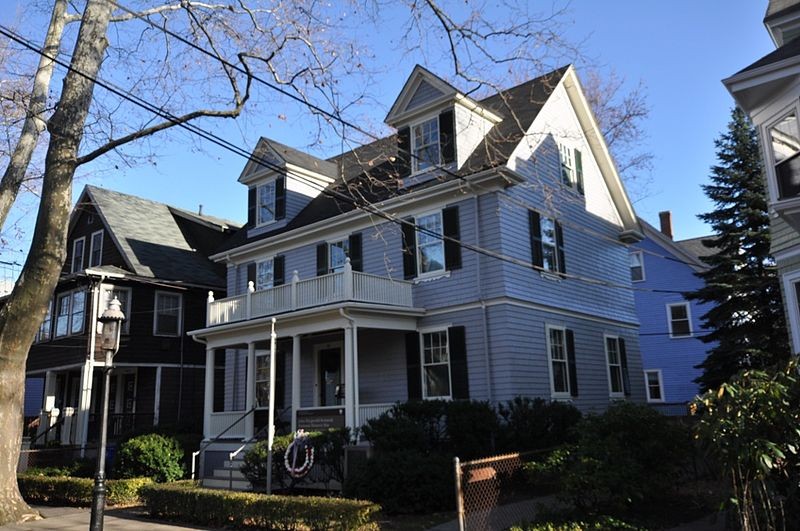 The house has not changed much since the Kennedy's first lived there.
Backstory and Context
Joseph Kennedy, father of the president John Fitzgerald Kennedy and President of the Columbia Trust Company of East Boston, bought the house in 1914, shortly before his marriage to Rose Fitzgerald. They moved into this house after their wedding trip, as the house third owners. Located in a middle-class neighborhood, the four of the Kennedy children were born here the second of which was Jonh Kennedy. John spent the first three years of his life here. In 1920, with the birth of their fourth child, the family had outgrown the house and moved nearby to a larger house at the corner of Abbottsford and Naples Roads. The Kennedys lived in the Abbottsford Road home until 1927, but before they moved they had another politician to be born to the family, Robert Kennedy. Later he would be assassinated like his brother. They were forced to move when Joe Kennedy's business interests prompted the family's move to New York. In 1966, the Kennedy family repurchased the home from its private owner, Mrs. Pollack, and between the years 1966-1969, Rose Kennedy, the president's mother, restored the house to her recollection of its 1917 appearance.
Now being under control of the NPS the house is open to the public for guided and self-guided tours. All tours are free and are seasonal.
Sources
http://www.nps.gov/nr/travel/presidents/john_f_kennedy_birthplace.html http://www.nps.gov/nr/twhp/wwwlps/lessons/33jfk/33jfk.htm http://www.masslive.com/politics/index.ssf/2013/11/john_f_kennedys_brookline_birt.html Brookline: Kennedy's birthplace. Photograph. Britannica Online for Kids. Web. 14 Oct. 2015.
Additional Information