Western Auto Building
Introduction
One of the iconic historic buildings in Kansas City, this curved office building has been home to Coca-Cola and many other businesses but is still known as the "Western Auto Building" owing to its distinctive rooftop sign. Today, it is a residential building called the Western Auto Lofts.
Images
The Western Auto Building was constructed in 1914. Today it is a residential building.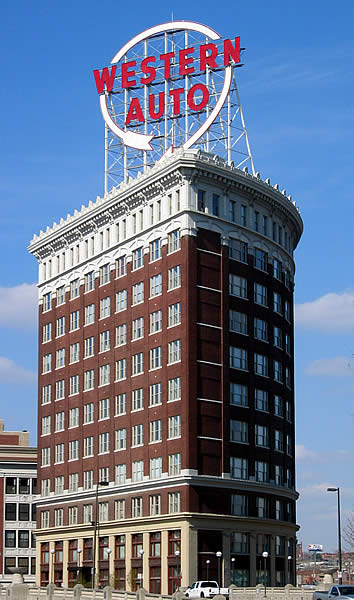 Backstory and Context
In 1913, Coca-Cola executives Asa G. and Charles H. Candler selected Kansas City as the ideal location for a regional headquarters as they expanded operations from Atlanta to the Midwest. In that year, the company purchased a pie-shaped piece of land at 21st and Grand in 1913 and hired the Swenson Construction Company to execute their design for a triangular building. The 12-story building was designed to be "fireproof" by utilizing brick and steel, minimizing the use of combustible materials, and adding a sprinkler system. Although the building is best known for its Western Auto sign, the structure was originally adorned with a large Coca-Cola sign. The company sold the building in 1919 but the sign remained until 1928 when the new owner decided to sell the building. When the building went into receivership, the Candlers decided to purchase the distressed but still serviceable property. The building became known as the Candler Building and remained in the family's estate until 1947 when they family donated it to Emory University. Three years later, the university sold the building. By 1951, one of its tenants, the Western Auto Company, purchased the entire building. The iconic "Western Auto" sign was placed on top of the building the following year.
Western Auto Company was established in Kansas City in 1909. The company began as a mail-order provider, shipping parts for Model T Fords and other early automobiles throughout the Midwest. The company expanded quickly, becoming a retailer and service provider until 1998, when it was purchased by Advance Auto Parts. This Roanoke-based retailer has sold the building but the iconic Western Auto sign remains. The building was placed on the National Register of Historic Places in 1988.
Sources
Alonzo, Austin. "My Favorite Building: Western Auto Building." Kansas City Business Journal. October 3, 2013. http://www.bizjournals.com/kansascity/blog/2013/10/western-auto-building.html.
Additional Information